Smartphones and tablets have become the default computing device for most users. As the significant amount of time spent by most users on their mobile devices, so too have the storage needs of users increased significantly. The average smartphone user uses their smartphone to capture high resolution videos, play increasingly high graphic games, install close to 10 social networking apps and still needs the storage space for storing other official and personal documents. Smartphone manufacturers have offset some of this demand with the help of cloud storage and memory card slots, however it is now clear that smartphones will need bigger storage spaces. As Meizu MX3, world's first 128GB smartphone hits the Chinese markets this week, we may need to answer, are memory cards heading the way of CDs and Floppy Disks?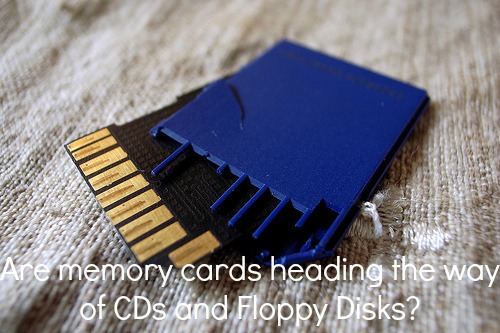 Burgeoning Internal Memory
Most of us are familiar with the famous Moore's Law, which talks about the reduction in size of transistors in computing devices, which in turns leads to an exponential increase in computing capability and memory capacities of computing devices. The law has held good for over 2 decades now. Take a look at your first iPod and the current Generation of smartphones and you will realise just how much the capacity of portable devices has gone up. The year 2014 beckons with it an age of high storage smartphones and devices.  Samsung, the world's largest manufacturer of storage devices have already begun the mass manufacture of 128GB embedded NAND flash storage modules. Smartphones coming out starting February will feature a 128GB variants that may begin an upward motion of smartphone internal memory. Expect Samsung's Galaxy S5, LG G3, Sony Xperia Z successor and iPhone 6 to all feature 128GB storage variant that may not cost significantly more than the launch price of current flagships.
The Internal Memory vs. Memory Card Slot Argument
For most smartphone manufacturers, the constant struggle has always been to decide between having a memory card expansion slot and not. The main argument used is that the performance of internal storage is always faster than expandable storage. However in the age of cloud computing, data affinity is certainly better for expandable storage than Cloud storage. Simply, a smartphone reads data faster from a memory card than from a Cloud service connected remotely. Typical 3G connection transfers data at 2Mb/s when the user is stationary whereas MicroSD card transfers data starting at 2MB/s to up to 104MB/s. Clearly MicroSD cards are a better solution than cloud storage in terms of transfer speed. Users may not necessarily feel the difference and may only need that extra storage to store their favourite music and pictures.
Will MicroSD Cards Die Out?
As smartphone capacity increases more users will prefer going for higher capacity machines. The typical smartphone still houses only 8GB of internal storage, an increasing chunk of which is used by OS and pre-installed bundled apps. However increased data consumption will keep increasing the need for more storage space. Most smartphones feature a microSD card slot. The sales of microSD cards is an added bonus to most manufacturers as well as it is one of the top selling smartphone accessory. The major argument in favour of microSD cards is also the exorbitant price of high end smartphones. The 64GB variant of Samsung Galaxy S4 costs INR 42,000 while the 16 GB variant costs a little over INR 34,000. A look at memory cards price list will show us just how much more viable it is for users to buy a 16GB variant and then invest in a memory card. The higher storage variants of popular smartphones are in fact all but absent in Indian e-commerce stores as well largely due to their exorbitant cost. It is clear that the 128GB smartphone may not ruffle any feathers.
The lowering of cost for memory devices as well as increase in capacity is definitely good news for the users. Even though internal storage of devices is on the rise, users may not yet shun the external memory cards for higher capacity models just yet. That is of course if smartphone manufacturers give them the choice. If smartphone makers go the way of Apple and refuse to provide expandable memory slots for their phones, users may just have to bit the bullet and buy a higher capacity model. However for now, such a scene is almost unthinkable. It seems that memory cards may not be heading the way of the floppy drive but instead be heading the way of external hard disk drives, as a means of quick data transfer and cheap extra storage.
SEE ALSO:
10 Most Funded Technology Projects On Kickstarter