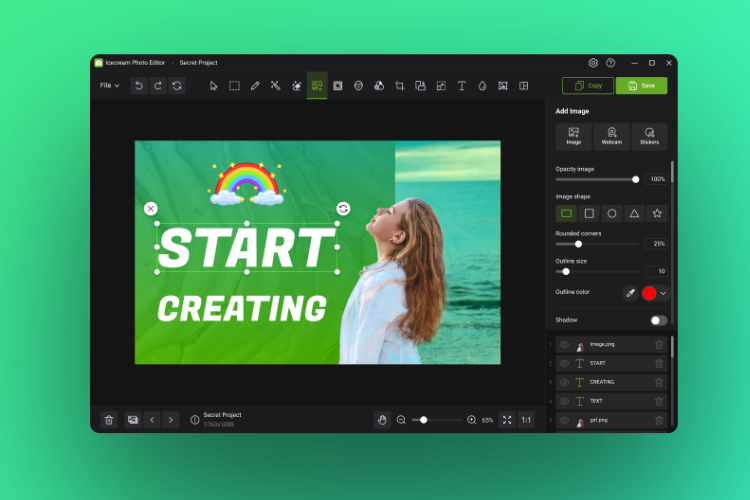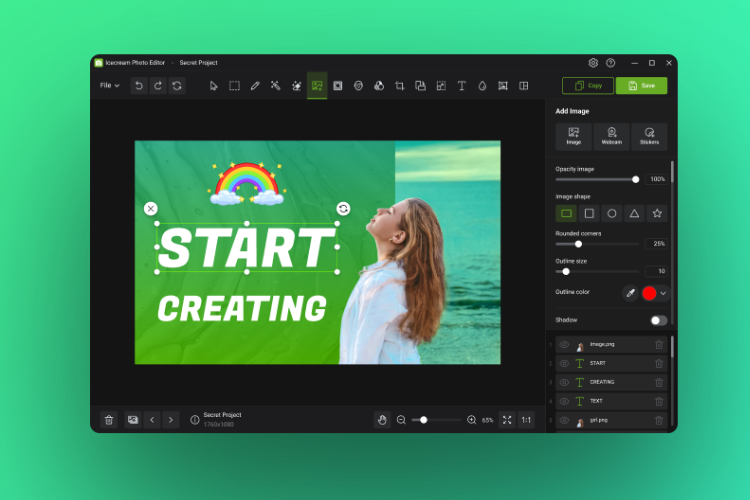 Imagine going to the internet and searching for a photo editor software that is completely free to use and does not gatekeep any of the key photo editing features. Sounds like a dream, right? Well, not anymore. Icecream Photo Editor is a completely free-to-use and feature-packed software, which makes your dreams come true. Isn't that exciting? You not only get all the features to edit photos like a pro but also have a photo manager to efficiently manage your memories. So, let's not waste any more time and check out the major features of the Icecream Photo Editor.
Icecream Photo Editor: Features Overview
We have broken this article down into several key headings to paint a complete picture for you. For your convenience, we have attached a table that will allow you to navigate to any section of this article with ease. So then, let's jump right into it!
Free to Use and Ad-Free
Before we list out the several excellent features of the Icecream Photo Editor, it is worth mentioning that you get this amazing software for absolutely free. There are no hidden costs or subscriptions. It is a 100% no-frills software that not only lets you download and install the software for free but also allows you to access all the tools and features at no additional cost. There aren't any pesky pop-ups or grayed-out features that require money to unlock. With Icecream Photo Editor, you get what you ask for.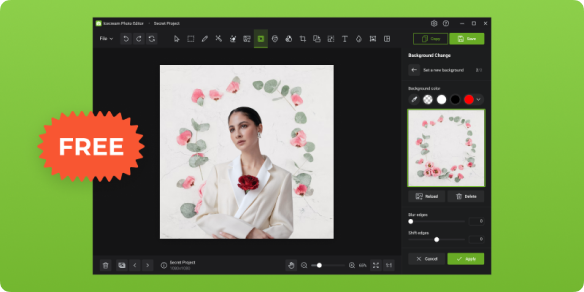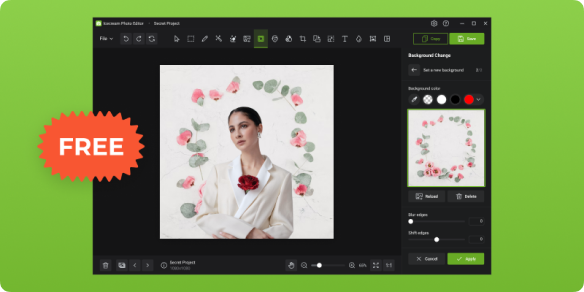 Now, you must be thinking — "The software is free and that is incredible. However, I guess it will bombard me with tons of ads, right?" Well, it is with pleasure that I inform you that you are wrong. Not only is Icecream Photo Editor free to use, but it is also 100% advertisement free! I bet you did not see that one coming. Now that the costs are taken care of, let's take it down a notch further.
Minimal and Clean UI
Most free photo editor software are either too cluttered or have huge advertisement banners. That not only reduces the overall efficiency of the software but also impacts user experience and customer retention. This is not the case with Icecream Photo Editor. Once you download this software, the first thing you will notice is the easy-to-use and clean interface. You can immediately feel the customer-first approach to the software.
With a focus on productivity and efficiency, you are greeted with a minimal UI with options to "Browse for images, create new image, or add images from Gallery." All you need to do is select whichever option is the most suitable for you and upload your desired image to the software.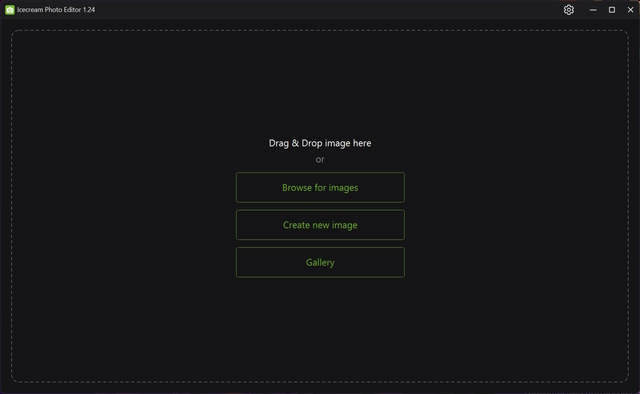 Once you do that, you will notice all of the features and tools within the software neatly lined up in the top row of the screen. You also get some of the quick access functionalities in the bottom row. All the options are evenly spaced out and properly denoted by their respective icons.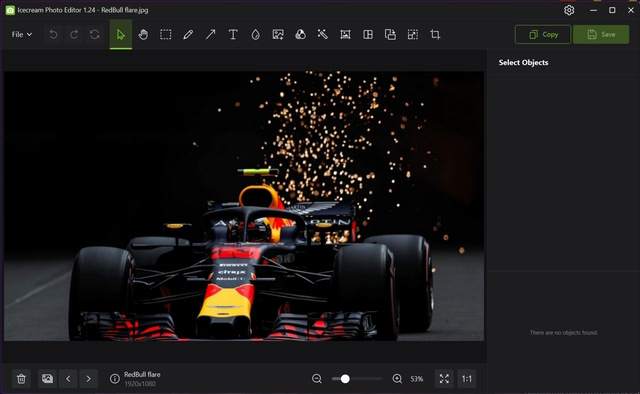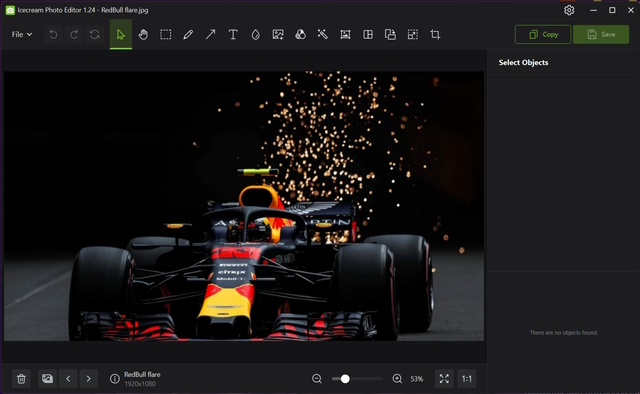 The "Settings" menu, accessible via the cog icon at the top-right, includes only important options and isn't cluttered with useless settings like other software. Here, you can choose the theme, location to save images, hotkeys for editing, and more. In terms of UI, the Icecream Photo Editor has absolutely nailed it!
Supported Formats
To truly judge the capabilities and capacity of any software, we need to always look past the elegance. Now, while that is always the major selling point, it is important that the software that you're using should first get the basics right. so let's look at the supported formats and editing features of the Icecream Photo Editor.
As expected, the Icecream Photo Editor supported most of the common image formats, including JPG, JPEG, PNG, GIF, TIFF, and BMP. While these are the formats mentioned on the company's website, I was able to open SVG, GIF, ICO, and other file formats. And I got the option to save files in JPEG, PNG, and BMP file format.
Edit Photos Like a Pro
In our testing, we were impressed to see how polished and refined the software is. You can tell this isn't a rushed product. Every feature has been kept intact and improved upon to deliver a seamless, accurate, and effortless experience. You get access to a plethora of features in this software. It doesn't matter if you are just starting out, or you are a pro photo editor, Icecream Photo Editor will be useful irrespective of your level of proficiency and skill.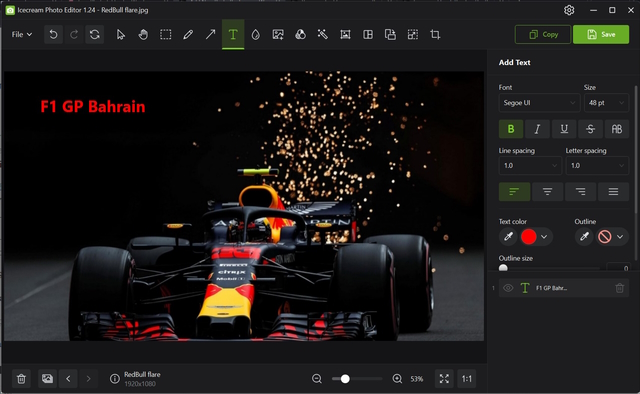 With the help of Icecream Photo Editor, you can easily add text to your images. You can select the font and size of your text, bold or italicize your text, add color, and much more.
You can also add images and stickers to your uploaded image. Apart from that, you get the ability to apply different filters to your image, add shapes to your image, blur your image, and much more.
You also get the ability to resize, crop, rotate, and flip your image here. You gain access to all the photo editing functionalities that will elevate your photos and editing skills to the next level. The ability to manually adjust and control the level of saturation, highlight, contrast, shadow, and more will allow you to get that perfect adjustment for your pictures.
Built-in Photo Manager
You just learned about all the basic features of Icecream Photo Editor and how much better they are compared to the competitors. So, what else can this software do? Well, what if I told you that you can also manage every single image on your device right from this app? Will you believe me? Will you be impressed?
I am sure you will love the fact that Icecream Photo Editor also offers a dedicated built-in Photo Manager. Yes, you read that right! With the help of Icecream Photo Editor, you can access the entire photo library on your Windows device. This feature will enable you to manage your photos, rotate them, crop them, edit them, and much more while viewing them. You can click the green "Edit" button at any time to access the photo editor.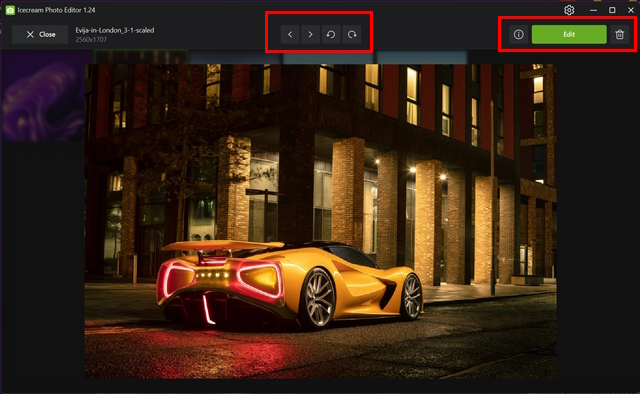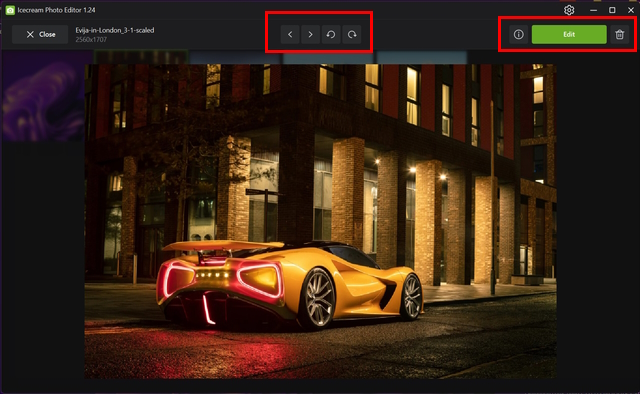 This is a game-changing feature, and we are certain Icecream Photo Editor will add more features and options for their dedicated Photo Manager with time. Right now, this feature is truly remarkable and is a feature-rich substitute for the native Windows Viewer.
Personal Experience
During my testing, I realized that the Icecream Photo Editor is an incredibly powerful and capable offering. And as expected from Icecream Apps, the software is reliable and focuses on quality rather than the number of built-in features. I could sense their user-centric and clutter-free approach throughout the software.
From the fact that Icecream Photo Editor is completely free and does not contain ads to the ability to manage your pictures within the app, it is safe to say that we have a strong player in the photo editor market. I thoroughly enjoyed my experience with this software! I can't wait to see what the future holds for the Icecream Photo Editor.
Start Using the Icecream Photo Editor Software Today!
So, with the Icecream Photo Editor you are getting more than you asked for and that too for no cost! This incredibly powerful and feature-rich software is available to download right now for your Windows 7, 8.1, 10, and 11 devices. With the Icecream Photo Editor, you get a full-fledged photo editing experience as well as integrated photo management capabilities. The software is easy to navigate and the simple and clean UI ensures you are not left wanting. Your search for an all-in-one free photo editing software for Windows ends right here! So what are you waiting for? Download and install this incredible software right now! Do let us know in the comments below which feature excited you the most and which one are you planning to use the most.
Download Icecream Photo Editor right now
---