We don't know exactly when 'dark theme' became such a huge thing for enthusiasts of nearly every major platform, but everyone wants it and while Google has made it clear it won't be adding one in Android any time soon, and fans want one for iPhones, Apple may first make it available on the macOS for its notebook and desktop line-up.
As discovered in WebKit's source code (of a nightly build) by 9to5Mac, some lines appear to hint at Apple allowing apps to set dark theme elements within a Safari instance. This hints at system-wide support for mode in the next update i.e with macOS 10.14. The latest version of macOS is 10.13.4.
As the report says, the code is "designed to adapt WebKit's rendering of a website based on the effective appearance of the app." This means developers could set an appearance for the app, which will be followed by WebKit in Safari.
If Apple implements dark mode support in reality, then it could push more app developers to implement the feature for individual apps as well. However, there's no confirmation yet about whether the dark mode is only going to be implemented for instances of Safari, or if it will indeed be system-wide support.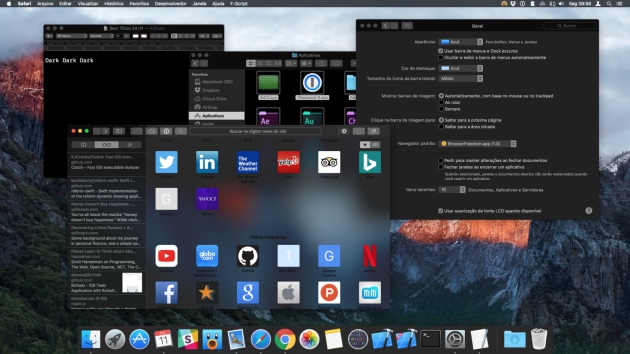 However, this is not the first time Apple is playing with a dark mode option on Mac. It had added partial support with macOS El Capitan, making it possible for users to switch to a dark dock and menu bar. This did not change the appearance of the settings menu or other apps, so it hasn't been all that useful.
There is currently no confirmation, except for the reference to a new system appearance API, so we will suggest you take this report with a grain of salt, or at least file it away in your 'Things Apple Might Do One Day' drawer. Would you like to see a native dark mode on macOS? Let us know in the comments below.