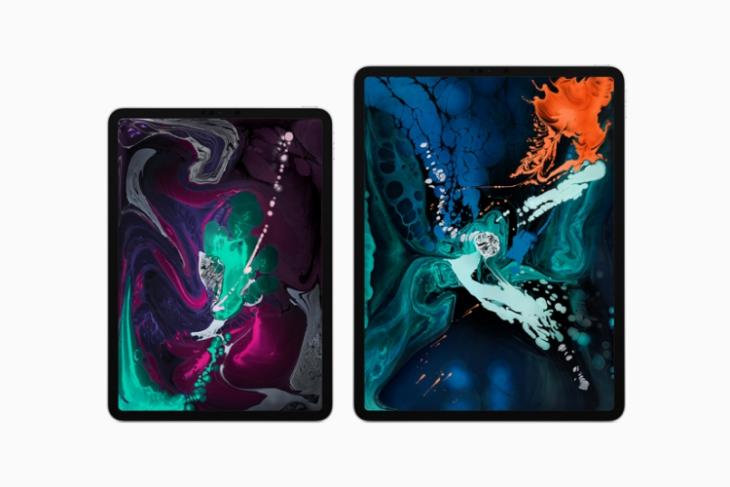 Apple today unveiled two completely redesigned variants of its iPad Pro tablet and they're all-screen (well, almost), backed by a powerful new A12X Bionic processor, and bezels tiny enough to not be able to fit the home button, and Face ID from the iPhone X, among several other exciting things.
The Cupertino giant has upgraded its iPad Pro lineup after a couple of years and it has brought a number of significant upgrades, so let's see how it compares to the previous-generation iPad Pro:
Design and Display
Starting off with the biggest and most noticeable change, Apple has given its iPad Pro lineup a much-needed, modern revamp. It has tried pushing the screen to the very edge to now include rounded corners and an equally-sized bezel on all sides, a tradition that began with Apple iPhone X.
This has enabled the company to pack a larger 11-inch display in the same footprint as your previous-gen 10.5-inch iPad Pro model and considerably reduce the size of the larger 12.9-inch variant – including a same-sized display. This means we bid adieu to the home button and Touch ID, in favor of Face ID that's integrated into the top bezel.
Face ID on the new iPad Pro models works in portrait and landscape
The screens on the new iPad Pro models are still the same Retina Display, with ProMotion technology that supports a 120Hz refresh rate. It has the same resolution and pixel density, while also featuring its True Tone technology.
Also, I'd like to bring to your notice that Apple has used 100% recycled aluminum to build its new iPad Pro. This is a small but essential eco-friendly step that helps reduce e-waste.
Internals
The new iPad Pro variants are powered by the souped-up A12X Bionic processor, which now boast of 4 power and 4 efficiency cores. It also introduces a seven-core Apple-designed GPU to enhance gaming performance by up to two times. This is a major leap compared to the A10X Fusion chip which powered the previous-gen iPad Pro and has for the last couple of years.
The latest iPad Pro models are also the first iPads to ever include a Neural Engine, which enables a host of features and AR experiences on this device. Both of the devices now run iOS 12.1 so the software shouldn't be a big problem for users.
Cameras
Apple hasn't really made any changes in the optics department and the newly launched iPad Pro continues to pack the same 12MP rear and the 7MP front camera (that's included in the TrueDepth camera system) as previous-gen iPad Pro models.
There are some minor changes on board, such as the inclusion of new features such as Portrait mode, Portrait Lighting, and the playful Animoji (along with Memoji), but I'm a little disappointed to see the total lack of any form of stabilization this time around. The previous-gen iPad Pro had OIS (Optical Image Stabilization) on board.
Connectivity
Though I wouldn't really have brought up connectivity, the iPad Pro now includes a USB-C 3.1 Gen 2 port for charging and data transfer purposes over Apple's proprietary lightning port that is seen on the previous-gen iPad Pro.
Apple says it will allow users to connect a host of accessories and devices to the iPad Pro, such as an external display, cameras, musical instruments, and a lot more.
Apple Pencil
The Cupertino giant has also unveiled a second-gen Apple Pencil at the launch event and it's only compatible with the new iPad Pro models. It features an all-white aesthetic, with matte finish and a touch sensor for a double-tap gesture. It's also simple to pair and charge the new Apple Pencil, which now magnetically attaches to the iPad Pro.
The second-gen Apple Pencil remains on charge Till You detach it from the iPad Pro.
This is surely a much-needed upgrade over the original Apple Pencil, which needs to be plugged vertically into the lightning port on previous-gen iPads to pair and charge. So, this is one important upgrade if you're looking to upgrade.
iPad Pro (2018) vs iPad Pro (2017): Specs Sheet
The new iPad Pro is a substantial and worthy upgrade to the older-gen iPad Pro, so let me sum up the differences for you in a quick specs shootout:
| Specs/Model | New iPad Pro | Old iPad Pro |
| --- | --- | --- |
| Display | 11-inch and 12.9-inch Liquid Retina, with ProMotion tech | 10.5-inch and 12.9-inch Retina, with ProMotion tech |
| Processor | A12X Bionic | A10X Fusion |
| Internal Storage | up to 1TB | up to 512GB |
| Rear Camera | 12MP (f/1.8), no form of stabilization | 12MP (f/1.8), with OIS |
| Front Camera | 7MP (f/2.2) with Animoji, Portrait mode, Portrait Lighting | 7MP (f/2.2) |
| Connectivity | Wi-Fi a/b/g/n/ac, Bluetooth 5.0, GPS, GLONASS, eSIM, USB Type-C charging port, | Wi-Fi a/b/g/n/ac, Bluetooth 4.2, GPS, GLONASS, nano SIM, lightning port |
| Biometric Authentication | Face ID | Touch ID |
| IP Rating | N.A | N.A |
| Apple Pencil | 2nd-gen | 1st-gen |
| Colors | Silver, Space Gray | Silver, Space Gray, Gold and Rose Gold |
Price
Finally, let's talk about how much extra would you need to shell out to get the latest iPad Pro. The older-gen iPad Pro started at Rs. 52,900 for the Wi-Fi-only 64GB base variant of the 10.5-inch model, whereas the new 11-inch model will cost you a whopping Rs. 71,900.
As for the larger 12.9-inch model, which is the same size as the older-gen iPad Pro, the Cupertino giant has priced the Wi-Fi-only 64GB variant at a Rs. 89,900 in comparison to the Rs. 65,900 price tag of the older-gen variant.
That's a substantial difference in retail price as compared to the previous-gen model and falls in line with Apple's recent mind-boggling pricing tactic – similar to the recent iPhone models. However, it's definitely worth the upgrade for the features it offers, despite the higher price tag.
So, would you be interested in picking up the new iPad Pro? Let us know in the comments down below.