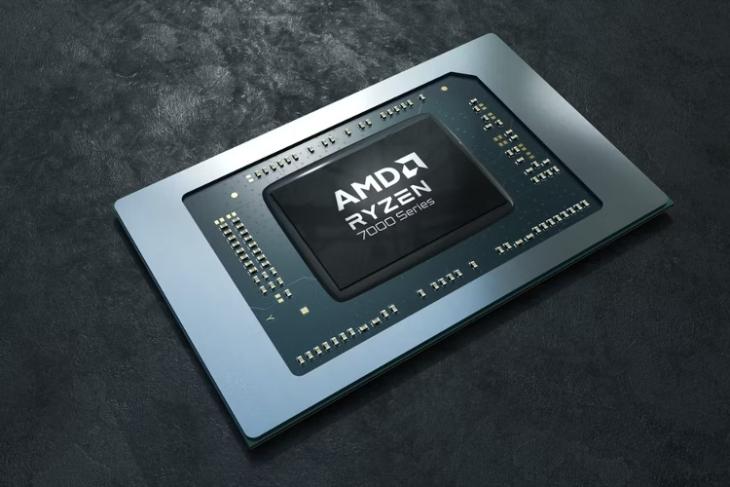 After Intel unveiled its 13th-gen mobile processors at CES 2023, AMD is back with a lineup of 7000 series mobile processors, laptop GPUs, X3D chips, and some mainstream desktop CPUs. Ryzen 7000 laptop APUs are based on the latest Zen 4 architecture, whereas the Radeon RX 7000 GPUs are built on the powerful RDNA 3 architecture. In addition, after almost a year, AMD has announced three new processors built on the incredible 3D V-cache technology. And finally, AMD released some affordable Ryzen 7000 CPUs for desktops. To learn about all the AMD announcements at CES 2023, follow the details below.
Ryzen 7000 Mobile Processors Arrive on Laptops
AMD has introduced a range of Ryzen 7000 series mobile processors for laptops. But bear in mind, not all Ryzen 7000 series processors are based on Zen 4. Some are built on Zen 3 and Zen 2 as well. So let's briefly discuss AMD's new naming scheme.
To find out the architecture of Ryzen 7000 processors, look for the 3rd digit. For example, Zen 4 processors are denoted as 7940, Zen 3 as 7735, and Zen 2 as 7020. Apart from that, AMD has added a new 7045 variant where the last digit "5" means raw performance. Such kinds of mobile processors will have a higher TDP and can clock better performance than the regular 7040 variants.
Ryzen 7045HX Series Mobile Processors
Moving to the laptop APUs announced by AMD at CES 2023, the highlight of the show is the 7045HX series (codenamed Dragon Range) built on a 5nm process node. The top-end 16-core Ryzen 9 7945HX mobile processor has 32 threads and a TDP of 55 to 75 Watts. In addition, its frequency ranges from 2.2GHz to 5.4GHz and comes with a total of 80MB cache. To have this kind of processor in a laptop is surreal.
AMD is looking to outclass Intel's i9-13980HX mobile processor, which comes with 24 cores. However, out of Intel's 24 cores, we know 16 are efficiency cores, but AMD's all 16 cores are performance cores, which is unreal. This is essentially a desktop CPU (closer to Ryzen 9 7950X) but with a lower TDP. There are also other processors under this series — Ryzen 9 7845HX (12C/24T), Ryzen 7 7745HX (8C/16T), and Ryzen 5 7645HX (6C/12T). As for integrated graphics, it has 2 Computer Cores based on RDNA 2.
Laptops for gamers and creators will have processors from this series. We already know that the Alienware m16 and m18 will have a Ryzen 7045HX series processor, along with the Asus ROG Strix and Lenovo Legion gaming laptops. You can expect to see laptops powered by the said Ryzen processors arrive in February.
Ryzen 7040HS Series Mobile Processors
The regular Ryzen 7040HS mobile processors announced at CES 2023 may look like middle-of-the-road APUs, but they strike a great balance of performance, efficiency, and features. Built on Zen 4 and a 4nm process node, there are three processors under this series: Ryzen 9 7940HS (8C/16T), Ryzen 7 7840HS (8C/16T), and Ryzen 5 7640HS (6C/12T).
They have a TDP of 35 to 40 and the total cache is 24MB, except for 7640HS which has a 22MB cache. The good part is that the processors of this series come with an AI engine as well. As for the integrated GPU, there are 12 RDNA 3-based Compute Units, which is amazing. So even on the graphics front, you are equipped with top-notch performance. The Ryzen 7040 series laptops will arrive in March this year.
Ryzen 7035, 7030, and 7020 Series Mobile Processors
AMD also launched Ryzen 7035, 7030, and 7020 mobile processors but they are based on the old Zen 3+, Zen 3, and Zen 2 architecture, respectively. They have 8 cores and 16 threads, except for the 7020 series, which only comes with 4 cores and 8 threads. These are low-end mobile processors for everyday computing.
Ryzen 7000 Series 3D V-Cache CPUs
AMD has released three impressive X3D desktop processors which include Ryzen 9 7950X3D, 7900X3D, and 7800X3D. You will get your hands on these chips in February. The company is looking to reclaim the crown of the best desktop processor with the Ryzen 9 7950X3D. It will be interesting to see how well it performs against Intel's Core i9-13900K processor.
The top-tier chipset will have 16 cores and 32 threads with a TDP of 120 watts. And the total cache size (L2 + L3) is a massive 150MB. AMD claims that you will get around 52% performance improvement in productivity apps and around 15% gain in CPU-bound gaming titles.
Ryzen 7000 Series Desktop CPUs
Thankfully, AMD has announced some affordable desktop CPUs based on the new Zen 4 architecture. There are 3 Ryzen 7000 series desktop CPUs, which include Ryzen 9 7900, Ryzen 7 7700, and Ryzen 5 7600. The Ryzen 9 7900 comes with 12 cores and 24 threads and it's priced at $429. On the other hand, Ryzen 7 7700 with 8 cores and 16 threads is priced at $329. Lastly, the most affordable is the Ryzen 5 7600, which includes 6 cores and 12 threads and comes at a price of $229. All of these processors will be available starting January 10.
AMD Radeon RX 7000 Laptop GPUs
AMD has launched four new RX 7000 series laptop GPUs based on the latest RDNA 3 architecture. And three Radeon 6000 series laptop GPUs based on RDNA 2 architecture. The RDNA 3-based laptop GPUs are Radeon RX 7600M XT, 7600M, 7700S, and 7600S.
RX 7600M XT and 7700S have a TDP of 75W to 120W and come with 32 Compute Units. Whereas 7600M and 7600S have a max TDP of 50W to 90W and pack 28 Compute Units. All GPUs ship with 8GB of GDDR6 memory and have a 128-bit memory interface. They are built on TSMC's 8nm process node. The new Radeon RX 7000 series laptop GPUs are said to arrive in the first half of 2023.