Movie studios, television networks and streaming services have targeted Kodi for allegedly enabling piracy, but now, they have a new target. It's called SET TV, and it's being sued by Amazon, Netflix, and several major Hollywood studios for not only illegally streaming pirated content, but also charging a fee for it. According to Torrent Freak, the copyright infringement lawsuit against SET TV was filed in a California district court in the US on Friday by a consortium of media companies.
Similar to Kodi-powered streaming boxes, the SET TV is an IPTV service, which 500 channels for $20 per month. It also offers a 'pre-loaded box' through which you could watch live-streams of TV channels, and video-on-demand services such as Amazon Prime Videos, Hulu, HBO and Netflix, as well as new movie releases.
The lawsuit was filed by an industry body called the Alliance for Creativity and Entertainment (ACE), which is an anti-piracy group formed by dozens of stakeholders, including Netflix, Amazon, and several Hollywood studios and entertainment companies. The lawsuit filed by the group names SET TV owner Jason Labbosiere and employee Nelson Johnson as two of the defendants. It also mentions YouTuber 'Solo Man', who is accused of advertising and promoting the allegedly illegal service for a fee.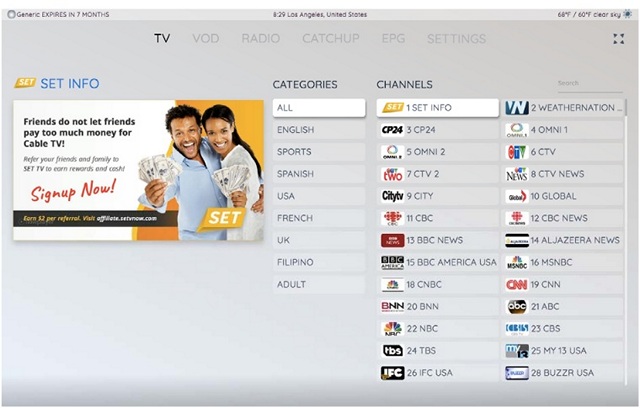 According to the complaint, "Defendants market and sell subscriptions to 'Setvnow,' a software application that Defendants urge their customers to use as a tool for the mass infringement of Plaintiffs' copyrighted motion pictures and television shows".
"For its on-demand options, Setvnow relies on third-party sources that illicitly reproduce copyrighted works and then provide streams of popular content such as movies still exclusively in theaters and television shows"
An ACE spokesperson told Torrent Freak that, "Setvnow' and other piracy software applications undermine the legal market for films and television shows, causing harm to a vibrant creative economy that supports millions of workers around the world". SET TV hasn't yet commented on the lawsuit, but the service itself is still believed to be available.