While the luxurious leather covers and crystal clear cases are kind of my go-to picks, I always prefer to have a kickstand case at my disposal, especially when I'm on the move. With a built-in stand, it becomes more convenient to prop up the iPhone to have desired viewing angles for streaming movies on Netflix or video calling. Aside from being an ideal travel companion, kickstand cases are also quite reliable in terms of offering the needed safeguard against accidental drops and scratches. If you also appreciate these attributes, these 10 best iPhone 13 and 13 Pro cases with stand are more likely to win you over.
Best Kickstand Cases for iPhone 13 and 13 Pro (2022)
Due to the difference in the design of the rear camera module, I have mentioned stand cases separately for both iPhone 13 and 13 Pro. Each case has been chosen based on three key aspects – design, durability, and kickstand functionality. If you want to have the best of both worlds (style and protection), clear cases with the built-in stand should be your preferred choice.
If protection is on top of your mind, go for the heavy-duty cases. Though the rugged covers are less stylish and also add some bulk to the smartphone, they offer an uncompromised safeguard against shock. Should you wish to have a cover with an enhanced grip, a ring holder case could be more suitable.
Best iPhone 13 Cases with Stand
1. Spigen Ultra Hybrid S
When it comes to producing high-quality cases at a comparatively affordable price point, Spigen knows the best. Flaunting a clear profile, Ultra Hybrid S is designed to make a form-fitting match with the iPhone 13 (available for iPhone 13 Pro as well). Thanks to the durable hybrid construction (hard PC and soft TPU), the case has got the needed cushion to endure low-volume impact and also keep scratches away. 
Ultra Hybrid S also features elevated lips to keep the dual-camera module and the 6.1″ screen lifted off the flat surface. Protection aside, the integrated kickstand allows you to hold your iPhone in both the portrait and landscape orientations. So, you can expect it to enhance your viewing experience. And with the smooth bumper, you also get a secure grip. Overall, Ultra Hybrid S can safely claim to be one of the best kickstand cases for the iPhone 13.
Noteworthy features:
Impressive clear design
Anti-yellowing
Multiple viewing angles
Comfortable grip
Buy from Amazon: $16.99
2. ESR Metal Kickstand Case
With a clear and compact design, the ESR metal kickstand case is a snug-fit companion to the iPhone 13 (and iPhone 13 Pro). Made of the hard PC back panel and impact-resistant polymer frame, the case is also able to fight out minor impact and ward off scratches. To ensure the camera and the expensive display do not come in contact with a flat surface.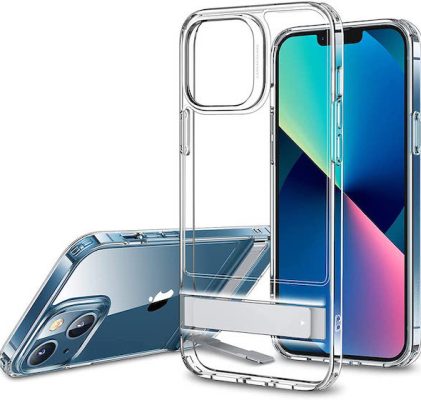 Courtesy of the soft polymer material, the frame plays a vital role in offering an anti-slip hold. Talking about the kickstand, it's made of high-grade metal and offers multiple viewing angles (up to 60°). Moreover, the ESR metal case also fully supports wireless charging to ensure you don't have to take the pain of removing the cover before putting the device on a wireless charger.
Noteworthy features:
Pretty compact design with durable metal stand
Much-improved grip
Scratch resistant
Supports wireless charging
Buy from Amazon: $17.99
3. Encased Slimline
Are you in search of a top-notch belt-clip case that also dons the role of a kickstand cover? If yes, Encased Slimline can be a great choice. Slimline comes with a detachable belt clip to let you securely carry your smartphone. And with the integrated stand, you get multiple viewing (vertical and horizontal) angles.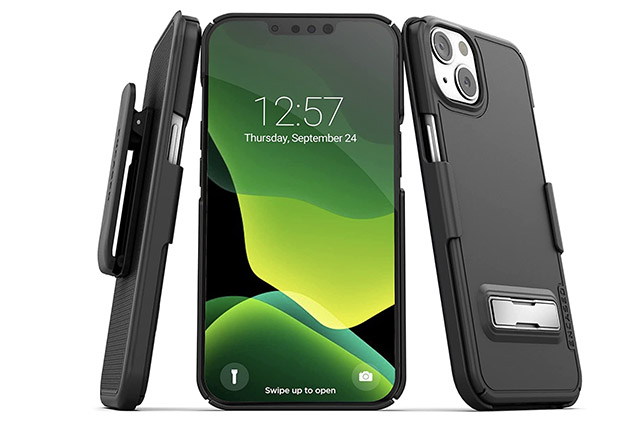 Unlike other belt-clip-cum kickstand cases, Slimline doesn't look bulky at all. Due mainly to the ergonomic design with the rubberized finish, it fits comfortably in the palm. Featuring precise cutouts, the case provides hassle-free access to the ports and the speaker grills. Priced affordably at $14, Slimline has got you fully covered as a durable kickstand case.
Noteworthy features:
Detachable belt clip holster
Built-in kickstand
Rubberized finish
Highly protective construction
Buy from Amazon: $13.93
4. VRS Design MagStand Pro
What sets VRS MagStand Pro apart from other cases is the full-on compatibility with MagSafe and most wireless chargers. Considering the fact that very few kickstand cases support MagSafe, you should keep MagStand Pro (also available for 13 Pro) in mind especially if you wish to take advantage of MagSafe chargers. That aside, it has also got a muscular body that can withstand bumps with consummate ease.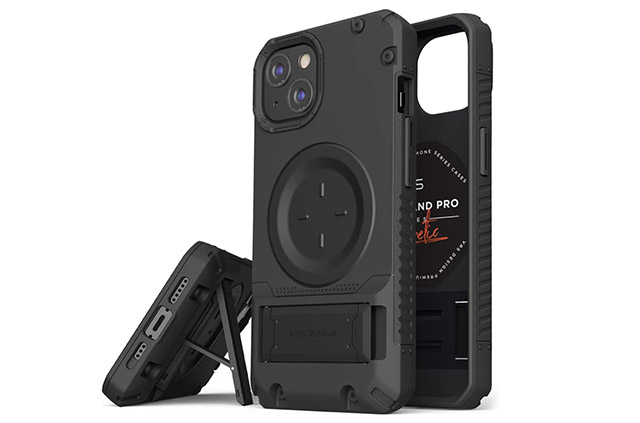 MagStand Pro comes with a sturdy kickstand that can boost your media streaming and video calling experience through the support for both portrait and landscape orientations. Besides, the rugged sides also offer a secure hold that can prevent accidental falls. Though the $30 price tag puts MagStand Pro a bit on the expensive side, given the impressive built and the handy kickstand functionality, you can't go wrong.
Noteworthy features:
Rugged profile
Fully compatible with MagSafe
Anti-slip grip
Reinforced kickstand
Buy from Amazon: $30
5. i-Blason Cosmo Snap
i-Blason's Cosmo Snap (also available for iPhone 13 Pro) is all about elegance. So, if you are on the lookout for a case that can raise the fashion quotient of your smartphone, Cosmo Snap can be the right choice. Made of pretty soft TPU material, the case features a sophisticated form factor and also provides an anti-slip hold.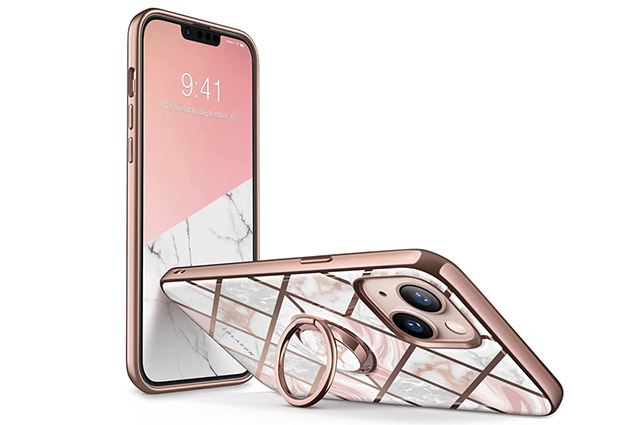 Furthermore, i-Blason's Cosmo Snap features a built-in ring holder that allows you to securely grip your iPhone. Times when you are on a selfie-shooting spree, this feature will come in super handy. That's not all, the ring holder also doubles up as a kickstand to let you prop up your device in multiple orientations. While Cosmo Snap lacks fortified construction, it has got enough shield under the hood to endure minor shock.
Noteworthy features:
Snap-on profile
Elegant design
Grippy exterior
360° rotatable ring holder
Buy from Amazon: $16.99
Best iPhone 13 Pro Cases with Stand
6. Spigen Tough Armor
What makes Spigen Tough Armor a worthy contender is the ability to offer a trusted safeguard against impact without making the iPhone 13 Pro (or iPhone 13) look bulky. So, if you wish to go for a highly protective yet less bulky case, Tough Armor could fit your needs. The case features a rugged dual-layer of construction (hard PC and shock-absorbing TPU). And with the additional safeguard for the screen and the triple-camera module in the form of raised bezels, it's fully equipped to offer an enhanced shield against accidental drops and scratches.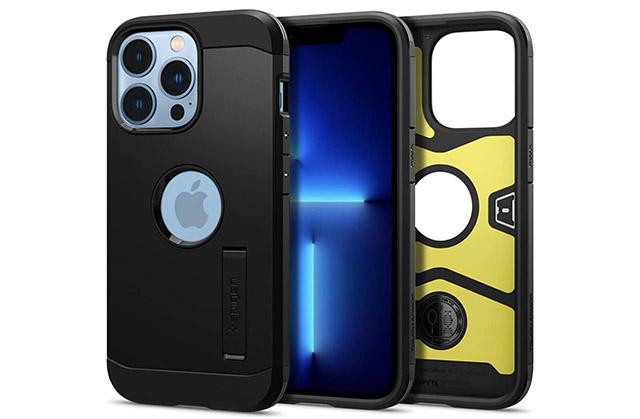 Moreover, Tough Armor comes with a reinforced kickstand so that you can place your smartphone in the landscape orientation for a more convenient media-watching experience. Thanks to the anti-slip exterior, the case also offers a better grip that can go a long way in preventing unwanted slip-offs. The pronounced buttons feel tactile, whereas the cutouts are precise allowing easy access to the ports and speakers. 
Noteworthy features:
Rugged construction
Apple logo cutout
Tactile buttons
Extra protection for triple-camera module and screen
Buy from Amazon: $16.99
7. Torras MoonClimber
Featuring a modern-looking design with a durable stand, Torras MoonClimber has checked off all the essential boxes to warrant serious consideration. Unlike other cheap clear cases, it's made of anti-yellowing material. That means you can trust the MoonClimber to retain its clarity for long.
Design aside, MoonClimber can also live up to the expectation on the protection front. The shockproof construction means you won't have to worry about random drops. Moreover, the sturdy sides feel grippy in hands and the pronounced buttons are pretty responsive. As for the built-in kickstand, it's made of aluminum and offers three different viewing angles (0 to 60°) which is a big plus from a flexibility point of view. In a nutshell, it's one of the best kickstand cases for iPhone 13 (available for iPhone 13 as well).
Noteworthy features:
Durable kickstand
3 different viewing angles
Responsive buttons
Modern-looking design
Buy from Amazon: $26
8. ESR Metal Kickstand Case for iPhone 13 Pro
The ESR metal kickstand case is great for the iPhone 13 Pro. It comes with a reinforced two way stand which allows you to place your iPhone horizontally or vertically, making it useful for watching videos as well as taking FaceTime calls. You get reinforced air-corners to ensure better drop protection as well as raised edges around the display and the camera bump to protect your iPhone 13 Pro from scratches and scuffs.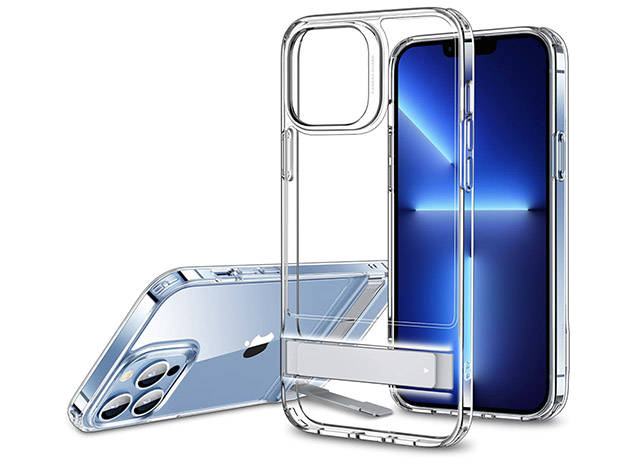 The case is available in both a black color as well as a clear variant for people who prefer showing off their iPhone's color.
Noteworthy features:
Clear case with anti-yellowing coat
Air-guard corners
Raised edges
Buy from Amazon: $18.99
9. Torras MarsClimber
MarsClimber is another kickstand case from TORRAS. As compared to the MoonClimber, it's more protective. MarsClimber features an exceptionally rugged frame and a clear back panel to allow the smartphone to showcase the design.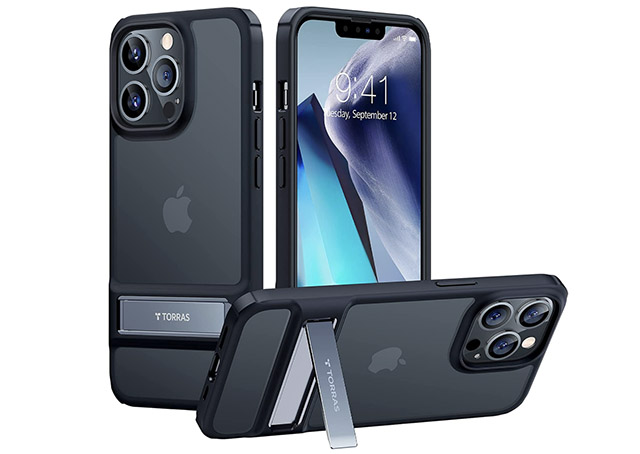 TORRAS claims that the shockproof case delivers 6FT military-grade protection. Without getting into the weeds, I would say that it has got the strength to survive even nasty bumps. Another thing worth taking note of is the kickstand that supports both vertical and horizontal orientations. Other than that, MarsClimber has got perfect cutouts and tactile buttons that should offer the needed responsive feedback.
Noteworthy features:
Good-looking design
6FT military-grade protection
TPU frame offers better grip
Impact-resistant stand
Buy from Amazon: $26
10. Supcase Unicorn Beetle Pro
If you want a heavy-duty kickstand case for your iPhone 13 Pro (also available for iPhone 13), SUPCASE Unicorn Beetle Pro Series can be a solid pick. Unicorn Beetle Pro features multiple layers of protection fortified by the impact-resistant frame and the cushioned corners. For further safeguard against drops and scratches, the case comes with a built-in screen protector, which is yet another plus if you wish to have an uncompromised shield against unexpected damage.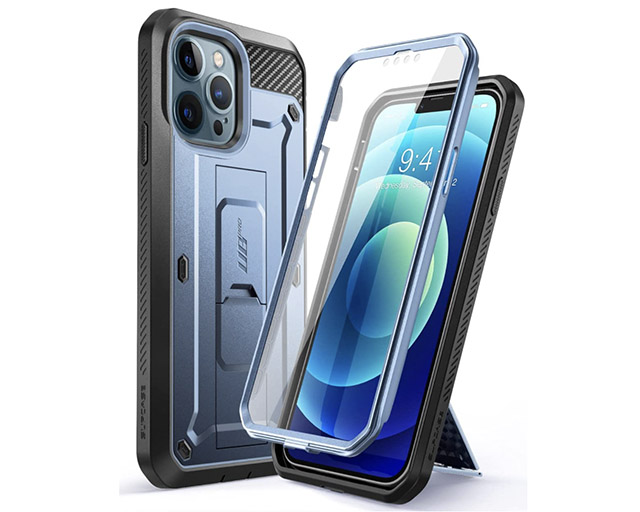 What's more, Unicorn Beetle Pro also has a detachable swiveling belt clip holster that allows you to securely carry your iPhone. The hip holster makes it an ideal companion for your adventures. Couple this with a handy built-in stand and Unicorn Beetle Pro seems to check off all the boxes as a rugged case. Priced at $24, it's available in three good-looking color combinations such as cerulean, ruddy, and black.
Noteworthy features:
Exceptionally durable construction
Detachable belt clip holster
Built-in kickstand
Enhanced screen protection
Buy from Amazon: $24
Top iPhone 13 and 13 Pro Kickstand Cases Lined Up for You
So, that concludes our extensive lineup of the best kickstand cases for iPhone 13 and 13 Pro. We have included kickstand cases of a wide variety, including a couple with ring holders on the back that double up as a kickstand and also help you comfortably hold your iPhone while you doomscroll Instagram or Twitter. So, which case are you planning on buying? Let us know in the comments.