Android is the most widely used mobile operating systems in the world and one of the major reason behind it, is that its flexible and open nature, which makes sure that plays well with almost all platforms. For instance, the Android devices can communicate easily with Macs and PCs around you, therefore making things easier, as you can sync data from your Android smartphone to your PC and carry your work with you. However, if you'd like to manage your Android device from your PC or Mac, or share all types of files, it's not natively possible. That's where Android Desktop Managers come into play.
Android Desktop Managers are simple applications for your computer using which you can easily control & manage your Android devices through a data cable or even wirelessly using Wi-Fi or Bluetooth. These apps make it easy to manage files, install and uninstall apps and even backup and restore your phone in the time of crisis. There are quite a few Android desktop managers available that you can use, but as always, we have compiled a list of some of the top ones that you can explore and choose from. So, let's get going:
1. MoboRobo
MoboRobo is a freeware desktop manager available for Windows using which you can manage your Android device. If the drivers of your device are not installed, the app will take care of it and detect your device. The user-interface is one of the best, considering it's a freeware and you can manage contacts, messages, apps and files right from your desktop. In the homepage, the device screen will be mirrored in real-time and you can take screenshots with a single click. Cool, right?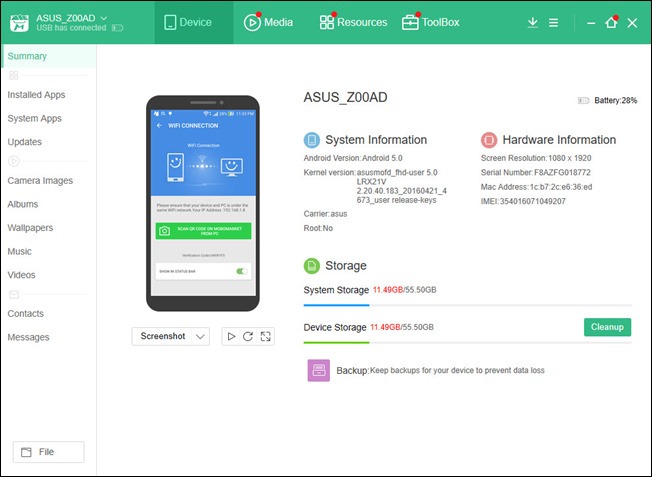 The software also includes a file and app manager, which help you to manage everything right from the desktop. You can even create a complete backup of your device which can be restored to any other Android smartphone without any issues. The app also supports Wi-Fi connectivity i.e. if you find cable connections annoying.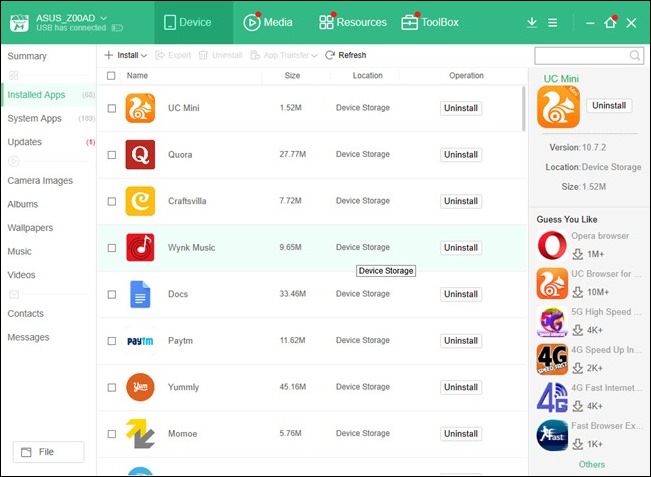 While the application is free, it will give you app recommendations from time to time. Also, at the time of installation, make sure that you don't install any third party apps, which come packed with the installer.
Download (Windows)
2. MoboGenie
MoboGenie is yet another free Android desktop manager which lets you download apps, manage files and keep your phone up to date. The manager automatically scans your phone and deletes junk files and resources. Getting new content directly from the computer to your device is the primary focus of this desktop manager. MoboGenie supports managing your device over WiFi and it's obviously easier than using the data cable.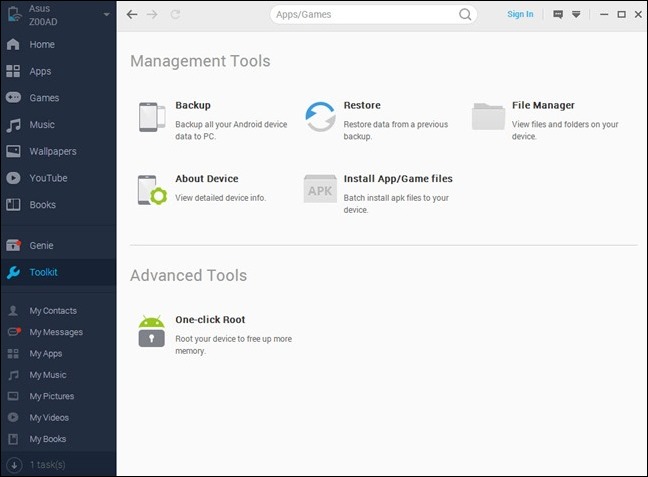 MoboGenie also lets you manage contacts, messages, apps and almost anything in the device. Like MoboRobo, you can create a complete backup of the device and restore it to any Android device at a later date with MoboGenie.
The app also offers a file manager and one-click root assistance for supported devices. However, the device also recommends you apps as a part of its ads. Apart from that, MoboGenie is a great Android desktop manager.
Download (Windows)
3. MyPhoneExplorer
The previous two apps are great when it comes to free desktop managers, but at the same time, they also include app recommendations which can get annoying. Well, if you want a better solution, you can use MyPhoneExplorer, which is one of the oldest desktop managers I have known for Android. MyPhoneExplorer offers the basic features for free and that too without any ads or limitations. The interface is very basic and you can manage almost anything from the device except the apps. The software also supports complete backup and restore in the easiest way possible.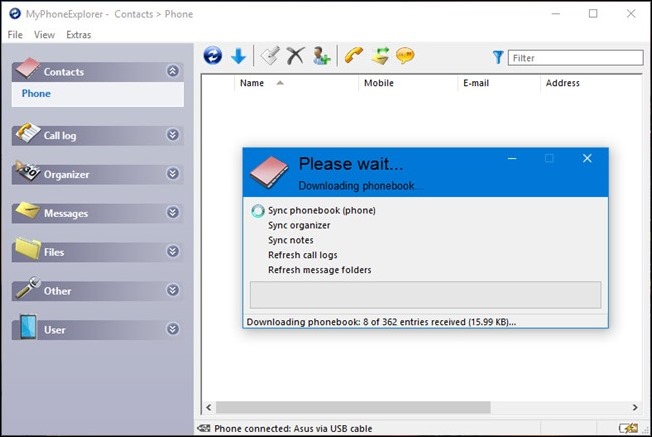 The application also syncs contacts and calendar to Outlook, which can be helpful if you have a corporate phone and need to keep the phone in sync with the PC all the time. The only downside of MyPhoneExplorer is that it's very basic with a 5-year-old outdated UI. But if you can work with that, I would really recommend it as a free alternative to the above two.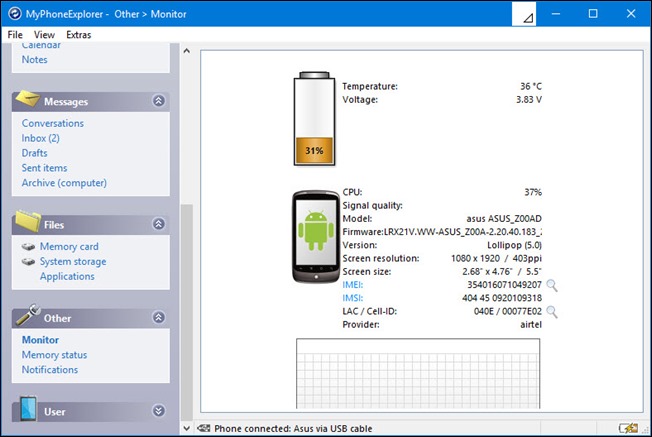 Download (Windows)
4. AirDroid
Let's now take a look at the top paid Android desktop managers, starting with AirDroid. AirDroid started as a free file transfer app between PC and Android over WiFi but has come to a great distance from where it started to become a full-fledged wireless desktop manager for Android. You will have to create an online account before you can work on AirDroid. Once you have created an account and installed AirDroid on your phone as well, you can control the messages, get notifications, share files, manage apps, calls, contacts and almost everything from the software or the web client.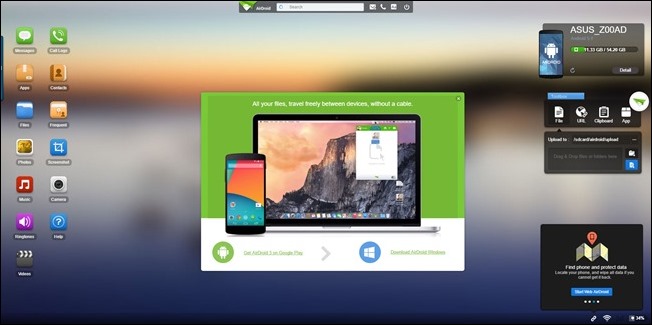 The free version of the app is limited when it comes to file size of the transfers and daily transfer quota. The paid version removes all the restriction for just $1.99 per month. Also, you can manage your Android device wirelessly, as it supports WiFi connections.
The best part about the app is that it works on all the platforms because it is available as a web client and Chrome extension. However, if you want a full-fledged solution, you should download the full-blown software for Windows and macOS.
Download (Android, macOS, Windows, Chrome, Web)
5. Wondershare MobileGo for Android
If you are ready to spare $39.95 for a lifetime license, Wondershare MobileGo for Android is the best desktop manager that you can get. You get all the features that you would look for in a desktop manager like data backup, file and apps management, multimedia file conversion, SMS manager, desktop notification and all that works over WiFi too.
The software is available in a 15-day trial period, which packs in all the features, so you can use it extensively to make up your mind. The interface is easy to master and you also get advanced tools like one-click root assistance. You also get 24/7 customer support via a customer support team, if you face any issues with the product.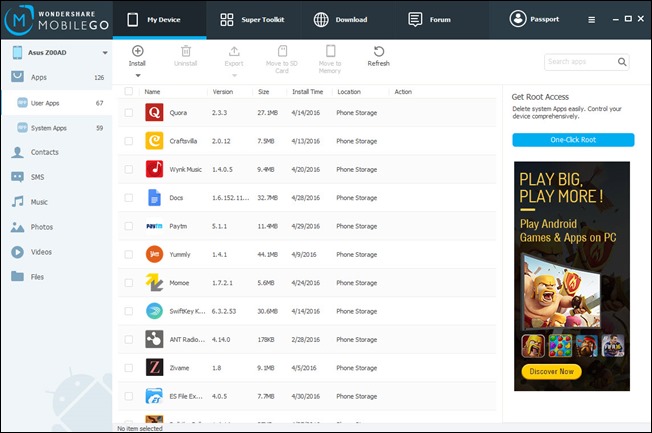 Download (Windows, macOS)
SEE ALSO: 8 Pushbullet Alternatives To Counter Its Free Version Limitations
Ready to manage your Android smartphone from your PC or Mac?
Unlike yesteryear phones from the likes of Nokia, Google does not offer a PC suite for Android, which can come in pretty handy at times. Thankfully, these desktop managers for Android fill the gap pretty well. There are free as well as paid solutions, so you can try them out and make the right choice. Don't forget to share with us the one you are going to use or already use. Let us know your thoughts in comments section below.