Samsung's latest flagships, the Galaxy S9 and S9+, have received glowing reviews for the superior smartphone experience they offer, with particular praise directed towards the gorgeous Super AMOLED display and the camera. With all that acclaim, it is quite natural that Samsung must have had expected the devices to set new sales benchmarks, but the flagship pair's combined sales figures are not as high as Samsung would have liked them to be.
According to a report by Canalys, the Korean electronics giant has shipped just over 8 million units of the Galaxy S9 and S9+ in the first month after launch, matching the first-month sales figures of the Galaxy S8, but falling short of the numbers clocked by the Galaxy S7 back in 2016.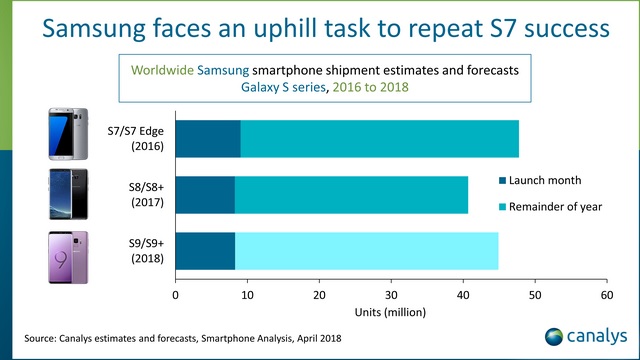 As per Canalys data, Samsung shipped around 11.12% more units of the S7, than the 8 million units of the Galaxy S9 and S9+ shipped so far.
As for the model-wise sales numbers, the Galaxy S9+ sold in a much higher quantity compared to the Galaxy S9, which could be due to customers preferring the dual camera setup on the Galaxy S9+.
Samsung has introduced attractive trade-in programs and partner-driven offers for the Galaxy S9 and S9+ to boost the sales, but the company has an uphill task ahead to stave off competition from rival OEMs and outperform one of its best selling flagships, the Galaxy S7, whose 48 million units were shipped in the first year since its launch.
When it comes to region wise shipment figures, 2.8 million units were shipped to the United States while 1 million units made their way to the Korean market. Canalys analyst Ben Stanton pointed that the Galaxy S9's sales performance is impressive, but Samsung is aiming to outsell the previous generation Galaxy flagships and is even willing to sacrifice profit margins to accelerate the Galaxy S9's sales in order to preserve its share in the global smartphone market.