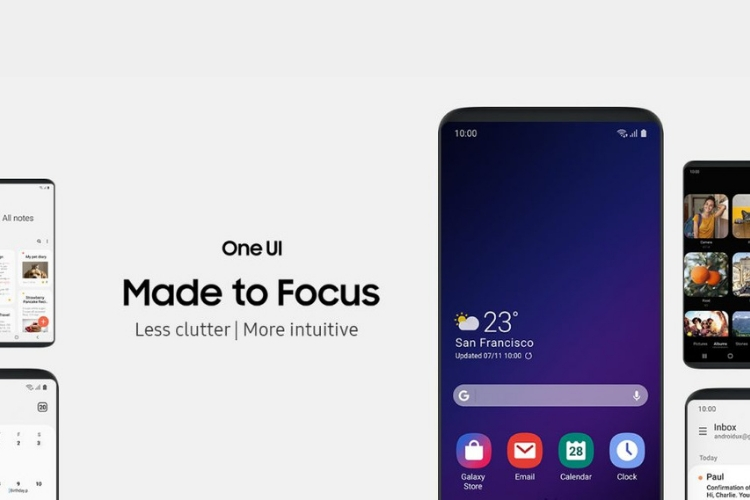 At its fifth annual Developer Conference held in San Francisco over the past couple of days, Samsung not only talked about the expansion of Bixby to every possible avenue, unveiled the foldable Infinity Flex display, but also showed off the next iteration of its software experience, dubbed as One UI.
One UI will replace Samsung's existing Experience UI, hopefully removing any vestiges of the clunky TouchWiz legacy. From our first look at the UI, it looks fresher and lighter than anything Samsung has done so far.
Samsung One UI: What's New?
One UI seems to be a more streamlined and clutter-free software experience from Samsung and is primarily geared towards phone with large displays. One UI seeks to address a key problem with the current generation of UX paradigms i.e. not being able to reach elements at the top of large smartphone screens, thus making interactions full of friction.
"We aimed to develop a comfortable, intuitive UX based on how users actually use their devices," said Jee Won Lee, Samsung's Senior UX Designer.
Instead of adding a ton of new features to the UI, Samsung set out on a mission to fully refresh the interface and simplify the UX. Samsung's One UI is the culmination of this very vision, gunning for minimalism, and a comfortable one-handed user experience.
Samsung One UI: Key Features
This new redesigned UI for Samsung phones brings more rounded icons, bigger quick tiles with improved contrast, and Android Pie-inspired colorful flourishes across the UI, however, the main highlights of the experience are as under:
Samsung has totally refreshed its software interface to now make it simpler for users to interact with elements on the screen, without having to stretch their fingers to the top or use their second hand to tap buttons.
Samsung is splitting the contents on screen into viewing and interaction areas, where the former is at the top and displays important info in clear, large type. Interaction areas include content such as messages, or in-app cards, menu tabs and long-press menus – all of which are placed well within your reach. This is currently available only within the company's own stack of apps.
You now tap on the message from the bottom part and it's preview in the top part, i.e the viewing area.
All the key buttons and content pieces will now be at the reach of your thumb and this is being termed as the 'most user-focused smartphone UX' ever developed by the company.
Samsung also highlighted Focus Blocks as another important aspect of the experience as they're designed to club related things such as settings, photos, and more for stress-free navigation.
The decluttered screen shows relevant information with each tap, so you only get the essentials, one at a time.
Samsung is not looking to hit you with cluttered menu pages, but instead, plans to group them in sections that alleviate the pain of looking around.
Samsung has taken possibly the most frequently voiced user demand into account, i.e the introduction of system-wide dark theme 'Night Mode' across the whole One UI skin. This will obviously make your smartphone easier on the eyes during night time, and saves tons of battery life.
One UI is currently available in beta for Galaxy S9 and S9 Plus, but this new user interface, based on Android 9 Pie, will roll out the two aforementioned devices and the Galaxy Note 9 in January next year.
One UI demos, loving the layout structure #SDC18 pic.twitter.com/SYQ5oyVWlM

— Joaquim Vergès ⚡ (@joenrv) November 7, 2018
While Samsung's skin is usually heavily criticized for being clunky and cluttered, One UI has been quite well-received by the user, as well as the developer community.
Joaquim Vergès, Senior Android Engineer at Twitch loves this new interface and so do a lot of users on Reddit, which is good news for Samsung! Some still have their reservations in place though, just like us!
Taking on the Competition
It's not secret that Samsung is a world leader in smartphone hardware, ruling many categories such as display, memory and cameras. It's also kept fan favorites such as the 3.5mm audio jack or so far avoided notches on phones.
If there was one clear criticism, it was the software. With rivals such as Huawei catching up in terms of hardware, Samsung needs to remain competitive in other areas. In any case One UI is long overdue. Samsung has shifted a bulk of its focus to software now, to bind the whole ecosystem together and offer a more cohesive user experience.
One UI is simple, clean, and it looks like something no one expected from Samsung. What are your views on One UI? Let us know down in the comments section.
---