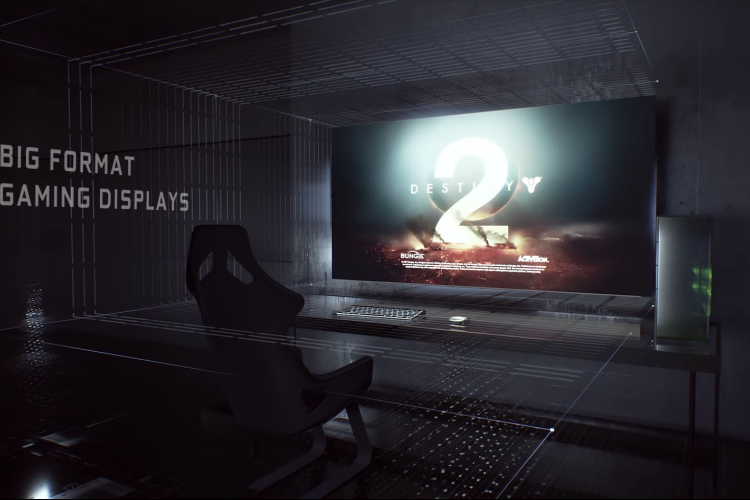 Nvidia, the company which has been dominating the graphics card industry from last decade or so, has just announced a new 65-inch 4K HDR gaming display. Nvidia calls it the Big Format Gaming Display or BFGD in short. According to an article, published on company's news website, the new BFGD will be produced in conjunction with Nvidia's hardware partners which include companies like Acer, Asus, and HP.
When it comes to specs, BFGDs integrate a high-end 65-inch, 4K 120Hz HDR display with Nvidia G-Sync technology together with Nvidia Shield, and built-in Google Assistant. According to the company, this combination will deliver a buttery smooth gaming experience. Matt Wuebbling, head of GeForce marketing at NVIDIA said,
"PC gamers expect high performance and instant response times, but, until now, they've been largely limited to traditional desktop displays. BFGDs change that. With NVIDIA's latest technology built into these new displays, PC gamers can now experience their favorite titles in all the low-latency glory they deserve."
BFGD Features
The BFGDs are dream display for every gamer. At its heart lies the Nvidia's G-Sync technology that utilizes the display's 120Hz refresh rate to provide buttery smooth animations without dropping any frames. The 65-inch display should provide gamers an with immersive gaming experience as the display features a full-array direct backlight, with over 1,000 nits of brightness and covers the whole DCI-P3 color gamut.
That said, the display is not only meant for gaming. Since it also has built-in Nvidia Shield technology, users can easily switch to other form of entertainments such as streaming content from a variety of apps including Netflix, Amazon Prime Video, Hulu, and YouTube. Users can either use the Nvidia Shield remote that comes with the display or use the built-in Google Assistant to control the UI with their voice.
Availability and Pricing
The BFGDs will be on display and available for hands-on demos at CES at Nvidia gaming suite and ASUS ROG showcase room, and in the HP booth at the Pepcom and Showstoppers press events on Monday and Tuesday evening.
However, you do need to secure a prior appointment to get the hands-on demo. According to the company, the BFGDs are expected to ship to consumers this summer, that said, no information on pricing has been released as of now.
---