Mozilla has been working on implementing Picture-in-Picture (PiP) mode for web videos in its Firefox Nightly Builds, and the feature is now available on the browser's Beta and Developer Edition release channels. Still in its experimental stages, the feature is being tested by developers, who are said to be still "hammering out keyboard accessibility, as well as some issues on how the video is displayed at extreme window sizes".
In case you don't know already, Picture-in-Picture mode allows users to view a video as a pop-out window that's always on top and, can be moved or resized as needed. It also enables users to quickly play or pause the video by hovering over it with the mouse, which exposes a control panel with options to play, pause, close, and more.
While the feature was originally scheduled to debut with Firefox 68, Mozilla developers Mike Conley and Andreas Bovens say that the organization is trying to get more user feedback before releasing it to the stable channel. According to them, the devs have devised two ways to pop out a video into a Picture-in-Picture window, one of which is via the context menu on a video element, like in the screenshot below.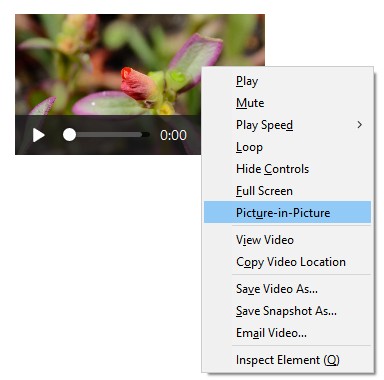 The context menu option, however, doesn't work on many sites, including YouTube, which override the default context menu with their own, which is why Firefox developers included a Picture-in-Picture toggle (the blue element in the screenshot below) "that slides out when you hover over it." Clicking on the blue rectangle opens the underlying video in Picture-in-Picture mode. According to Mozilla, the toggle can work on most sites out-of-the-box without requiring any additional work on the part of the site authors.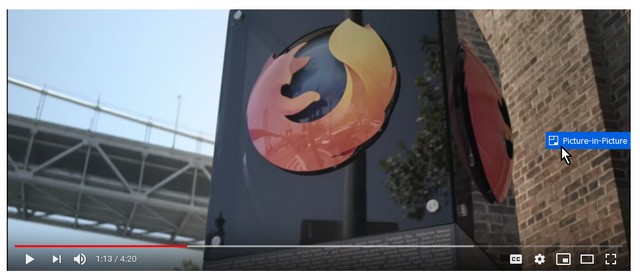 So if you want to try out the new feature, you can do so by downloading Firefox 69 Beta.