While PM Modi is still working on his 'smart cities' project, a Kerala town has taken the lead in emerging as a 'smart town' by providing 8400 people with free 24/7 Wi-Fi. This means essentially that 20 percent of the town's population will start receiving free Wi-Fi initially while the rest 80 percent will get it within three months. Sounds amazing, right?

Wi-Fi connectivity is no longer something that you can actually include in the list of luxuries or even secondary need. The social and occupational need to stay connected has become one of the utilities, such as, even though not at par with – electricity.
Trikaripur has been able to do this with the minimal bureaucracy. It has utilized the BSNL optical fibre network. The town used its proximity to IT hub Bangalore to figure out the basics and Voila! It was able to do it. It then raised funds of Rs. 300,000 to set up connections which will operate from a building owned by the village council for a monthly sum of a paltry Rs. 5,000. This cost-effectiveness is alone a reason to gleam with happiness.
A.G.C. Basheer, President, Trikaripur grama panchayat stated to IANS," This service would be launched on Monday (1oth November, 2014). To start with, free Wi-fi access would be available in a two kilometre radius (from the base station). In another three months the service would cover our entire village council. We understand that we are the first village council in the country to go into free Wi-Fi mode.
Many of those from here who travel to Bangalore told us about Wi-Fi and we decided to find out about it. We talked to many IT experts and then appointed a consultant who gave us the directions to install it. Trial runs have been successful and on we would go live."
This is not just an advancement in technology for a small town, but, in fact, is a sign that people has started figuring out how to get work done in this country. The Trikaripur grama panchayat is a shining example even a grassroots organization with its ears to the ground and will to do work for people can create an outlet for them that could positively affect their day-to-day life. All it needs is simply listening to people and figuring out what needs to be done and how.
It is not just the gramapanchayat, but people of this town, who are equally aware of the developments,"After I came to know about this, I checked up with people who are well versed in the field and they said since Trikaripur comes under the BSNL's optical fiber network, things will be fine,"T.M.C. Ibrahim, a government employee and Trikaripur resident told IANS.
India has been, despite having one of the largest IT workforce in the world, been quite at a loss when it comes to efficient management of Wi-Fi connectivity.  The 2G scam shook the foundations of allocation and we never recovered totally from that shock. We are still struggling with providing 4G to large cities and even 3G is not accessible in many pockets. 24/7 Wi-Fi connectivity is something we need as we cannot totally access mobile data, thanks to our bureaucracy.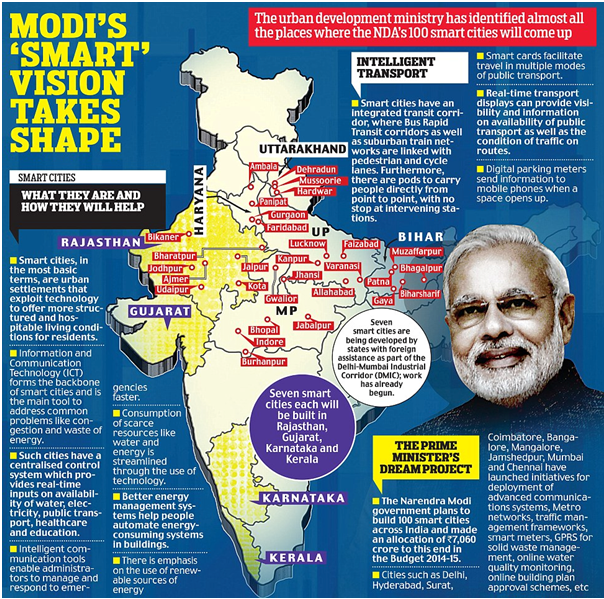 The Prime Minister's vision of smart cities,  is something that is commendable and with much more integration including software applications, but needs to be executed correctly, unlike many other Prime Ministerial schemes of the past. Trikaripur should be a study in contrast for the Prime Minister, who has a vision of 100 new cities enabled with latest technology and infrastructure including Wi-Fi connectivity and has allotted $1.2 Billion in the budget for the same purpose.
He has also wooed foreign investors by substantially reducing the built-up area and capital conditions. While Japan and UK have already invested in this vision and Singapore has agreed for the technology transfer, maybe lessons need to be learnt from the grassroots – towns like Trikaripur.
While the Modi government has promised to deliver the first three smart cities only by 2019, lessons from Kerala would be valuable in implementation.
Recommended: Now Track Attendance of Indian Government Officials Online
His previous project, called the Gujarat International Finance Tech. (GIFT), is still mired in red tape and is awaiting clearances from the ministries of finance, highways and civil aviation to meet its 2014 deadline.