Greenpeace Reacted in a positive way for Facebook's New Datacentre by writing a Note on its facebook page. Under the title: Facebook's New Datacentre: a renewable-powered friend?
" Today the tech and business media are all a-twitter about Facebook, after news that company will start constructing its first datacentre outside the United States, close to the Arctic Circle, in Luleå, Sweden.
By locating the datacentre in Luleå, it can use free cooling from the frigid local climate and be close to renewable hydropower in the region.
This is big news for our Unfriend Coal Campaign: over the past 20 months 700,000 of us have campaigned online and around the world for a greener Facebook. One of the big reasons for putting pressure on Facebook was that the company chose to power its first two self-owned data center primarily with coal. So it was a big sign of progress when news reached us that Facebook's spokesperson Michael Kirkland was quoted saying that the Luleå datacentre: "will be the first Facebook datacentre powered primarily by renewable power… it's a really important consideration for us".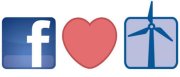 This data center is being built for Facebook's millions of European users and there may be more data centers on the way to provide for Facebook's global users.
This rapid growth is why we need green cloud and not a dirty one, and why today's news is a great step forward for Facebook. We want to congratulate them on their progress — and congratulate all of you who have been part of this campaign. But it's not over — Facebook can and should make the preference for building datacentres with renewable energy a permanent company policy, and the company should disclose its overall carbon footprint and use its purchasing power to demand more renewable energy from the utilities that currently supply Facebook's electricity, for the data centers in North Carolina and Oregon.
But let's take a moment to enjoy this important move forward by Facebook, and recognize that we all – including users who are demanding change from the company, and Facebook itself, are contributing towards a greener Facebook for all of the 800 million users on its social network.
Congratulations! "