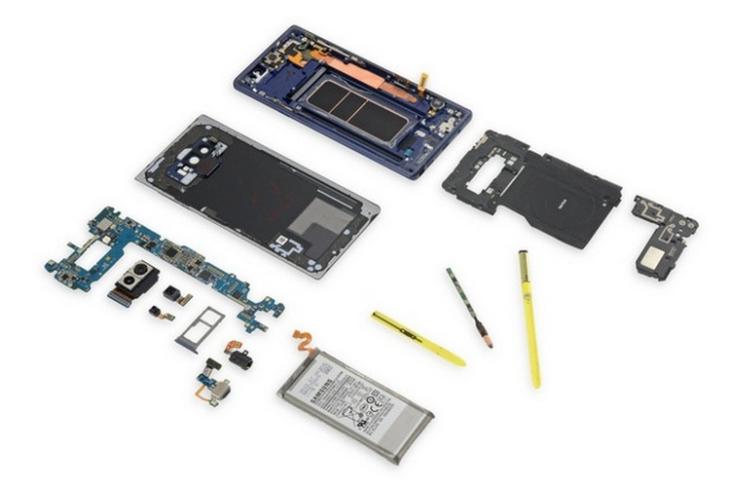 A few weeks after its official unveiling, the Galaxy Note 9 has received the 'teardown' treatment from folks over at iFixit, and the results aren't good. The device may have been widely praised by large sections of the media as being probably the best Note device in Samsung's history, but according to iFixit, the device, like its immediate predecessor, scored a dismal 4 out of 10 in terms of repairability.
The teardown showed that most of the components of the Galaxy Note 9 are glued to the body of the device with a strong adhesive, and could only be pried open using high heat and suction. The massive 4,000mAh battery is one such component, making it difficult to replace. Even the new Bluetooth-enabled S-Pen was apparently impossible to open without causing irreversible damage to the outer casing.
According to the site, servicing even a small component in the device is a massive undertaking, and requires one to 'painstakingly un-glue (and later re-glue) the glass rear panel'. Repairing the display – by far the most easily damaged component of a smartphone – 'require replacing the entire chassis or tediously separating the gluey cracked glass'.
However, its apparently not all doom and gloom with the Note 9 in terms of serviceability. According to the report, the components are more modular that enables easy removal, while the use of standard Phillips screws (unlike Apple) makes it a breeze to unscrew them with a Philips-head screwdriver.
With form taking precedence over function when it comes to smartphone designs, basic jobs, like replacing the battery or cracked displays, have become more and more difficult, and Samsung isn't the only guilty party here. While Apple, Huawei, Essential and others have also received similarly disappointing scores for their recent flagships, Google managed to buck the trend last year, with a surprisingly decent seven out of ten rating for its Pixel 2 XL.