Apple's 2019 iPhone event is scheduled to take place tomorrow, and the company has a lot of things in the showcase for the event. So, if you're wondering what the Cupertino giant will be showing-off at its September event tomorrow, well, here's everything we expect to see from Apple:
Hardware
1. New iPhones
Look, the September event is primarily the hardware event for Apple, so of course there's going to be a lot of that. Most importantly, the company will launch its brand new iPhones at the event. We're expecting to see three new iPhones this year (same as last year, and the year before that), and if the rumours around their names are to be believed, the Cupertino giant will call them the iPhone 11, iPhone 11 Pro, and iPhone 11 Pro Max. Now those are terrible names, but Apple sort of backed itself into a corner with naming schemes when it launched the iPhone X, and subsequently, the iPhone XS, iPhone XS Max, and iPhone XR.
No matter which way you spin this, the names will be terrible. If not the "Pro" moniker, Apple will have to go with something like the iPhone XI R, iPhone XI, and iPhone XI Max, which also sound pretty bad, but in my opinion, are better than adding "Pro" to the iPhone. Still, the Pro-themed names are more likely this year.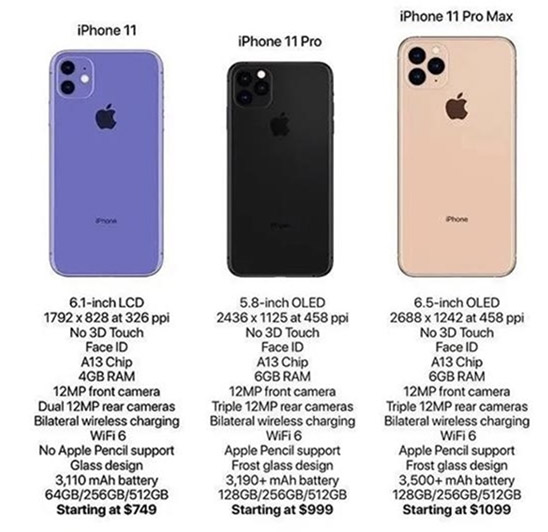 The specs are going to be better, obviously. We're expecting to see the brand new A13 chipset in all three of these iPhones, which, if history is any suggestion, should outperform most flagship SoCs out there. Plus, according to leaked iPhone specs, the iPhone XI (which will be the successor to the iPhone XR) will come with a 6.1-inch Liquid Retina LCD display, 4GB RAM, and in 64/256/512GB variants for storage. The iPhone XI Pro (the successor to the iPhone XS) will come with a 5.8-inch OLED display, along with 6GB RAM, and 128/256/512GB storage options. The iPhone XI Pro Max (the successor to the iPhone XS Max) is expected to come with the same 6GB RAM, a 6.5-inch OLED display, and 128/256/512GB storage options.
In the camera department as well, improvements are expected, but it remains to be seen if they'll be enough to offset the truly poor looking camera module, especially on the higher-end "Pro" models which are expected to come with a triple camera set-up this year. The iPhone 11, on the other hand, is expected to come with a dual camera set-up, and it sort of looks better than the Pros, at least as far as the camera module is concerned.
Pricing for the new iPhones is expected to be the same as last year, with the iPhone 11 starting at $749, the iPhone 11 Pro starting at $999, and the iPhone 11 Pro Max starting at $1099.
2. Apple Watch Series 5
Every year, at its iPhone event, Apple also launches the new Apple Watch for the year. This year, we'll get the Series 5 of what is widely accepted as the best smartwatch out there. Not a lot is known about the Apple Watch Series 5, but they'll obviously be improvements to the health app, with maybe more health activities baked into the watch. We may also get to hear about an improved ECG sensor in the Apple Watch, and, if rumours are to be believed, the Series 5 will be the first Apple Watch to get native sleep tracking.
There have also been leaks about a new Titanium and Ceramic case for the Apple Watch this year, but we'll have to wait and see if that pans out. Under the hood, Apple will likely upgrade the watch with an S5 processor.
There are no details on pricing for the Apple Watch Series 5, but we'll keep you updated as the event unfolds.
3. Apple Tag?
This one was unexpected when we first heard about it, but it sure does look like it might turn out to be real. The Apple Tag (or whatever Apple ends up naming it), as rumours have it, will be something like the Tile Bluetooth trackers, except Apple is expected to use radio waves between the Tag and your iPhone, which should mean it will have better range than Bluetooth trackers, and should also be a lot more accurate.
4. Other Hardware
There are a lot of other things Apple is rumoured to launch at the event. The company is expected to launch a brand new 16-inch MacBook Pro, maybe showcase new iPads, and announce the release dates for the Mac Pro, and the Pro Display XDR that the company announced earlier this year. Plus, there are also rumours that Apple might launch a smaller, more affordable HomePod to boost its smart speaker sales.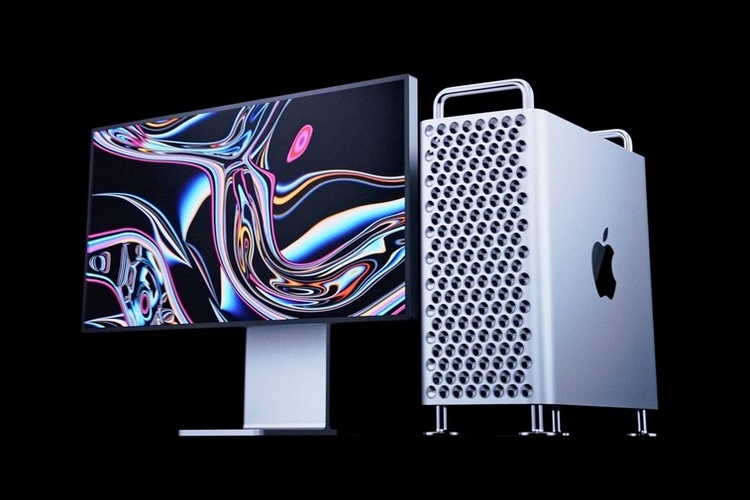 It's important to note that Apple usually holds a dedicated hardware event in October where it shows off new iPads, so chances of seeing new iPads at tomorrow's event are slim to begin with.
Software
Along with all the new hardware, Apple will also show off its software, including all the stuff we saw at WWDC 2019 earlier this year. More importantly though, the company should announce final release dates for iOS 13, iPad OS, watchOS 6, tvOS, and macOS Catalina.
Services
Apple's hardware sales have been on the decline, according to reports, but the company's service sector is growing, and the Cupertino giant has been putting a lot of focus and resources into bringing out new services. Expect to hear about Apple TV+ and Apple Arcade, specifically their launch dates and prices.
According to rumours floating around, Apple Arcade is expected to launch alongside iOS 13, and is expected to be priced at $4.99 per month, while Apple TV+ is expected to launch in November, with a price tag of $9.99 per month. The company is definitely betting big on Apple TV+, and is pouring in a lot of cash on producing new exclusive shows for it, while we are yet to see what Apple Arcade will be like, and if it can compete against other cross-platform, and cloud gaming services, such as Google's upcoming Stadia.
Apple iPhone Event 2019: Everything Apple Might Launch
So yeah, those are the things we're expecting to see Apple announce at its event tomorrow. We're mostly hyped about the new iPhones, thanks to the rumoured camera features that they'll probably come with, and if Apple releases a new MacBook Pro, hopefully it will fix the issues its Butterfly keyboards have been plagued with. The Apple Event starts tomorrow, September 10, at 10AM PDT; that's 10:30PM IST for all of us here in India, and it will be live-streamed in all the usual places, and for the first time ever, on YouTube as well.
---