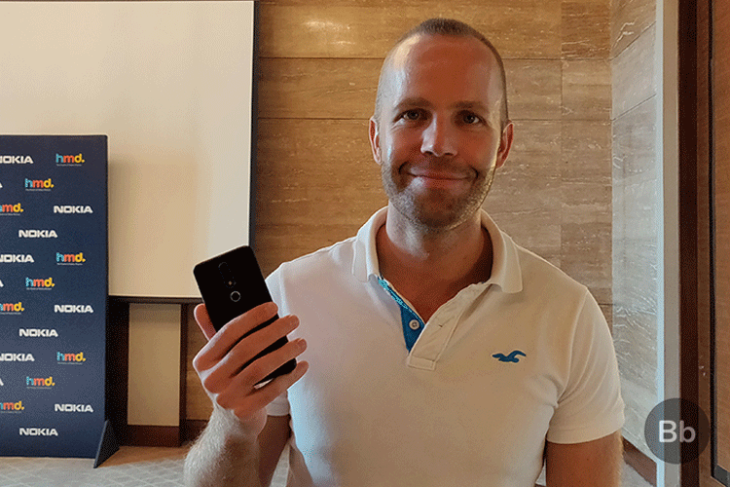 Nokia has been one of the fastest to deliver updates in the realm of Android phones. The Android One partnership between HMD Global and Google has allowed the company to keep its fast-burgeoning line-up updated on time. And now the company is looking forward to getting better at this game.
At the launch of Nokia 6.1 Plus and 5.1 Plus in India, HMD Global's Chief Product Officer Juho Sarvikas told Beebom about the the phased roll-out of Android Pie which is likely to begin in the first half of September. And while Android Pie beta is available on Nokia 7 Plus already, other phones are also sure to get the update in the weeks to come.
Sarvikas told Beebom that the gradual roll-out will take anywhere between "two weeks to two months". Naturally, Nokia 7 Plus will be the first smartphone from the company to receive the update as it is part of the global Android P developer preview testing. For other smartphones, the executive said that Android Pie update precedence "trickles down from the high-end".
Talking of the update to other devices, Sarvikas told us that it's a matter of the "commonality of the software" on chipset level. "Some of the chipsets use more or less the same software, so that will inform the time to market". However, this suggests that the smartphones on Qualcomm Snapdragon platforms will get Android Pie before the handsets running on MediaTek processors – including the Nokia 5.1 Plus launched today.
Sarvikas assured us that Nokia's engineering team is focussed on optimizing the experience instead of recreating elements of the UI, something other manufacturers get caught up in. He said that HMD does not have to waste efforts to "redo what someone else has already done."
Because we don't have to redo the apps just for the sake of making them somehow different, we can actually focus our engineering on the best possible performance. And secondly, it's easier for us to update. So in my mind, we're actually allocating our resources in the right area versus trying to redo something that Google has already done a great job on.
As for the exact schedule of the update, exact dates were not shared with us. But considering that Nokia 6.1 and Nokia 8 Sirocco have also been part of the Android P developer preview in China, we expect these to be the earlier recipients of Android Pie with Nokia 6.1 Plus likely to follow soon.
So, do you have a Nokia smartphone that you're expecting Android Pie on? All of those are confirmed to get the update soon, as promised by the company. Comment with your expectation below.