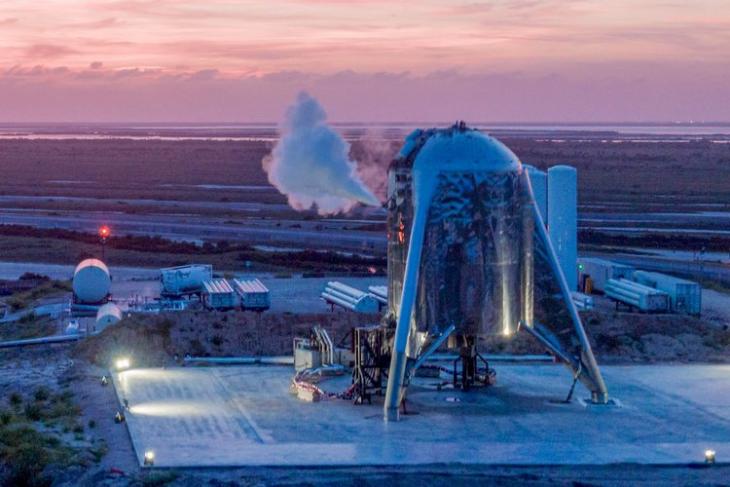 SpaceX on Thursday conducted the first test flight of its prototype Starship rocket, which is being designed to be a reusable vehicle to send people to Mars and the moon in the next decade. Nicknamed Starhopper, the spacecraft was launched from its base at Boca Chica, Texas, as part of its first 'hop' test. It flew 60 feet up into the air and moved sideways before landing upright in a cloud of smoke.
The entire event was over in just about 15 seconds, but is being hailed as a crucial first step in the development of the ambitious project. SpaceX founder and CEO, Elon Musk, expressed his satisfaction at the development in a tweetstorm unleashed following the event. According to him, the Starhopper flight was 'successful' and, should pave the way for the Mk1 Starship to go up 20km in a few months.
~20m up & sideways for first flight. Mk1 Starship hopefully 20km up in a few months.

— Elon Musk (@elonmusk) July 12, 2019
These sorts of small-duration flight tests are called 'hop' tests, which is where the Starhopper vehicle derives its nickname from. The test was originally scheduled for Wednesday, July 24, but was postponed by a day following some unspecified glitch. Thursday's successful test came a week after the project suffered a small setback when the vehicle caught fire after its Raptor engine was ignited for a routine test. Thankfully, though, the fire, which resulted from a fuel leak, was put out quickly, without any structural damage to the vehicle.
While the hop test has proven the Starhopper's basic launch and landing capabilities, it serves more as a proof-of-concept for Elon Musk's vision than anything else. It will take a lot of work from here if it has to receive the requisite regulatory approvals to carry human beings to the moon and back.
Image Courtesy: SpaceX (via: DearMoon)