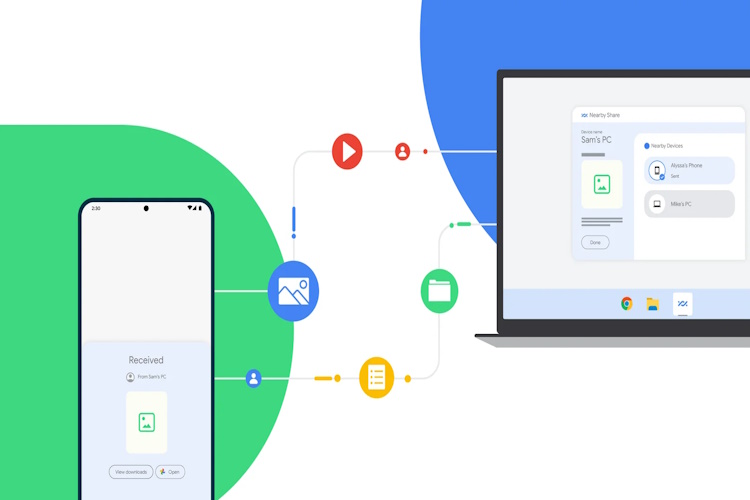 Google introduced Nearby Share first in 2020 for Android to counter Apple's AirDrop facility. With Nearby Share, Google wants to build a standardized solution for instant file sharing. To further expand its horizon, Nearby Share for Windows made its headway in the beta stage. And now, it is time for us to finally experience this facility in all its glory! Keep reading to know more.
Use Nearby Share On Your Windows PC Now!
In a recent blog post, Google announced that Nearby Share for Windows is finally out of its beta stage and is widely available for everyone to download in the form of an app on their Windows PC. With the app downloaded on your Windows device, you will be able to seamlessly transfer files of all sorts between your phone and computer. You can even transfer files between your Windows PC, tablets, and Chromebooks. With the official rollout, Google is bringing several refinements and features to its Neary Share facility in Windows.
Ronald Ho, Group Product Manager at Android, states, "Nearby Share for Windows, available as an app download on PCs around the world, has now been installed by more than 1.7 million people. With photos and videos being the most popular file types to send, we've seen over 50 million files transferred between PC and Android devices since launch. No need to search for any cables or cords – sharing media to your own devices or with nearby friends and family is possible with just a few clicks."
The key improvement is in terms of speed and reliability. While transferring files, you will be able to know the estimated time it will take for the completion of the process. This is useful, especially during the transfer of large files. A new image preview facility in the notification window will let you know whether or not you are sending the correct file.
Google has also confirmed that it is actively working with partners like HP to make Nearby Share available to its slew of Windows products like the HP Dragonfly Pro out of the box. So, go ahead and visit the Nearby Share app page to try out the stable version of Nearby Share for Windows! Additionally, you can check out our detailed guide on how to enable Nearby Share on your Windows PC.
---