Windows has always boasted of a great catalog of third party applications but if you are a new Windows user, you must have wondered about what are the must have software for Windows. Well, even if you haven't, chances are, you are here because you are on a lookout for some essential Windows software to install on your PC or laptop. Don't worry, we have you covered, as we have curated a great list of the 15 must have Windows software:
1. f.lux
f.lux is a great software that adjusts the color of your display to make sure there's no strain on your eyes at night. It automatically warms up the colors of your display at sunset and returns them to normal during daylight. The software works by detecting your location and there are options to manually adjust the lighting for day and night. It's certainly useful and a must have software on Windows.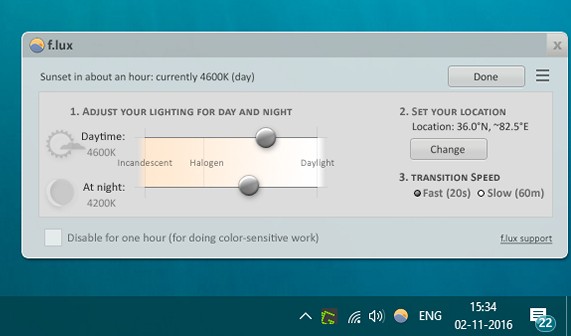 Download (free)
2. Preme
Preme is one really cool tool that adds a bunch of cool shortcuts to manage and switch between program windows with ease. Firstly, the software lets you set up "hot corners", so that you assign useful commands for each screen corner. Then, there's the ability to use the mouse wheel to close a window, minimize it or make sure it's always on top. There are also some really cool features like the ability to press Esc button twice to close a window, hover over a window to scroll, snap windows quickly by press holding the maximize button and more.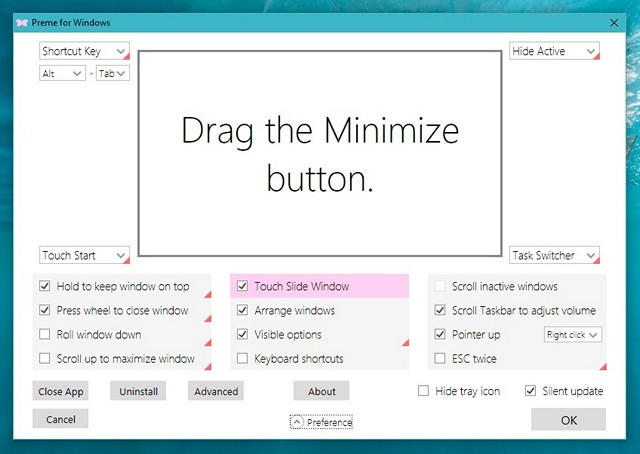 Also, the software lets you remap keyboard shortcuts too, which is pretty cool. Overall, Preme is a must have software if you want to make window switching on Windows faster.
Download (free)
3. Everything Search Engine
Don't misunderstand the name, the Everything Search Engine tool is a search software for Windows. While Cortana packs some great search abilities, Everything is a far more powerful system search tool. Everything indexes all your files and folders to build a database of all your files, which means the search results are instant. You can search for any file type and you can add search filters to make sure you get the file you are looking for. The software supports boolean operators, wildcards, filetype search, and more.
Download (free)
4. Classic Shell
If you are using Windows 10 but want an experience similar to Windows 7, the Classic Shell tool is the software to get. Classic Shell lets you choose from various classic start menu styles, similar to Windows 7, XP or even 95. Plus, these start menus are highly customizable and you can select the start button, taskbar, modify the behavior of the Windows key, choose what type of files and applications are shown in the search bar, and much more. Along with the start menu, Classic Shell also brings a classic style explorer and a classic Internet Explorer.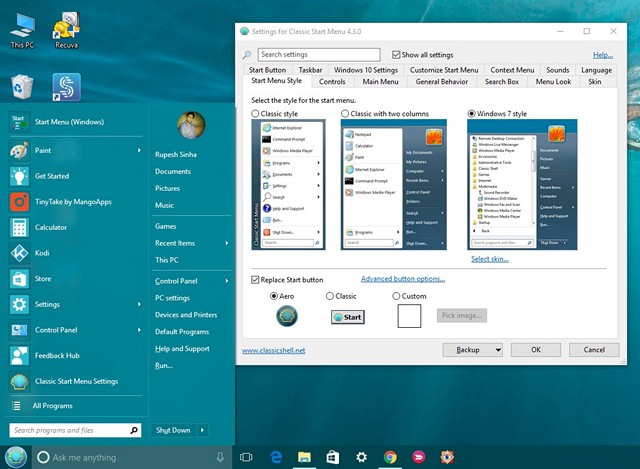 Download (free)
5. Ninite
Ninite is one amazing Windows software that lets you download a package of all the software you want. All you need to do, is head over to Ninite's webpage, select the apps you want and download the one-click installer package.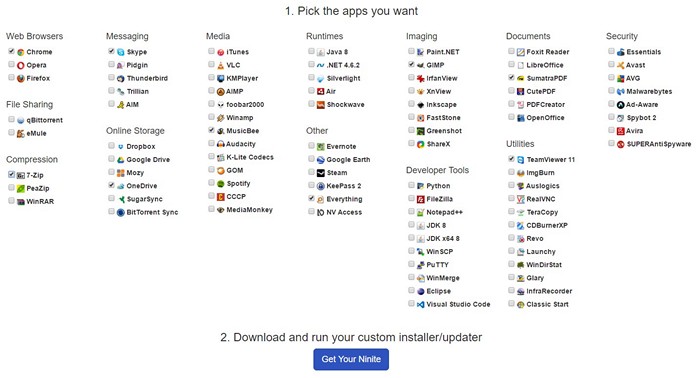 Once done, just run the custom package installer and all the software you chose will be installed. Ninite is a brilliant tool if you are setting up a new PC and you don't want the hassle of installing all your favorite apps one by one. Plus, the tool saves you from the hassles of different installation choices, any reboot requests and it makes sure to not include any junk apps that come along with some software.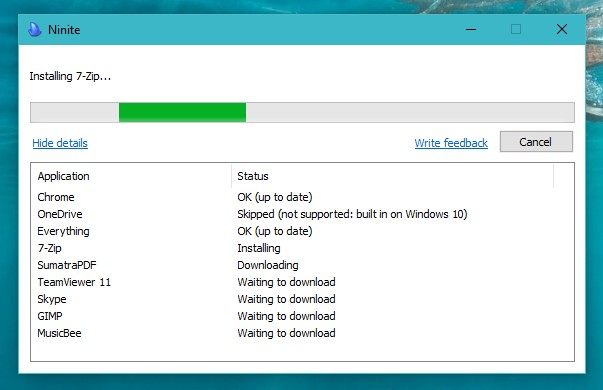 Download (free)
6. Fences
The Windows desktop can get very cluttered if you have a lot of icons and that's exactly what Fences solves. The software automatically organizes your desktop shortcuts and icons to make things look cleaners and streamlined. It groups similar icons and shortcuts into various categories like programs, folders, files, documents etc. While it does this automatically, you can create a custom "Fence" too. There are a lot of customization options too. You can change the appearance, layouts, size etc.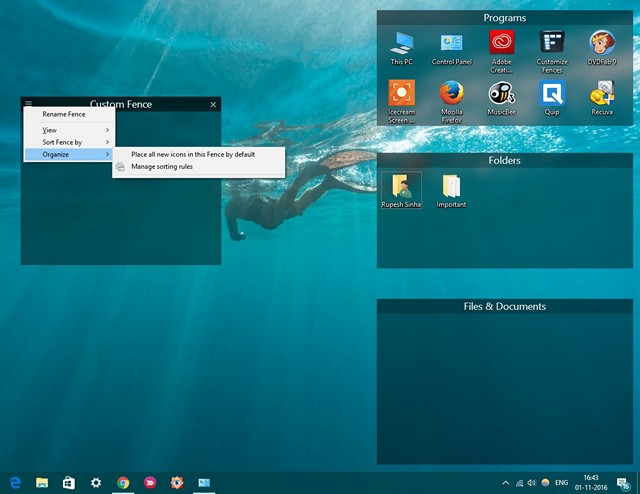 Fences is certainly a must have software if you want your Windows desktop aka homescreen to look more productive.
Download (30-day free trial, $9.99 full version)
7. Sumatra PDF
Microsoft lets you open PDF files in Windows 10 in the Edge browser and if you have used it, you'd know that Edge isn't a great PDF reader. So, if you are looking for a PDF reader with some added capabilities, Sumatra PDF is the software you should be installing. While the name suggests Sumatra PDF to be a simple PDF reader, it's way more than just that. Along with PDF files, it also supports different file types like ePub, Mobi, XPS, DjVu, CHM, Comic and Book (CBZ and CBR). Overall, Sumatra PDF does not pack in a lot of features but it makes it up with a fast experience and the ease of use its simple UI brings.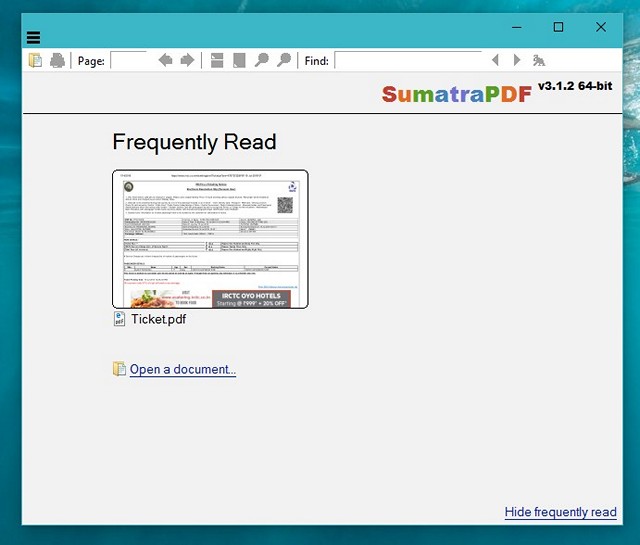 Download (free)
8. AutoHotkey
You might have heard of AutoHotkey and if you have not, you have been missing out on something amazing. AutoHotkey is a highly popular and powerful tool for Windows that lets users set custom keyboard shortcuts, automate tasks and more. While there's a steep learning curve in the software, you can do plenty once you get the hang of it. You can remap keys, create text replacement shortcuts, automate things by sending key strokes or mouse clicks and that's just the tip of the iceberg. You can even create custom data entry forms, user interfaces, menu bars and automate data entry jobs by reading from XML, CSV, Excel and various other database formats.
There's a lot more to AutoHotkey and if it does interest you, you can get started with a quick-start tutorial on the software.
Download (free)
9. MusicBee
As you might have guessed, MusicBee is a music player software for Windows and it's arguably the best one available out there. The music player packs in an extensive feature-list, while also maintaining a great performance. It includes features like auto-tagging, 10-band or 15-band equalizer, gapless playback, support for Winamp plugins, Groove Music & last.fm support and more. Also, you can download various skins, plugins, visualizers and more. Along with all of that, MusicBee offers some advanced audio tools and great music managing features to make sure you would never need any other music player software.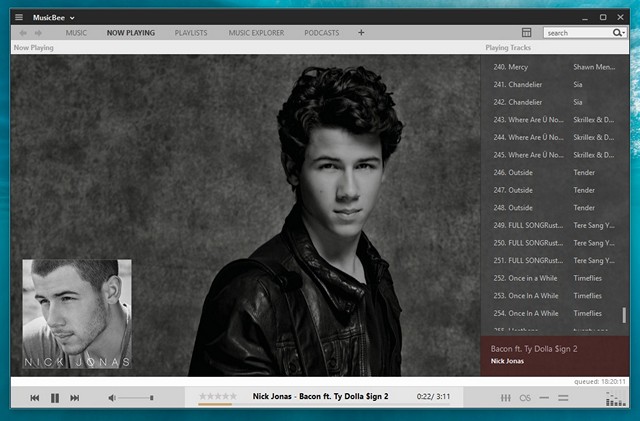 Download (free)
10. PotPlayer
Chances are, you are using the VLC Media Player or the stock video player on your Windows 10 PC but what if we told you that there's an even better video player available. We are obviously talking about PotPlayer. The video player brings enhanced hardware acceleration, which makes sure that media playback is sleek even on modestly powered systems. It supports almost all types of video formats, subtitles and tags. There's also support for various 3D glasses with the ability to choose different output formats.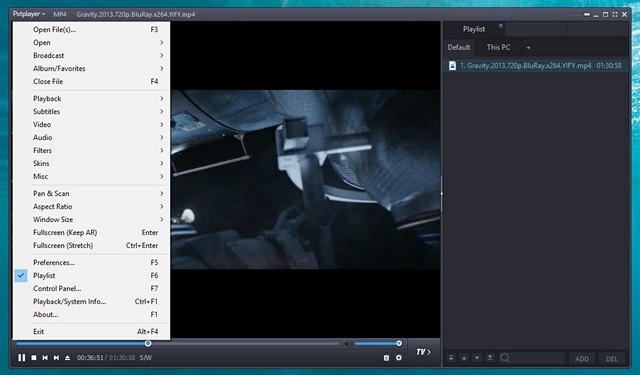 Other cool features of the software include "Snapshots", which lets you preview videos; ability to bookmark your favorite scene, OpenCodec support etc. Overall, PotPlayer is the video player to get, if you are looking for a smooth performing and feature-rich video player for Windows.
Download (free)
11. LibreOffice
If you don't want to pay for Microsoft's Office suite, you can check out the free and open-source LibreOffice. The software is a fork of Open Office with even better features and community support. The suite includes applications for word processing, spreadsheets, presentations, vector graphics, flowcharts, databases and formula editing. Also, it supports various file formats like ODF (Open Document Format), PDF, Microsoft Office file formats and more.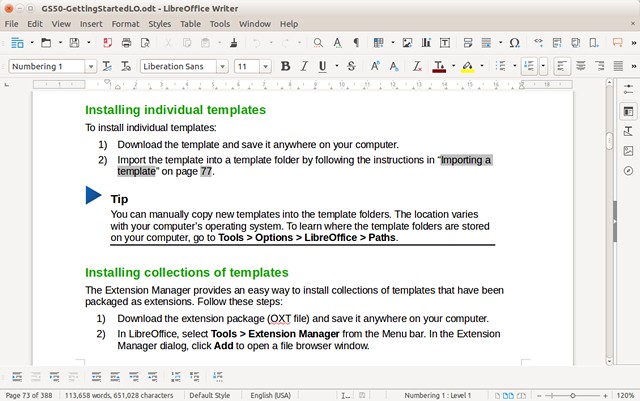 There's also support for extensions and there are some great ones available, thanks to the great community. LibreOffice also wins some brownie points with its clean interface and smooth working.
Download (free)
12. Greenshot
While Windows supports simple keyboard shortcuts that you can use to take screenshots, it does not offer a lot of options or control. This is where Greenshot comes into play. The tool lets you capture a region, window, fullscreen or even scrolling webpages in IE. Once you have taken a screenshot with Greenshot, you can export it through various ways including email, Office, Imgur, Flickr, Picasa etc. Sure, you can even save the file or edit it before you do so. There's also a lot of control here, as you can choose the destination of the screenshots, change output quality, set various hotkeys for capture and more.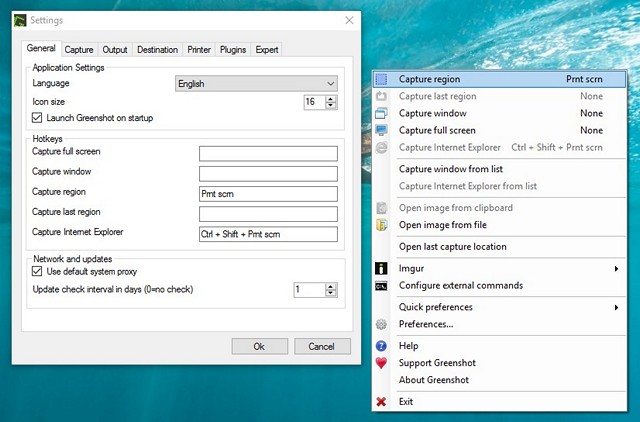 If you tend to take a lot of screenshots, the various features and the simplicity of Greenshot certainly makes it a must have Windows software.
Download (free)
13. Zemana Anti-Malware
Windows users have always complained about malicious programs affecting their experience, with some programs even resulting in corrupt data. So, if you have important data on your PC, you must get an anti-malware software. While there are numerous options available, we especially like Zemana's offering. The Zemana Anti-Malware software provides real-time protection and offers cloud scanning, which removes malware, viruses, trojans, rootkits, bootkits, adware, toolbars etc.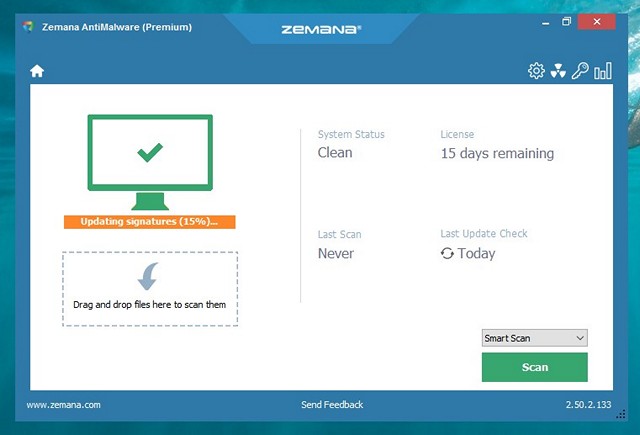 The lightweight anti-malware tool blocks any harmful apps from running, checks browser extensions & root certificates and lets you schedule scans. Zemana Anti-Malware is available in a free version, which is limited to malware detection & removal, browser cleanup and protection against rootkits & bootkits. If you want all the features, you will have to get the Premium version, which you can try for free for 15 days.
Download (Free trial, Premium $24.95)
14. 1Password
You must be aware of the various security issues online and to protect yourselves, it's important to set secure passwords for your different accounts. However, that's easier said than done, as remembering a plethora of passwords can be a little tough. Thankfully, there are a number of good password managers available for Windows and 1Password is the one we'd like to recommend to you. 1Password lets you securely store your online account passwords, secret notes, card info, bank details and more. All of that secure data is protected by your master password along with strong AES-256 encryption. Plus, the software integrates into Windows and auto-fills your password in different apps, so that you don't have to enter it again and again.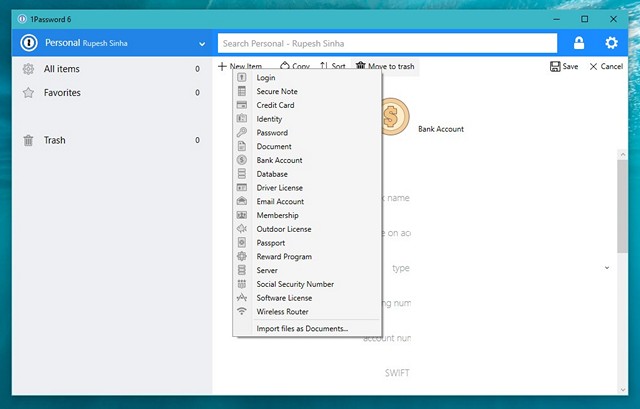 Download (free trial, $2.99/month)
15. ImageGlass
We take a lot of pictures and we love viewing them on the large display of our PC or laptops but sadly, the stock image viewer in Windows 10 does not offer a great experience. Well, you should try out ImageGlass, which is an open-source image viewer that offers a great experience out of the box. The software supports more than 20 image formats including ICO, TIFF, GIF, DIB, WMF, WEBP, SGV etc. and it offers various zoom options and image frames extraction for GIF images. You can even convert images to 10 formats and it supports various cool themes and extensions.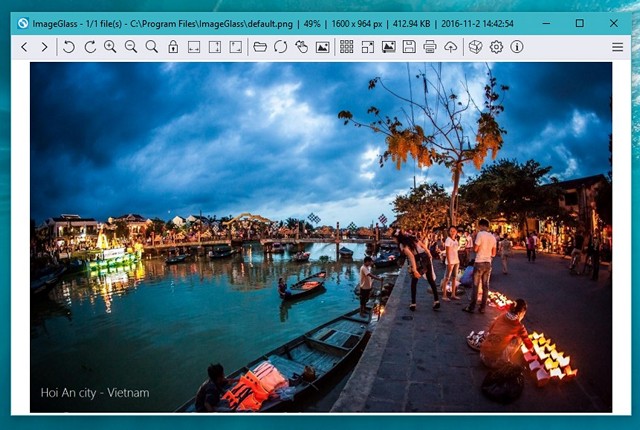 Along with all the features, ImageGlass features a functional yet clean interface and performs amazingly well, no matter what image file you throw at it. If you are looking for a good image editing software for Windows, you should check out GIMP.
Download (free)
SEE ALSO: 16 Best Windows Tools for Power Users
Some Essential Windows Software You Should Be Using
Well, that concludes our list of the 15 must have Windows software. If you've just bought a Windows computer, these are some tools you should definitely install. Know any other essential Windows software that you think we missed out on? Do let us know in the comments section below.