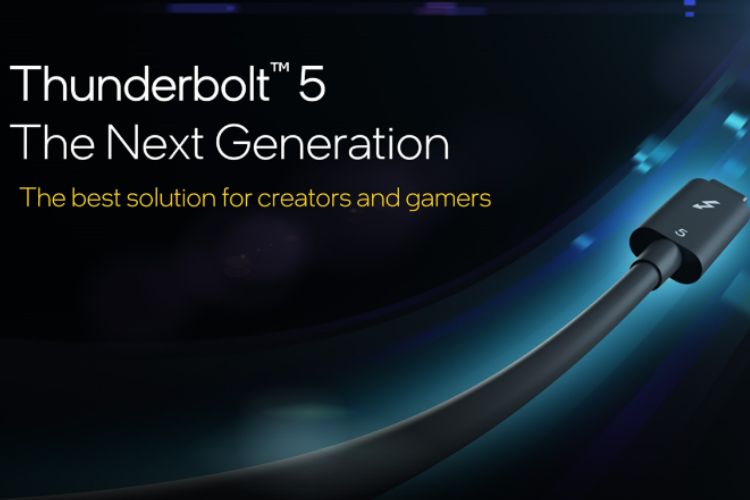 Intel has introduced the next-gen Thunderbolt 5 for better speeds. This succeeds Thunderbolt 4 and offers thrice the bandwidth and improved connectivity speeds, making things ideal for content creators and gamers. Have a look at the details.
Thunderbolt 5 Introduced
Thunderbolt 5 supports 80Gbps bi-directional bandwidth, which is twice as fast as the 40Gbps speeds of Thunderbolt 4. With Bandwidth Boost, this can go up to 120Gbps, resulting in thrice the bandwidth than its predecessor. This will be useful in the case of high-resolution display and increases the upstream bandwidth to 120Gbps with 40Gbps of downstream bandwidth.
Thunderbolt 5 can support dual 8K displays (as opposed to Thunderbolt 4's support for dual 4K monitors), up to 560Hz refresh rate, and three 4K displays with a 144Hz refresh rate. It also has twice the PCIe lanes (64Gbps) for faster storage and external SSDs, eGFX, creator tools, and more.
The technology is built on PCI Express Gen 4, USB4 V2, and DisplayPort 2.1. The new signaling tech, PAM-3 can provide noticeable performance gains. Plus it has up to 240W of power for faster charging speeds via one USB Type-C cable. The idea is to have a single Type-C cable for most laptops.
Commenting on the same, Jason Ziller, general manager of the Client Connectivity Division at Intel, said, "Thunderbolt 5 will provide industry-leading performance and capability for connecting computers to monitors, docks, storage, and more. Intel is excited to continue our tradition of leadership for wired connectivity solutions. Thunderbolt is now the mainstream port for connectivity on mobile PCs, and delivering the next generation of performance with Thunderbolt 5 will provide even more capability for the most demanding users."
Devices and accessories equipped with Thunderbolt 5, codenamed, Barlow Ridge, will be made available in 2024. We are yet to see which devices will get it first and whenever this happens, we will keep you posted. So, stay tuned!
---