For quite a long time, Facebook has been working on multiple ways to improve the mental health of its users. First, the company introduced the Take a Break feature on Facebook to restrict people with whom you don't want to interact with. And now, the company has rolled out the option to hide like counts on Facebook to all users globally. You can hide likes on your posts as well as disable like counts for posts from all other people on your Facebook newsfeed. Experts say this can have a positive effect on users, so Facebook has brought that choice to users. So if you want to learn how to hide likes on Facebook, closely follow our tutorial below.
Hide Like Counts on Facebook: A Step-by-Step Guide (2022)
We have included three methods to hide likes on Facebook in this article. We will be covering how to make your likes private using Facebook's Android and iOS apps, the website, and with the help of an extension. You can expand the table below and move to any section you want.
Hide Facebook Likes Using Android/ iOS Mobile App
If you are using the Facebook app on your iPhone or Android smartphone, follow the below steps to hide likes. Make sure you have updated to the latest version of the Facebook app from the Play Store or App Store. I'm using the Android app for this tutorial, but the steps remain the same for iOS users.
1. Open the Facebook app and move to the hamburger menu on the top-right corner (present at the bottom right on iPhone). Here, scroll down and expand the "Settings & Privacy" menu. Then, tap on "Settings".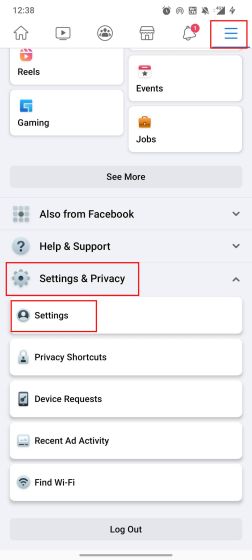 2. Next, under the "Preferences" section, tap on "Reaction Preferences".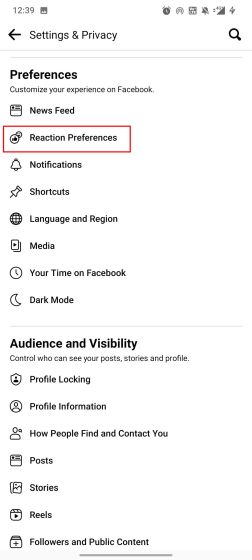 3. Finally, enable the toggle for "On your posts" under the "Hide number of reactions" section. It will hide like counts on Facebook for all your posts. If you want to disable like counts from posts of other people, turn on the toggle for "On posts from others" as well.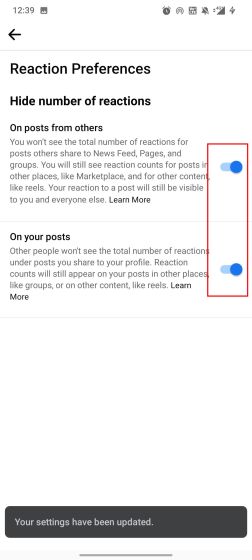 That's it. You have successfully disabled likes on your Facebook posts. Note that the reaction counts will still appear on Reels and Facebook Marketplace posts.
Disable Facebook Like Counts on the Web
If you browse Facebook on a desktop web browser, this tutorial will help you hide likes on the Facebook website. Here are the steps you all need to follow.
1. Open Facebook (website link) and click on the arrow icon at the top-right corner. After that, click on "Settings & privacy".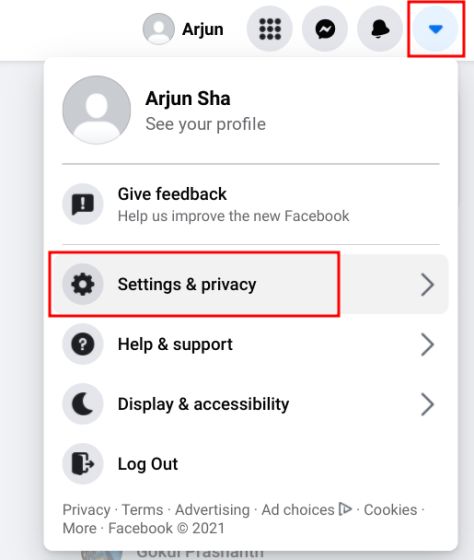 2. Now, click on "News Feed preferences".
3. On the page that opens, scroll down and click on "Reaction preferences".
4. Now, enable the toggles for "On your posts" and "On posts from others". It will hide likes for all your posts and others' posts on Facebook.
Hide Facebook Likes Using an Extension
For some reason, if the settings page for hiding like counts is not available on your Facebook account yet, you can install an extension or an add-on on your computer's browser. Just follow the steps below.
1. If you are a Chrome or Microsoft Edge user, install the Hide Likes extension (Free). And if you use Firefox, install this add-on in your browser (Free). The best part about this extension is that it not only hides likes on Facebook but Twitter and YouTube as well.

2. Now, you don't need to do anything. Simply open the Facebook website, and like counts will disappear for all posts in your newsfeed. However, keep in mind that others will still be able to see like counts on your posts. So yeah, it's better to use Facebook's built-in feature to hide likes on the social media platform.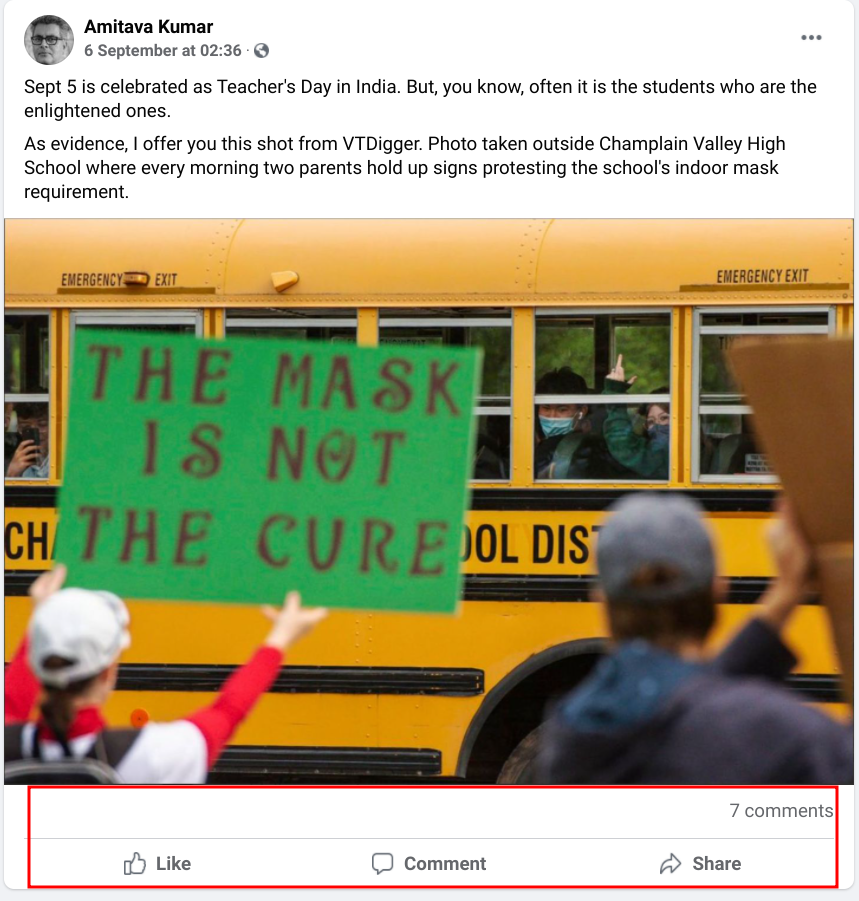 How to Hide Page Likes on Facebook
Apart from user posts, you can also choose to hide likes for specific page categories on Facebook. This includes the likes of restaurants, movies, music, sports teams, food, and clothing, among many others. By default, Page likes are set to public, and everyone can see when you like your favorite k-pop band, football team, or that obscure clothing brand you don't want others to know about (but they do).
Well, follow the steps below to change who can see your Page categories audience and hide Page likes from others on Facebook:
1. Open Facebook.com and go to your profile by clicking your profile picture at the top right.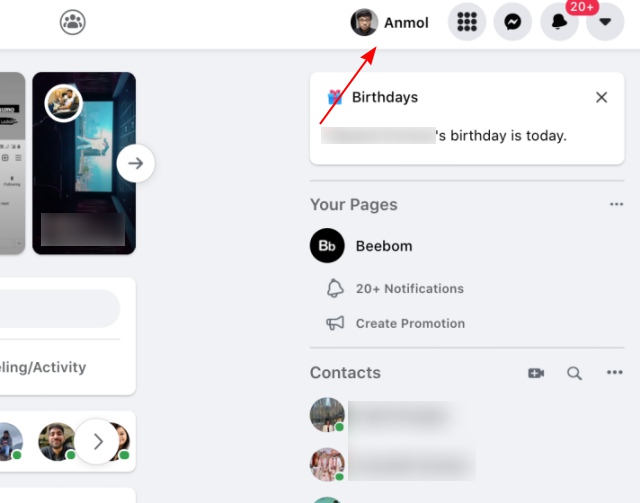 2. Then, click on "More" from the menu bar under your profile name. Select "Likes" from the list of options that appear.
3. On the next page, click on the ellipsis (three dots) icon next to the "Likes" heading.
4. Then, select the "Edit the Privacy of Your Likes" option.
5. Next, click on the globe icon next to the Page category whose audience settings you want to change.
6. Finally, select the level of privacy you want for your Page likes on Facebook. If you don't want other Facebook users to see what music pages you like, select the "Only Me" option to hide them. You have three other options to choose from — Public, Friends, Friends except acquaintances, and a Custom List.
7. Click on "Close" once you have made the necessary changes. And that's it. Other users will no longer see your Page likes in their newsfeed on Facebook.
Disable Likes and Reactions on Facebook
So that is how you can hide likes on Facebook, no matter if you are using the mobile app or browsing Facebook through a web browser on your PC. I have also included the steps to hide likes with an extension if the settings page doesn't show up on your account. Also, you can choose to hide Page likes, as we have detailed above. Anyway, that is all from us. If you want to learn how to block or unblock someone on Facebook, head to our linked article. And if you have any questions, let us know in the comment section below.