We've already shown you how to get the best app deals for Mac and PC. Well, you can also get great deals on apps you use everyday on your iOS and Android device. The App Store and Play Store do not allow developers to take part in sale outside the platform. Neither they help users to find the apps running on sale. In this article, we'll show you some of the best app deals sites and apps and how to track the price of apps you have your eye on.
1. AppShopper
AppShopper is one of the largest iOS and Mac app directories. The directory consists of 1.9 millions apps. AppShopper not only helps you find new apps but also lets you receives notifications for updates and price changes. This is possible through Search, and Toggle bar situated in the header of the website.
You can search for any app with its icon, detail, price, and app last revision date. You can view All/Updates/New/price Drop/Price Increase, filter by category, type of app, and paid/free/both. Clicking on an app in the list opens a new single app page with Own, Wish, and Buy buttons, screenshots, description, changelog, app activity, and ratings by websites with a link to their reviews.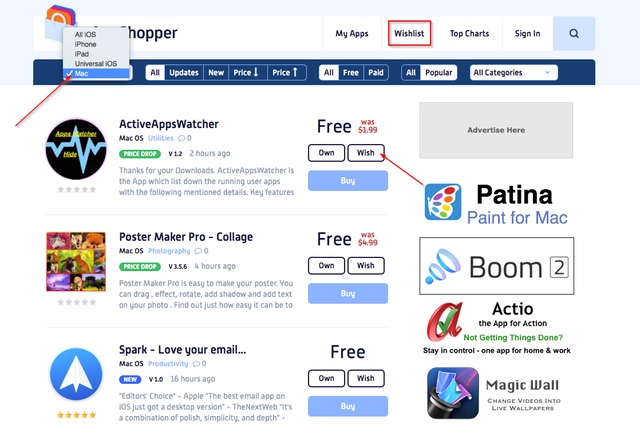 With AppShopper, you can create a wish list of Mac and iOS apps you want. When the price of that app drops, you'll receive an email with all the details. You can track prices over times, so you can see if the an app has been on sale before, or if the developers is rigid on pricing or not.
To setup a wishlist, search for your favorite app and in the app's page click the Wish button. The app will get added to your wish list. Click the Wishlist category, and in the Notifications section check Notify me of Price Drops. You can subscribe to AppShopper through

2. MacStories Deals
MacStories Deals is not a regular deals website. It recommends you a handful of well curated, popular Mac and iOS apps running on sale, selected by the MacStories team. The deal cover all the categories including — Productivity, Utilities, Games, Health, Lifestyle, Music and Video, and more.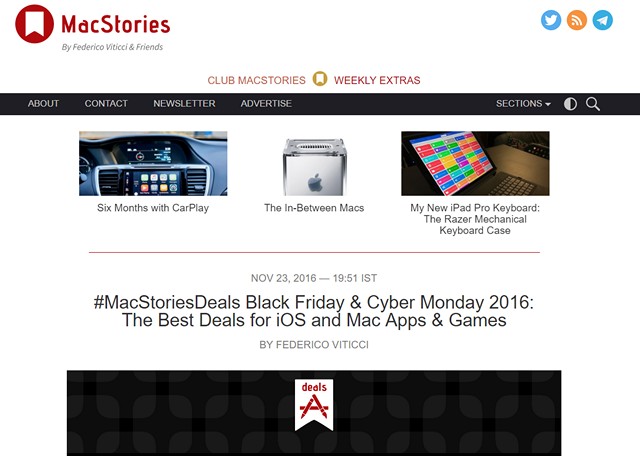 Every year, thousands of iOS and Mac apps go on sale for Black Friday and Cyber Monday. The Macstories team handpick the best deals for iOS and Mac and collect them in a single page with link to buy discounted apps. Although Black Friday is over now, you can visit the MacStories Deals to get an idea of the coverage. You can subscribe to MacStories Deals through
3. AppSales
AppSales is an app for finding deals on Android apps and games. It displays apps and games running on sale, allowing you to buy them, if you're interested. Google Play Store contains millions of apps, many of which you would never use, let alone purchase. AppSales doesn't feature each and every app on sale. It takes a conservative approach, and offers ways to filter out the apps with selected criteria. By default, it'll only show you apps that are atleast 25% off with atleast 100 downloads. You can change the minimum criteria though.
Tap the "hamburger menu" and tap "Settings > Filter". Drag the slider forward, for instance drag the minimum downloads to 1000 and check "Hide expired deals". When you tap OK, it'll show you apps according to your filtering criteria. This way you'll get to see the best app deals.
AppSales also allows you to filter by categories. For example, let's assume that you're not interested in games, go to "Settings > Categories" and de-select the entire games category. If you subscribe to AppSales premium ($1.99/yr), you are granted to get some special bonus from AppSales team. It includes discount on In-App Sale, Launch Sale, Voucher Codes, and Industry news.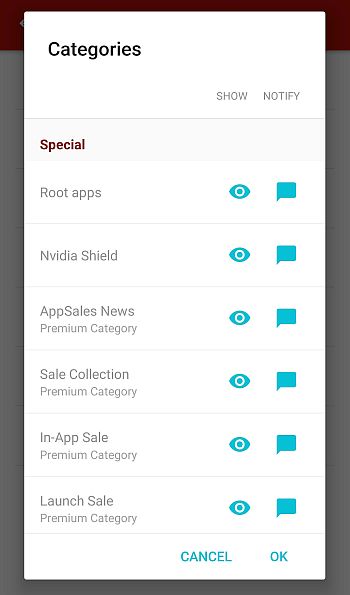 If you're only interested in few apps, you can add them to your "WatchList." AppSales allows you to monitor the apps on your watchlist for price cuts. To do it, open the app's page in Google Play Store, then tap "Share" and choose AppSales. With AppSales premium, you can add unlimited number of apps on the list and track them for any pricing changes over a year.
Tap the "hamburger menu" and tap "Now free" to see apps which are free or tap "Watchlist Charts" to see which apps are trending over the course of 24 hours, 7 days, and 365 days. AppSales is probably the best way to see an overview of the latest Android apps sales and allows you to keep a private watchlist. You can subscribe to AppSales through
4. Google Play Store Deals
Occasionally, Google might conduct a big sale on apps and games at massive discounts. When this happens, Google will run a banner on the Play Store app and website, letting users know about the sale. You don't have to subscribe to Google Play deals, because most tech blogs already cover it in detail with frequent updates. The discount could range anything in- between 50–90%.
5. Humble Bundle
Humble Bundle offers a collection of great games for all the platforms at a discounted price. Just like StackSocial, you decide how much you'd like to pay the developers. If you pay more than the average quoted price, you get the entire bundle. A portion of the money is also given to great causes — when you buy the bundle you get to pick one from the list of available charities. Just like bundles, they also a run weekly and daily discount deals in the Humble Store. You can subscribe to Humble Bundle through
Twitter Account: @humble
Newsletter

6. iOSnoops
iOSnoops brings you the best deals exclusively for iPhone and iPad. Just like AppShopper, you can get daily app deals around 6AM Central Time. You can set up an app wish list, so you don't miss a deal as soon as its price drops. You can switch between iPhone or iPad deals with a click. If you don't have a lot of time to scour the feed, you can check out the handpicked deals from the editors like the best 3 apps of the day, apps gone free, trending apps on sale, and more. The unique feature of iOSnoops is real-time app deals. In this, the website gets updated on real-time to allow you snatch the deal, as soon as they pop-up. You can subscribe to iOSnoops through

Track Your App Discounts
Twitter Lists: The idea behind Twitter lists is to essentially group a number of accounts together. When you view this list, you'll see all the tweets from those accounts. There are two advantages of making a Twitter lists. First, you don't have to add the user in order to add them to a list. Second, tweets from your lists do not show up in your primary feed. With this advantage, make a Twitter list and name it as Deals. Add all the Twitter accounts mentioned in the article. This will let you track all the app deals from a single place.
Ceceree app for Mac: Ceceree app for Mac lets you create app wishlists from both Mac and iOS app store. When you add an app to Ceceree (either through search or browser extension), it watches them and notifies you about any updates or pricing changes. Click the + symbol, search for your favorite app to add them to your wish list. You can have list for Mac and iOS Apps, and any list which make sense for you. The app is not free, it will cost you $3.99 but it's worth a try if you track lots of apps.
AppZapp with IFTTT: According to Wikipedia, IFTTT is a free web-based service and app that allows you to create chains of simple statements called "Applets," triggered based on changes to other web services such as Gmail, Dropbox, Facebook. We've already covered IFTTT in detail. We'll use IFTTT to get notification on app deals. Go to AppZapp IFTTT website. You'll see lots of applets. Pick one or more applets, to get relevant alerts. For instance — Top Apps on sale in Google Play and App Store.
SEE ALSO: 14 Sites Like Groupon For Cool Daily Deals
Get the Best Deals on Android and iOS apps
Finding deals on iOS and Android apps is easy if you know where to look. Every day thousands of apps go on sale and if you follow the tips discussed in the article, you'll never have to pay full price of the app. So, try out these websites and apps  and let us know if you managed to grab a great deals on an Android or iOS app. Sound off in the comments section below.