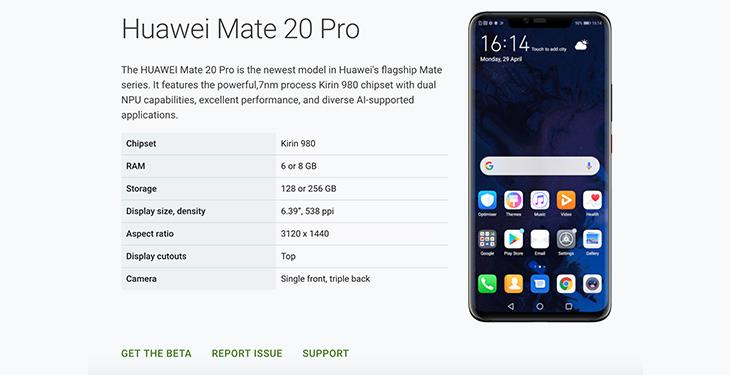 The US ban on Huawei has been a wild-ride so far, but things seem to be getting crazier by the day. After earlier revoking Huawei's Android license, and then removing the Huawei Mate 20 Pro from its official list of devices that can run the Android Q beta, Google seems to have had a change of mind, and has added the Mate 20 Pro back to the list of devices that can run the Android Q beta.
The change is live on the Android Q beta website, and you can go see it for yourself. The Mate 20 Pro joins back the likes of the Essential Phone, the ZenFone 5Z, Nokia 8.1, LG G8, and others.
It's unclear whether this change is due to the 90 day reprieve that the US gave Huawei on its ban, or whether the Chinese giant and the US have worked out a deal but haven't made any announcements yet. The latter is slightly unlikely, because a deal like that would be a big win for Huawei, and the company should've made an announcement about it. Yesterday, Huawei was also added back to the list of members of the SD Association, and the WiFi Alliance.
The ban on Huawei has so far seen the company lose its Android license, its laptops being dropped from the official Microsoft store, ARM cutting ties with the company and all of its subsidiaries, and a lot more. Even mobile networks started refunding pre-orders for Huawei phones.
The Huawei Ban doesn't look like it'll see an end anytime soon, even as Huawei has said that it'll fight the US ban in court, and will also roll out its proprietary OS in 2019 or 2020.