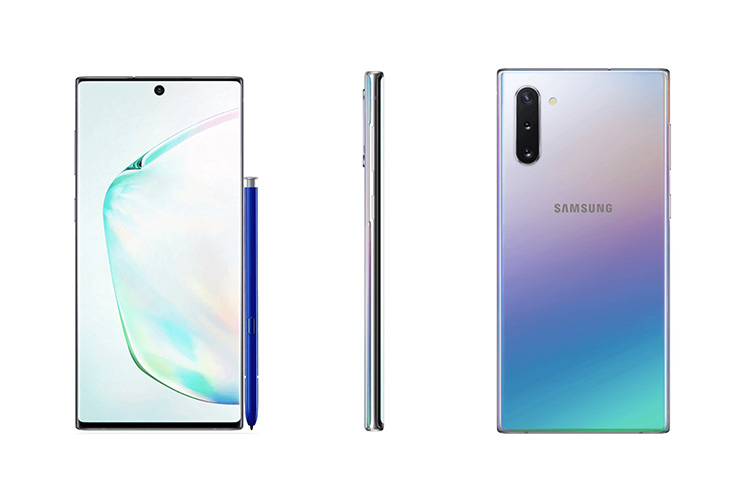 The Galaxy Note 10 is set to launch in just about two weeks' time, and while we've previously gotten a bunch of leaks about the design and specs of the Note 10 and the expected Note 10 Plus (or Note 10 Pro), we now have yet another leak detailing the screen resolutions of the smartphone, as well as the battery sizes that Samsung is going with on the upcoming phones.
Rumors arising out of Greece suggest that the Galaxy Note 10 claim, rather weirdly, that the Galaxy Note 10 will not feature a QHD+ screen like its predecessor. Instead, the rumor suggests, the Note 10 will come with a FHD+ 6.3-inch screen. The report also claims that the phone will weigh in at 168g, and will have a relatively meager 3,500 mAh battery.
The Note 10 Plus (or Note 10 Pro) on the other hand, is said to be coming in with a massive 6.8-inch QHD+ display (fortunately no downgrades here), and is also claimed to be coming in with a 4,300 mAh battery, weighing in at 198g. The Note 10 Plus is also expected to be offered in a base 12GB/256GB variant, which definitely hints that this will be a very expensive device, even for the base model.
Other than that, the report claims that the new Note 10 line up will feature an upgraded S-Pen that will support touch-less gestures, and will produce sound effects while taking notes — similar to a real pen. The phone will also, reportedly, feature night mode in the front camera, and Zoom Audio, which will allow users to zoom in into a particular area and the phone will then amplify sound coming from that area over all other sounds — that's definitely interesting.
It's also claimed that the Bixby button is finally gone, with the expectation that Samsung will bake Bixby functionality into the power button, presumably accessible via a long press — similar to how Siri functions on the iPhone now.
Anyway, I'd be remiss if I didn't warn you to take this information with a pinch of salt, because while the report claims that this leak comes from a "very reliable source", at the end of the day, it's just that — a leak. Still, it'll be interesting to see how Samsung justifies the changes it's making, especially on the display front, if it does, in fact, choose to stick with a FHD+ screen on the regular Note 10.
---