Live streaming apps let you broadcast your live stream and tune in to what others are broadcasting all over the world. These days, lots of companies — including the technology giants Facebook and Twitter, are investing in developing their live streaming platform. This is because live streaming platforms can help people and brands connect with their friends or followers in real-time. Meerkat, a live streaming app, took the web by storm when it was launched back in 2015 but was shut down shortly after a year. This left a void in this segment, which, in turn, led to a heated competition in the mobile space for a live streaming platform. Hence, there are a lot of viable alternatives available today. Today, I'll be doing a round-up of the 10 best live streaming apps for Android:
1. Periscope
Periscope is Twitter's take on the live streaming platform. Periscope lets you broadcast a video either to a selective group of people or publicly. You can share the link to broadcast on Twitter, Facebook or other social networks. It makes it super-easy to discover trending live streams by listing them out on a map. It features live 360-degrees videos, but the option to stream 360-degrees video is available to "select partners" only as of now. While you cannot create and stream a 360-degree video right now, you can certainly watch any of those on your phone.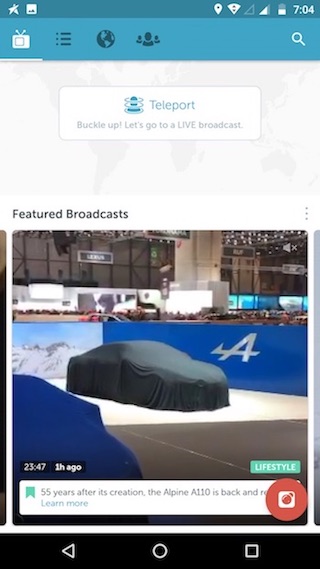 After the live stream ends, it lets you see the highlights of the live stream, so people who missed out can easily catch-up. You can also see some other statistics such as live viewers, replay viewers, total time watched, etc. Lastly, it also has a web-based interface you can access. Overall, Periscope is one of the best live streaming apps right now and if you are an avid Twitter user, you shouldn't even give a second thought and download periscope right away.
Download: (Free)
2. Live.ly
Launched in 2016, Live.ly is brought to you by the same guys behind the popular Musical.ly app. It lets you broadcast your life live, as it happens and lets you view live streams across the globe. While watching a live stream, it lets you send "loves" and join the conversation by publishing comments. You can even send them "gift points", which you can buy with real money.
It features a daily leaderboard that sorts the channels by the number of "loves" received or by the top contributors. You can browse profiles, follow them and see the number of "emoji-love" received. It also connects with your Musical.ly account and shows your Musical.ly posts on your profile page. You can find friends using their username or using your phone contacts. All in all, I found the Live.ly community to be decent and a viable way to live stream from your Android device.
Download: (Free, with in-app purchases)
3. YouNow
YouNow lets you broadcast your live video and discover live streams from all around the world. You can interact with broadcasters by liking and commenting on their live streams. It supports a few comments stickers because you know, a picture speaks a thousand words! Moreover, the app lets you share the broadcast to Twitter, Instagram, Tumblr and Snapchat.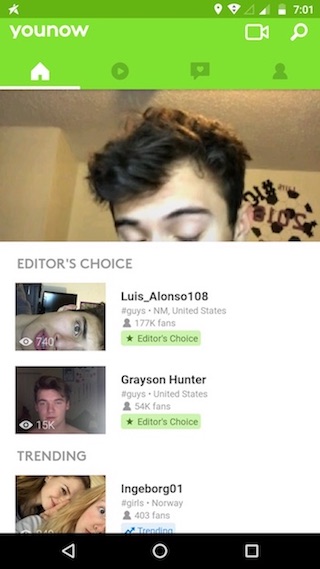 The explore section lets you discover top broadcasters, fans, moment makers in the community. Also, there's an option to add a hashtag to your broadcast, so as to help people discover it. You can also share particular moments from a broadcast to your profile. There's even a web-based interface to let you watch live streams in the browser when you don't have a phone lying nearby.
Download: (Free, with in-app purchases)
4. Streamago
Streamago lets you broadcast live video either privately to your Facebook friends or publicly. While watching a live stream, it lets you favourite them, add a comment and send them virtual gifts using, you know again, real money. The leaderboard feature helps to discover the most popular and trending broadcasts. You can share the live stream link on Facebook, Twitter and WhatsApp, etc.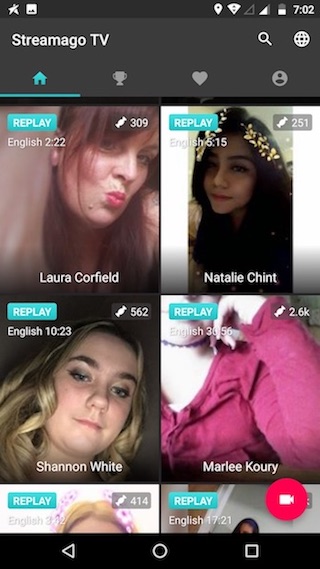 The replay feature comes in handy as it lets you replay a live stream after it has ended. You can also follow people so you do not miss out on their next broadcast. While you are broadcasting, you can select the broadcast quality to be low, medium or high.
Download: (Free, with in-app purchases)
5. Stream – Live Video Community
Stream is yet another live video community which lays special emphasis on user-experience. You can discover trending broadcasts, broadcasts with most likes or better yet, choose from hand-picked staff recommendations. You can strike a conversation with anyone who follows you and import contacts from your Facebook or Twitter if you like. You can like and comment on the live stream, and take a step further and donate "Stream coins" to your favorite broadcasters. Another great feature of Stream is that — besides personal video, it can also screencast your Android device and broadcast from external devices like GoPro 4+ and iVue Horizon pro glasses.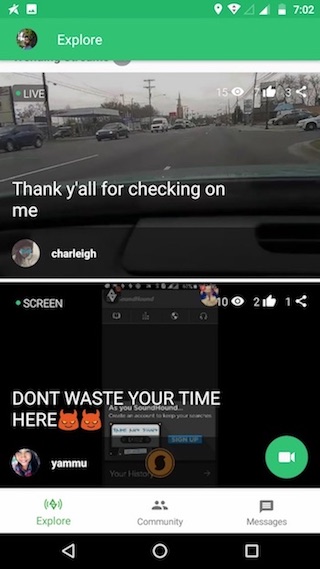 As already mentioned, besides an awesome community, Stream lays special emphasis on user-experience. One fine example is a switch to toggle dark mode, so all you night owls out there can rejoice! The Stream is, undoubtedly, one of the best streaming apps available for Android right now.
Download: (Free, with in-app purchases)
6. Facebook Live
Facebook had been testing Facebook Live in a separate app dubbed as "Mentions", and after thorough testing, made it available to the "regular" Facebook app. Zuck says that it's an entirely new way to communicate and while Facebook is certainly not the first in this field, unlike other apps, it has an important advantage of a massive user base.
Besides personal profiles, Facebook Live is also enabled for groups and events, so you can broadcast selectively to the people in a particular group. To start a live broadcast, open the Facebook app on Android/iOS and tap the place where you would write a status update. (It's "What's on your mind" usually, but may be different sometimes). Next, describe your live video and click on the "Go Live" option. Easy, right?
Pro-Tip: You can broadcast to a Facebook page from your Mac or PC, too.
Download: (Free, with ads)
7. Instagram Live Stories
Instagram launched the Live Stories feature in late 2016, but it was only this year that it saw a global roll-out. The Live Stories feature comes baked into the default Instagram app. To broadcast a live video, just swipe over to the right in Instagram and tap on "Live" option. If you don't see it, you should update to the latest version. While watching a broadcast, you can like and comment on your friend's live streams.
When you start a live video, Instagram sends a notification to some of your followers. Others can see a "Live" tag on your Instagram story and watch the broadcast. You can share live videos for as long as one hour and they become unavailable as soon as the broadcast ends.
Download: (Free, with ads)
8. Hang w/
Hang w/ is yet another live streaming app for Android. The app interface is not the prettiest, but it comes with loads of features. It lets you broadcast privately or publicly. You can explore several categories like what's hot, what's most popular, music, sports, etc. There's an option to send "digital tip" to your favourite broadcasters. Another great feature of Hang w/ is that it lets you create a "digital ticket", wherein you set the price and time, then interested people can purchase this ticket and tune-in to your broadcast.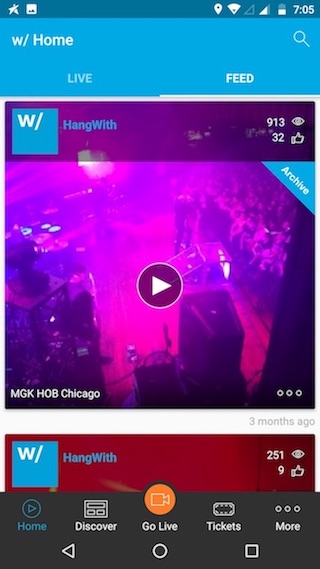 It is full of new features, but the reason why it wouldn't be my first recommendation is this: the broadcast seems to be largely unmoderated. Upon first start-up, it showed me a dozen of NSFW videos and there wasn't even a way to filter broadcasts. Also, the app seems to be having some server issues recently, but that's nothing time cannot fix. So, if you're going to use it at all, be mindful of it.
Download: (Free, with in-app purchases)
Honourable Mentions
There are a couple of apps that aren't intended for the mainstream live streaming en masse, but nonetheless are very useful for live streaming in their particular segments. I am listing both of them below:
YouTube has had a live streaming feature for a while now, but most people are still not aware of it. I wouldn't blame it on them because Google played surprisingly low-key on this one. Anyway, YouTube lets you broadcast to your subscribers if your YouTube channel meets the following criteria:
Your channel is verified.
You should have no live streaming restrictions in the last 90 days (Stay within the community guidelines!).
If your channel fulfills the eligibility criteria, head over to Google's support page on how to enable and start broadcasting to your subscribers right now using the Android app. Of course, this applies only to channels and if you're looking to broadcast only to a selective group of people, you should go with Periscope or any other similar app on this list.
Download (Free, with ads)
Twitch, a subsidiary of Amazon, is a live video streaming platform that boasts about 9.7 million daily active users. Instead of targeting the regular personal broadcasters, Twitch targets the gaming community. Twitch lets users broadcast their gameplay which can then be watched by anyone across the globe. If you're a non-gamer like me, it'd be surprising at first to learn that people actually do enjoy watching other people play games. But, the sheer fact that it gets more than 2 million streamers a month, is enough to substantiate that there's a massive market for such service.
Once you sign up for an account on Twitch, you can begin watching gaming commentaries, Esports, editorials and events by video game publishers. There's also a Twitch prime version that unlocks exclusive game content and ad-free viewing. This premium version comes included with the Amazon Prime membership. If you're a part of the gaming community, Twitch could help you level-up your game. (No pun intended!)
Download: (Free, with ads)
SEE ALSO: How to Live Stream From GoPro Hero 4 Using Periscope
Share Your Best Moments With The Best Live Streaming Apps
There's no denying that live streaming is the next big thing, as it lets you feel connected in a more personal way. Make sure you stay in the loop by using these live streaming apps for Android. What do you think about live streaming apps? Also, give the above-mentioned apps a shot and let me know which one of them is your favourite live streaming app in the comment section below.