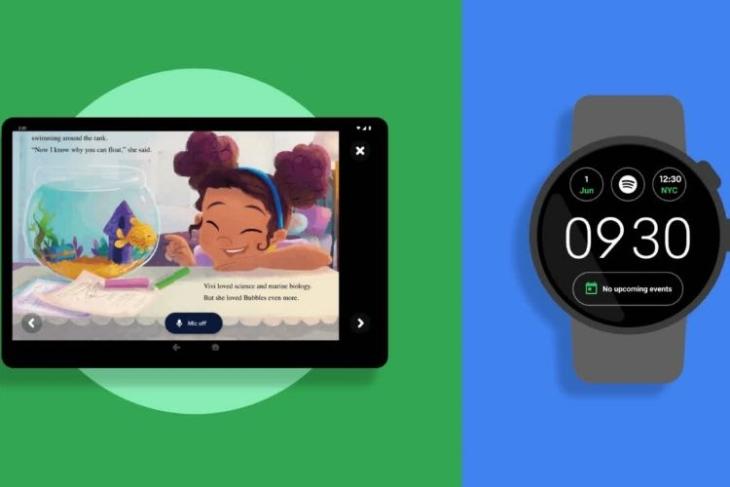 Just a few weeks back Google announced several Android and WearOS features at Google I/O 2023. And now, we are being treated with new features, thanks to Google's June feature drop. These include new Android widgets, the Reading Practice feature, and much more. Continue reading below to know more.
New Android and WearOS Features Introduced
The first update is in the form of Reading Practice. This is a new mode that has been introduced in Google Play Books. The purpose of this feature is to let you build your vocabulary and comprehension skills using your Android smartphone or tablet. It will also monitor spoken words in real time and will also provide you with definitions of unknown words. Every ebook with reading practice will carry a "Practice" badge on Google Play Books. It is currently available with thousands of children's ebooks.
The latest WearOS feature now improves the Spotify integration and brings the Spotify DJ AI right onto your wrist. Just press play and let Spotify DJ deliver a curated lineup of music and episodes of your favorite podcasts, and songs from your heavy rotation. Additionally, there are new tiles and watch-face shortcuts to choose from.
Google Keep for WearOS will now let you view your pinned notes and to-do lists right from your wrist without the need to grab your smartphone. Additionally, commuters can now import SmarTrip and Clipper cards to Google Wallet to Tap and Pay. This feature is currently live in Washington, D.C., and the San Francisco Bay Area.
The next update is in the form of Android widgets. Google has introduced three new Android widgets to make information and entertainment easily accessible. You can gain stock insights using the new Google Finance widget, get recommended suggestions using the Google TV widget, and stay updated on the latest developments using the Google News widget.
Google's Emoji Kitchen for Gboard now has new aquatic-themed emoji combinations. For those who don't know, these will allow remixing your favorite emojis to create unique stickers. Lastly, Google's Dark Web Report is now live for most Google Accounts in the U.S. It is accessible via the Google One website and app. Using this feature you can check whether your Gmail has been part of any data breach and leak on the dark web. You can gain insights as to how you can protect yourself online. It will expand to 20 more Countries in the coming months.
These are some of the feature updates via which Google is enhancing your Android and WearOS experience. So, what are your thoughts on these newly announced features? Do let us know in the comments below.