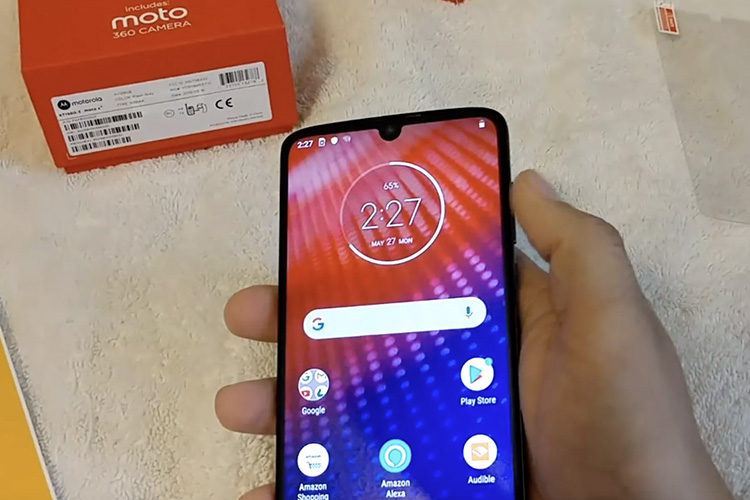 You know how phones get leaked, and seller listings sometimes show up ahead of time, well, Amazon just one-upped all of that by actually selling a phone before it has even been announced.
Motorola's upcoming module-supporting Moto Z4 was reportedly listed on Amazon, and was available to purchase. Obviously, someone ordered the phone. However, what's even more unusual in the situation is that Amazon actually shipped the device out to the buyer — that's weird because you'd expect the company to notice a mess-up such as this one and not ship the product.
Not only did the Amazon customer order and receive the unit, he even posted a hands on of the phone on YouTube that you can check out below.
The "Amazon Exclusive" variant of the phone, complete with pre-installed Amazon apps, was reportedly listed for $499.99. However, according to a screenshot taken by another user, the unlocked Z4 was also listed for the same price. The Amazon listing also revealed the specs of the Moto Z4. It's apparently featuring a Snapdragon 675 processor, paired with 4GB RAM and 128GB storage. There's a 6.4-inch OLED display, along with a waterdrop notch, and an in-display fingerprint scanner. The phone also reportedly has a 3,600 mAh battery with 15W fast charging support.
In his hands on and unboxing video, the buyer was generally impressed by the phone, even though he mentioned that the Moto Mod that Amazon shipped along with the device (a 360-degree camera mod) apparently didn't sit flush with the body of the phone, leaving a noticeable gap that could be felt with a finger.
On a Reddit post by the buyer, he mentioned that software on the phone is pretty buggy, with stutters and a buggy camera experience. Still, since Amazon is apparently ready to ship the Moto Z4 out, Motorola's official announcement shouldn't be too far behind now.
---