While Apple may be a little late to the 5G game, the tech giant has streamlined all the new iPhones to use the 5th generation of cellular technology. Though there is no denying the fact that 5G is significantly faster (could theoretically achieve the speed of 20GB per second), this rapid speed comes at the cost of around 20% faster battery drain. If you find the battery drain way more than you can afford, here is how you can save battery life when using 5G on iPhone 12, 12 mini, 12 Pro, or 12 Pro Max.
Optimize 5G to Improve Battery Life on iPhone 12 and 12 Pro
To help you have better control over 5G on your iPhone 12 Series, Apple offers multiple options that you can use to strike a fine balance between network speed and battery life. For instance, you can choose to enable 5G only when it's essential for HD video-streaming, high-octane games, or high-quality FaceTime video calling.
And if the device doesn't need the top 5GB speed to carry out basic tasks, you can set it up to use 4G to reduce battery drain on your iPhone 12. Moreover, if you are concerned about the unexpected battery consumption on your iOS device and think that 4G is more than capable to handle your tasks, you can choose to completely disable 5G on the device.
Launch the Settings app on your iPhone 12 Series.
2. Now, tap on Mobile/Cellular.
3. Next, tap on Mobile/Cellular Data Options.
4. Next up, tap on Voice & Data.
5. Up next, you have three options: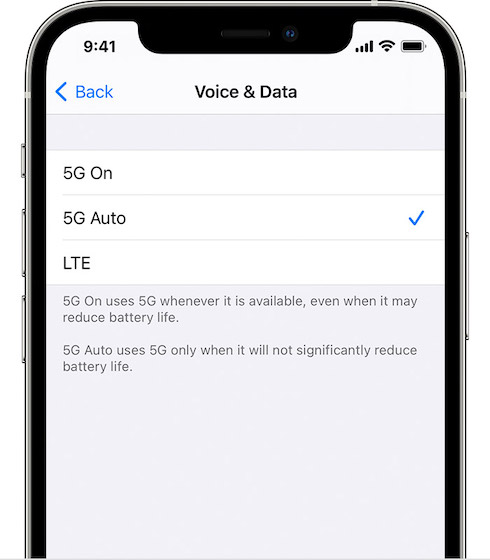 5G Auto: Select this option to let your iPhone automatically switch to LTE if 5G speeds aren't necessary on your device. This smart switching can play a vital role in reducing unnecessary battery consumption. If you are living in an area where there is a strong 5G connectivity, I would recommend you to select this option. It will let your device connect to a 5G network whenever it's needed and switch to LTE when the top speeds aren't essential. 
5G On: Choose it if you want your device to remain connected to the 5G network all the time. Do note that it will kill plenty of battery on your device.
LTE: Select it to let your device use only the LTE network, even when 5G is available. Go for this option if you don't need to have the top speed at the cost of a faster battery drain.
Save Battery Life When Using 5G on iPhone 12 Series
So, that's how you can manage 5G in a smarter way to prevent your iPhone 12 Series from draining the battery faster. It's good that Apple has provided multiple options to use this power-hungry feature as per needs.
To have a better balance between network speed and battery life, 5G auto seems to be the way to go. Of course, if saving the battery is your top priority, the ability to switch to LTE is also a fine option. What do you think of the 5G experience on iPhone 12? It would be great to have your feedback in the comments below.
---
Load More