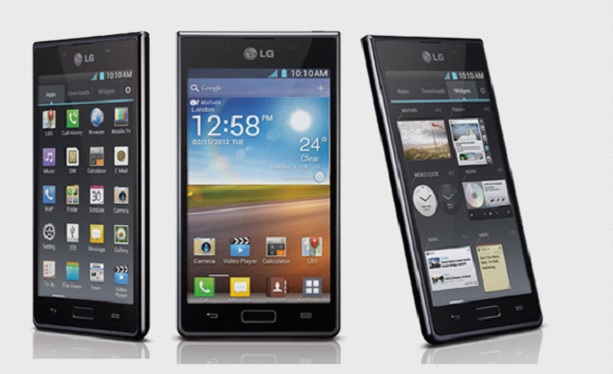 Large phones are becoming so common that; the earlier feelings of holding a comedy phone have faded away. We are now becoming so used to large phones that the 5 inches and 4 inches look normal. Two phones, Samsung Galaxy Grand and LG Optimus L7 II Dual, are two such phones, fighting each other for their places among the best mid-range phones.
In this post, we pit them one on one, and make you the judge of which phone wins the battle.
Design
The Samsung Galaxy Grand's design is a clear attempt to emulate the best of Galaxy S3 and Note 2. It is indeed a mighty try, given that both are the best phones that Samsung has in its offering. At one glance, the phone does look a lot like a larger Galaxy S3. It has the same curved design at the corner and a chrome finish all around it. Its 5 inch screen gives it the look of a Note. LG Optimus L7 is designed more conservatively. It doesn't try to mimic anyone; decent design, comfortable to hold and a style statement. Both of the phones have a thickness of around 9.6 mm. Overall, win straight lines and elegant design, the LG Optimus L7 II Dual looks better and is easier to handle. It doesn't even look as plasticky as the Galaxy Grand. However, if you are thinking to flaunt your phone, it would be better to choose Galaxy Grand over Optimus L7.
Display
Galaxy Grand comes with a 5-inch LCD display with multi-touch capacitive panel. For a phone which intends to make its size as a selling point, Galaxy Grand makes a mistake in choosing a screen with inferior resolution (800-by-480 pixels) and at mediocre density of 186 ppi. Optimus L7 has the same resolution, but it has a size of 4.3 inches and hence pixel density rises to 217 ppi, which is decent. If you put the two screens side by side, Optimus L7 would certainly look better due to sharpness.
If you are one of those who only care for the size of the screen, Galaxy Grand would be your phone of choice. However, Optimus L7 display is much better in overall performance.
Hardware
Both of the phones have a dual core processor but from different makers. Galaxy Grand comes with 1.2 GHz Broadcom Processor with 2 ARM Cortex A9 cores and VideoCore IV GPU. Optimus L7 has a slightly slower 1 GHz dual core Qualcomm MSM8225 processor with 2 ARM Cortex A5 processor and Adreno 203 GPU. Both come with the latest Android 4.1.2 Jelly Bean, but with 1 GB RAM, Galaxy Grand is better equipped to run the OS, in comparison to 768 MB RAM of Optimus L7.
In terms of sheer horsepower, Galaxy Grand is obviously better. It has faster processor, much powerful GPU and higher RAM. Galaxy Grand beats Optimus L7 hands down in this case.
Camera
Galaxy Grand comes with an 8 MP rear camera, accompanied with LED flash. Its camera app comes with the usual features like smile detection, Geo tagging etc. It can record videos at 1080p at a 30 fps. The front facing 2 MP camera clicks nice images too. Optimus L7 comes with some very similar sensor power, 8 MP camera at rear and 2 MP in the front. The video recording with Optimus L7 is inferior. It can record videos at 720p. Otherwise, the camera suite matches that of Galaxy Grand. Overall, the camera quality and features of the Galaxy Grand are better.
Storage
Samsung Galaxy Grand comes with 8 GB of internal storage, expandable up to 64 GB with micro SD cards. Optimus L7 comes short on this too. It has 4 GB internal memory and can be expanded to a maximum of 32 GB.
Connectivity and other features
Both phones come with the standard connectivity suite – WLAN b/g/n, Bluetooth and high speed mobile Internet. Galaxy Grand has a faster network speed of 21 Mbps while Optimus L7 has a 7 Mbps network. Galaxy Grand and Optimus L7, both support dual SIM standby.
The Samsung Galaxy Grand price is just under Rs 20k, while LG Optimus L7 has a price tag of Rs 13k. That's a big difference! If you choose to buy Optimus L7, you miss out on speed and performance. However, the difference is not worthy of INR 7k. However, if you look at the screen size, Galaxy Grand gives you much more real estate at 5 inches, however, the cost is a lower pixel density, which can be a downer for watching HQ pictures. In the below INR 20k range, Samsung Grand duos and LG Optimus L7 dual are among the best of the phones.
Choose well, and weigh options well.
SEE ALSO:
Samsung Galaxy Mega 6.3 I9200 Specs, Price and Launch Date