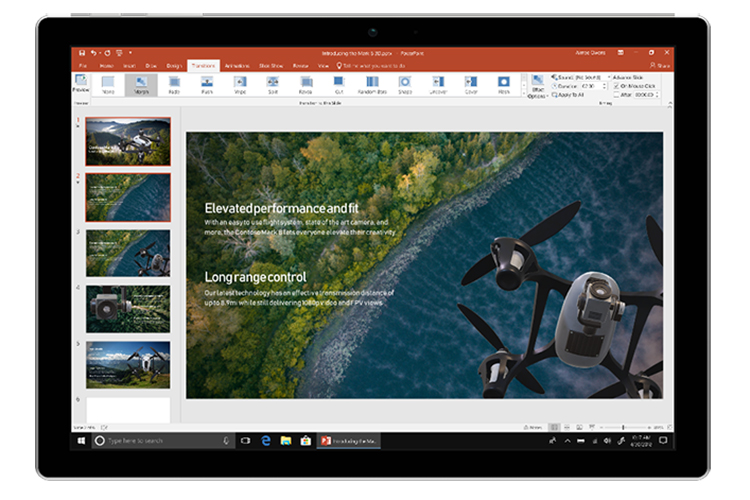 Microsoft recently announced the release of Office 2019 for Windows and Mac, bringing a ton of changes and new features for its Office suite of applications. The latest version of Office 2019 includes updates for Microsoft Word, Excel, PowerPoint, Outlook, Project, Visio, Access, and Publisher. The updated Microsoft Office is already available for businesses and the company has promised the release for individuals over the next few weeks.
While Microsoft Office 2019 is just an update including all the new features that were introduced to Office 365 over the last three years, it does have some cool new features that might appeal to individual users. Here' are some of the best new features included in Office 2019:
PowerPoint 2019
The updated PowerPoint 2019 includes a bunch of new updates which will allow users to create cinematic presentations. The new update packs in new features like Morph and Zoom, along with improved inking features across all Windows apps, including the roaming pencil case, pressure sensitivity, and tilt effects. PowerPoint 2019 also includes 4K video export, the ability to insert content like 3D models and SVG images.
Excel 2019
In Excel 2019, Microsoft has added a bunch of powerful new features that will help users in their analysis of their data. The update includes new formulas and charts, along with enhancements to PowerPivot, which will really come in handy if you use Excel extensively. Excel 2019 also includes new funnel charts, 2D maps and timelines.
Word 2019
The Mac version of Word 2019 includes a new Focus Mode which will help users focus on their work and get done with it without any distractions. Word 2019 on Windows includes a new dark theme, which is always a welcome addition, along with better inking features and accessibility upgrades like Read Aloud.
Outlook 2019
Outlook 2019 also includes a bunch of new features, including updated contact cards, support for Office 365 groups and mentions. It also includes a new focused inbox to help users better categorize their emails, along with new summaries for deliveries and travel related emails.
Once again, the Office 2019 update is currently only available for commercial volume license customers and will be made available for consumers and other business customers over the next few weeks. It's also worth noting that unlike Office 365, Microsoft will not push new feature updates for Office 2019.
---