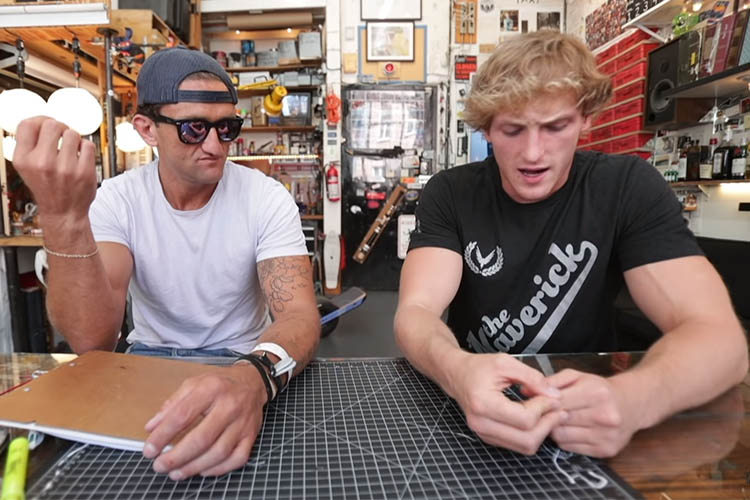 Back in January this year, Logan Paul uploaded a controversial YouTube video about his visit to Japan's Aokigahara forest a.k.a the suicide forest. While Logan Paul addressed the event multiple times on his timeline after returning to YouTube, a lot of questions about his actions were still unanswered. But, thanks to Casey Neistat, a popular lifestyle vlogger, we now have a bit more clarity on Logan Paul's life in the aftermath.
Casey Neistat sat down with Logan Paul for a 30-minute interview in his studio in New York. The prominent YouTubers chatted about a bunch of topics ranging from Logan's upcoming documentary, his girlfriend, and his planned boxing match with another creator KSI, etc. In case you are not interested in sitting through the interview, here's a quick breakdown of what it is all about –
Throughout the interview, Casey Neistat was very open and brutal about his opinions on Logan's actions. In fact, during the start of the interview when Casey even asked Logan if the upcoming documentary is something that he's really serious about, or is it just a ploy to make people sympathize with him. To this, Logan said, "I don't think people can, should or will sympathize with me. It's about a story of a young man from Ohio, a seemingly regular kid, falling into the social-media machine over the past four years, and becoming the most hated man overnight."
Logan also admitted how consumed he was about creating new content to an audience of five to seven million people every day. He said, "We got so caught up in creating that we didn't stop to think about what we were making and whether it was right. There was no thinking."
Casey also asked Logan about him being perceived as culturally insensitive for wearing Pokemon outfit and sort of vandalizing in the streets of Japan. Logan tackled that question by saying he wasn't been culturally insensitive as the costumes were readily available at a store in Japan for anyone to buy. He also pointed out how his actions were insensitive, but, not culturally insensitive as he was being perceived.
Both of them chatted about Logan's upcoming boxing fight with KSI. Casey took a moment here to appreciate how Logan kept himself calm during the press conference when KSI was verbally abusing him, his new girlfriend actress Chloe Bennet and his father. To this, Logan said, "It's the new Logan Paul. I have no interest in bantering back and forth with someone who is the exact person I'm not trying to become."
Lastly, Casey asked Logan about his plans and confronted if he thinks people would be willing to forgive him? To this, Logan came up with a pretty positive response and said people would love his redemption story. He said, "My life is now a story about someone who became the architect of their own destruction. But, I want to become better, I don't want to let my mistakes define me."
While it is a debatable topic whether Logan has become a better person and has learned from his mistakes or not, he did apologize to the YouTube community for his actions and said he is not the victim. He also noted how his content was focused on positivity, and that he hopes to become a better person.
---