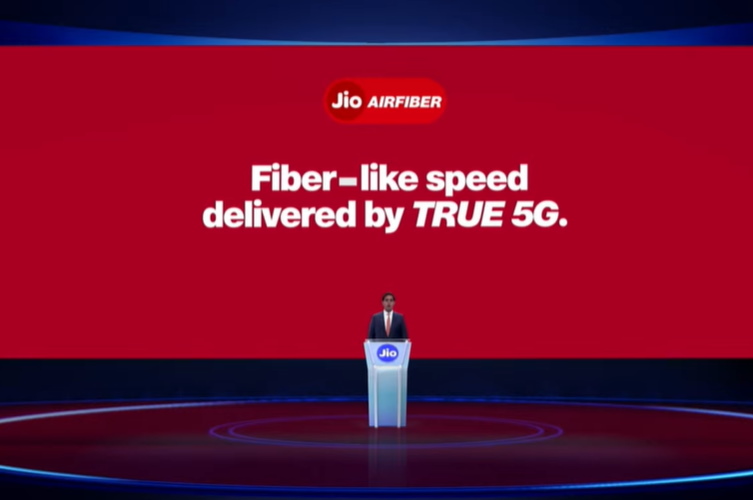 If you have been waiting for the Jio AirFiber, a wireless internet solution, here's some news that can be exciting. Reliance at its 2023 AGM, announced when AirFiber will be launched in India. To recall, this was first announced at last year's AGM (Annual General Meeting). Have a look at the details below.
This Is When Jio AirFiber Will Be Launched
At the AGM 2023, Mukesh D Ambani, Chairman and Managing Director, Reliance Industries, confirmed that the Jio AirFiber wireless internet solution will be launched on September 19, which is also Ganesh Chaturthi.
There's no word on the availability but this could start on the same day or maybe a few days after. Also, we don't the price too. Considering that Airtel has already launched the Xstream AirFiber for Rs 7,294 for 6 months, Jio's counterpart could be competitively priced. A recent report revealed that it could be 20% cheaper and could be priced at around Rs 6,000.
During the meeting, Mukesh Ambani said, "Our extensive optical fiber presence puts us in close proximity to over 200 million premises. Yet, providing physical last-mile connectivity is a painstaking process in most parts of our country. This leaves millions of potential customers without home broadband due to the complexities and delays involved in extending optical fiber to their premises. This is where JioAirFiber, our fixed-wireless broadband offering, comes in."
The service will include the Jio AirFiber Home Gateway device for access to wireless internet. This will be based on SA 5G architecture and will use Jio's True 5G for easy access to the internet. This is said to be an easy-to-set-up device and will be compact in nature. It will also come with Wi-Fi 6, a USB port, and more.
A lot of details remain behind the veil and we shall get better clarity on September 19. Talking about the Xstream AirFiber, it comes with an inbuilt Wi-Fi 6 and can be connected to up to 64 devices at the same time. Based on Airtel 5G Plus, it can be set up easily and requires the Xstream AirFiber app for you to operate. The service is currently available in Delhi and Mumbai and should reach more regions soon. It remains to be seen how Jio plans the availability of its AirFiber.
We will bring you all the confirmed details soon. So, stay tuned. Are you excited for the Jio AirFiber? Will you buy it once it launches next month? Share your thoughts on this in the comments below.
---