Kickstand cases have always been one of my top picks for multiple reasons. First and foremost, they enhance my experience with hands-free video calling and binge-watching movies on Netflix thanks to the ability to provide multiple viewing angles. And second, they also live up to the task when it comes to offering the desired shield against accidental drops. If these upsides resonate with your taste as well, check out these 10 best iPhone 13 Pro Max cases with stand to not only protect your pricey phablet but also get the most out of its 120Hz ProMotion display.
Best iPhone 13 Pro Max Kickstand Cases You Can Buy
There is a variety of kickstand cases designed for iPhone 13 Pro Max. While some cases feature a clear design with a built-in stand, others sport a rugged shockproof profile with a sturdy stand. Besides, there are some covers that come with a 360° rotatable ring holder that also doubles up as a handy stand for a more comfortable hands-free experience.
Each one of these covers has been made keeping in mind specific use cases. For instance, if you wish to flaunt your smartphone without sacrificing style, clear kickstand cases should appeal to your preference. And if you want to have top-notch protection from bumps, the heavy-duty cases with stand would be the ideal way to go. Let's jump right in to find out what's more these covers have got in store for you!
Spigen Ultra Hybrid S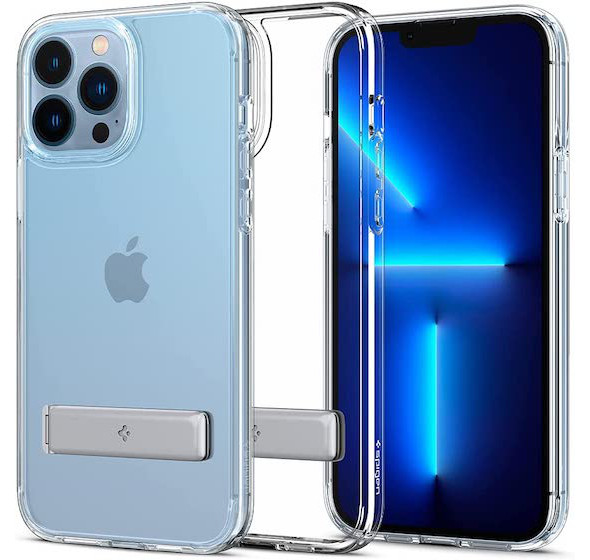 Pros:
Impressive clear design
Impact-resistant bumper
Extra protection for triple-camera and screen
Much-improved grip
Cons:
Metal kickstand seems less durable
Flaunting a clear design, Spigen Ultra Hybrid S has got the profile to make a good-looking match with your iPhone 13 Pro Max. Ultra Hybrid S features hybrid construction (PC and TPU) that allows the 6.7″ phablet to showcase its design. And with the durable back and shock-absorbing, the case is equipped to endure impact and keep scratches away from your iPhone.
Additionally, Ultra Hybrid S also features raised lips to guard the triple-camera module and the 120Hz ProMotion display against scratches. Thanks to the rubberized bumper, it provides a secure grip so that you will feel comfortable holding the phablet. Talking about the metal kickstand, it can let you prop up your smartphone both vertically and horizontally. Overall, it's one of the best kickstand cases for the iPhone 13 Pro Max in the market right now.
ESR Metal Kickstand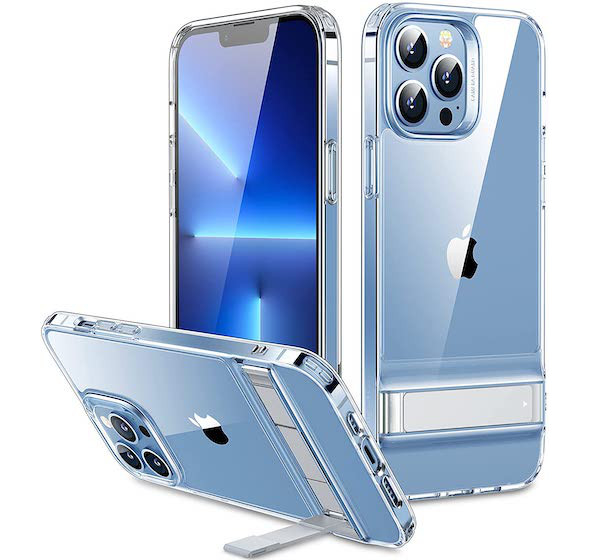 Pros:
Durable construction
Enhanced grip
Multiple viewing angles
Precise cutouts
Whenever a new iPhone launches, ESR doesn't take long to come up with a pretty snug-fit case with stand. As you may have already guessed, the accessory maker has introduced one of the best iPhone 13 Pro Max kickstand cases that check off all the essential boxes. Featuring a clear design, the case ensures your all-new iPhone has got the needed license to shine through.
Design aside, how well does ESR kickstand fare in terms of protection? Well, you can count on this clear kickstand case to endure shock due mainly to the impact-resistant bumper and the durable back panel. As for the built-in stand, it works for both portrait and landscape orientations so that you can choose the desired viewing angles depending on your convenience.
Longciyu Versatile Kickstand Case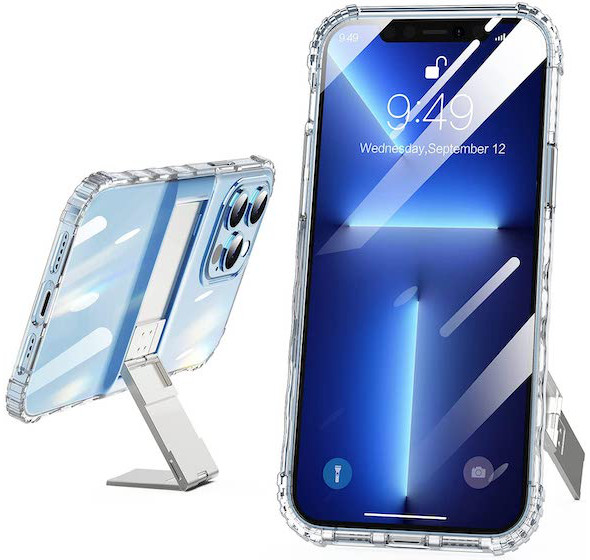 Pros:
6 different viewing angles
Protective design
Fortified corners
Anti-slip sides
Cons:
A bit on the heavier side
Longciyu kickstand case is a little different from other others. The highlight of this case is the ability to offer six different ways to hold the iPhone. So, if you are someone who wants to have more flexibility in terms of viewing angles, this one can be your desired pick.
The case sports a transparent design with precise cutouts to let iPhone 13 Pro Max flaunt its appearance. The impact-resistant bumper coupled with the solid back panel enables it to exceed military-grade protection. Plus, it has also got elevated lips to shield both the camera module and screen against scratches. And with the perfect cutouts, the case offers painless access to all the ports and speakers.
TORRAS MoonClimber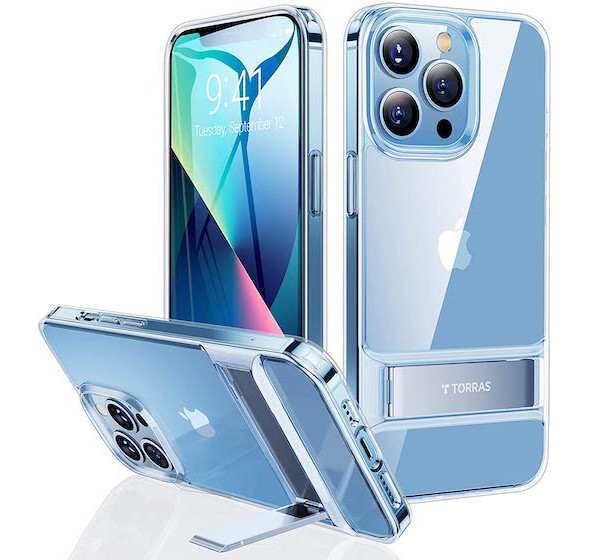 Pros:
Snug-fit design
6X military armor-level protection
Highly durable kickstand
Anti-slip hold
What puts TORRAS MoonClimber in the spotlight is the 6X military armor-level protection. The clear design is ably complemented by the shock-absorbing bumper and the rugged back panel. Moreover, it also has beveled edges to ensure the screen and camera bump remain lifted off the flat surface.
Protection aside, MoonClimber is also up to the mark when it comes to providing anti-slip hold. So, your phablet will feel grippy in your hands. Equipped with the versatile stand, the case provides multiple viewing angles so that you can catch up with your favorite shows with the desired comfort. The buttons are responsive, while the cutouts are neat offering convenient access to ports and speakers. Overall, MoonClimber is one of the top kickstand cases for the iPhone 13 Pro Max.
VRS Design MagStand Pro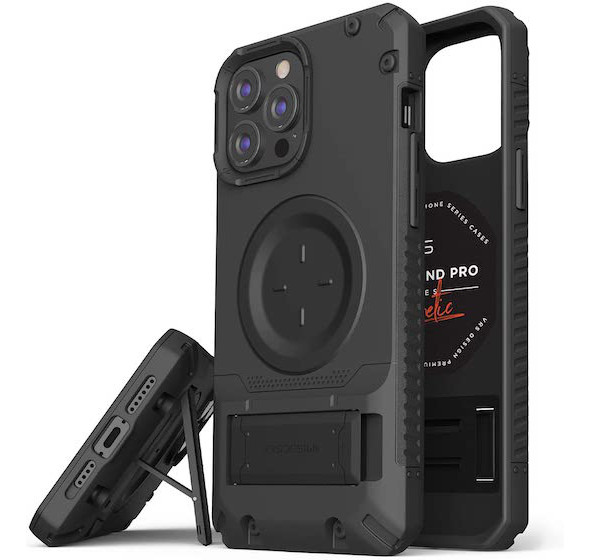 Pros:
MagSafe compatibility
Rugged construction
Reinforced corners
Solid kickstand
Endowed with exceptionally rugged construction, VRS Design MagStand Pro offers uncompromised protection to your iPhone 13 Pro Max. So, if the trusted defense from drops and scuffs is on your priority list, you should check out MagStand Pro. Courtesy of the ergonomic form factor, the case provides much-improved grip, which butterfingers would always appreciate.
The integrated kickstand can let you hold your iPhone both vertically and horizontally for a more convenient viewing experience. With the tactile buttons and the neat cutouts, MagStand Pro has taken care of the basics. That's not all, it's fully compatible with MagSafe and wireless chargers unlike many kickstand cases in the market. Though the case is relatively expensive, you can bank on it to live up to your expectation.
Spigen Tough Armor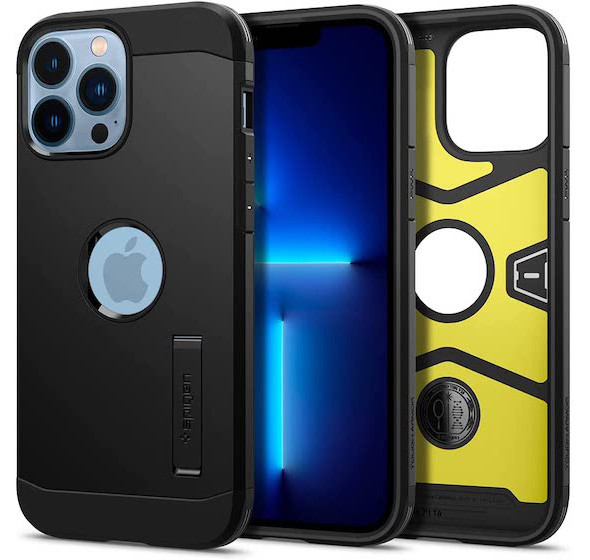 Pros:
Rugged profile for trusted protection
Additional protection for ProMotion display
Sturdy kickstand
Secure hold
Cons:
The kickstand doesn't support portrait orientation
If you want a kickstand case with rugged construction for enhanced protection from drops, Spigen Tough Armor can be a better option. Made of shock-absorbing TPU and hard PC, Tough Armor features a dual-layer of construction. And with the elevated edges, the case delivers additional protection to both the cameras and screen.
Equipped with a kickstand, Tough Armor allows you to prop up your iPhone in the landscape mode for a comfortable media watching or video-calling experience. The rugged exterior also plays a vital role in offering an anti-slip grip. Add to that the precise cutouts and the Tough Armor kickstand case seems to be a great companion for your iPhone, especially if you wish to put more emphasis on safeguard against unexpected damage.
Ezavan Military-Grade Kickstand Case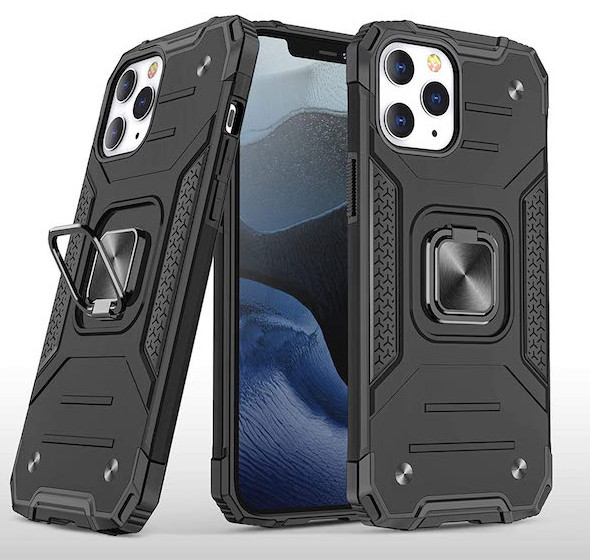 Pros:
Military-grade protection
Better grip
360° rotatable ring holder
Responsive buttons
Cons:
Support wireless charging
Less appealing design
If you are after a relatively affordable yet pretty good kickstand case for your iPhone 13 Pro Max, Ezavan's military-grade case could fit your bill. The case boasts a muscular design with fortified sides and reinforced corners for reliable protection from accidental damage. Besides, it also features slightly elevated lips for the needed safeguard for the rear camera module and the screen.
Apart from boosting durability, the rugged sides also play a major role in enhancing the grip. Furthermore, there is also a handy ring that allows you to securely hold your smartphone. Being fully adjustable, the ring also doubles up as a useful kickstand to offer multiple viewing angles. With the strong magnets, the ring bracket can be used with magnetic car mounts as well, which makes it an ideal travel companion.
VEGO Military-Grade Kickstand Case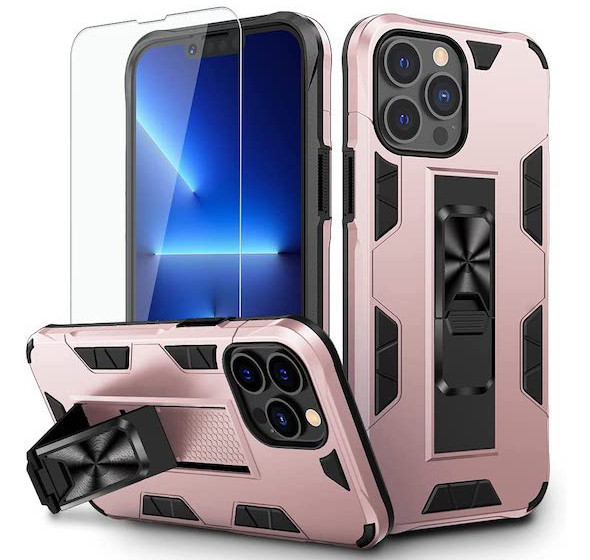 Pros:
Exceptionally durable
Enhanced hands-free experience
Comes with a screen protector
Supports magnetic car mounts
Cons:
Old-fashioned design
Doesn't support MagSafe
For the folks who have set their sight on a heavy-duty case, VEGO's shockproof case would be worth checking out. The case has got a beefed-up exterior that can fight out even nasty bumps. Furthermore, it also keeps the rear cameras and the Super Retina XDR display protected from scratches.
Notably, VEGO case comes with a screen protector for additional safeguard against scuffs. Talking about the kickstand, it's sturdy and allows you to prop up your smartphone both horizontally and vertically. And you can also take advantage of the built-in metal patch to attach your device to magnetic car mounts. Considering these features, VEGO seems to be a great deal at $12.
i-Blason Cosmo Snap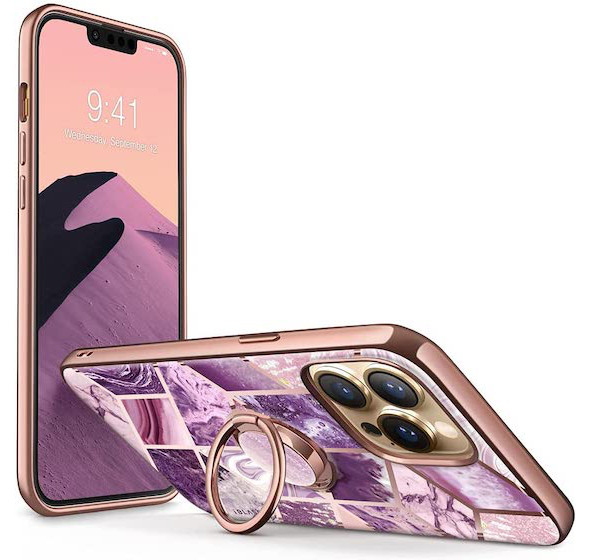 Pros:
Attractive design
Compact form-factor
360° adjustable ring holder
Compatible with MagSafe
Showcasing a stunning design, i-Blason Cosmo Snap is what you should choose to amp up the elegant quotient of your all-new smartphone. Made of soft TPU material, the case features a flexible and snap-on profile that wraps around the smartphone like a glove.
Despite having a sleek form factor, the Cosmo Snap is quite good in terms of absorbing minor shock. With the air-cushioned corners and impact-resistant bumper, it can shield your smartphone against low-volume drops. Moreover, it features a built-in 360° adjustable ring holder that offers multiple viewing angles. Talking about colors, Cosmo Snap comes in three nice-looking variants such as ameth, marble, and ocean.
RC1WD Heavy-Duty Case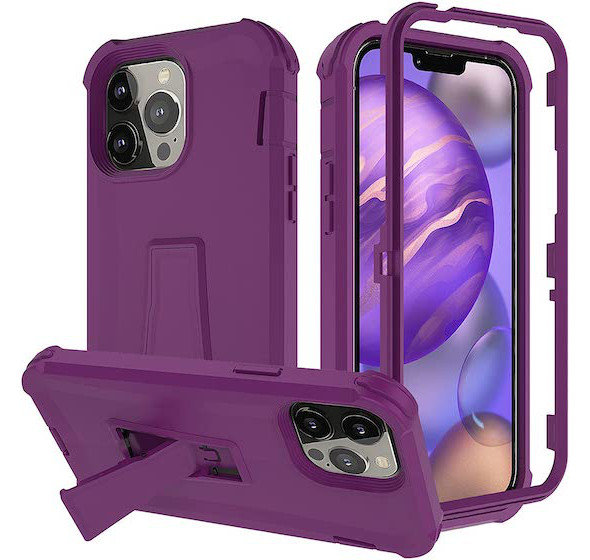 Pros:
Shockproof design
Protective bumper with air-cushioned corners
Guards both camera and screen against scratches
Comfortable grip
Last but not least, RC1WD is a top-notch heavy-duty iPhone 13 Pro Max case with stand. So, if you don't want unexpected damage to hurt your pricey investment, you should give RC1WD a chance. The case features three-layer of protection coupled with air-cushioned corners that can absorb impact with consummate ease.
Aside from reinforcing durability, the rugged exterior provides a secure hold. With the strong elevated lips, the rear camera setup and the 6.7″ OLED display are able to keep scratches at a fair distance. The impact-resistant kickstand supports multiple viewing angles, which is yet another plus from a flexibility point of view. Other than that, the cutouts are perfect and you can also trust the pronounced buttons to feel responsive. Taking everything into account, RC1WD is one of the best heavy-duty kickstand cases for the iPhone 13 Pro Max.
Top iPhone 13 Pro Max Kickstand Cases Lined Up for You
So, that concludes this extensive roundup of the best kickstand cases for iPhone 13 Pro Max. Hopefully, your all-new phablet has found a more suitable cover that can offer both essential protection and an enhanced hands-free experience. By the way, what type of case have you picked? Is it the clear case or the shockproof cover with the impact-resistant cushion that has caught your attention? It would be great to know more about your favorite cases. As always, if there is any cover that deserves a shot in this roundup, do let us know its name in the comments section below.