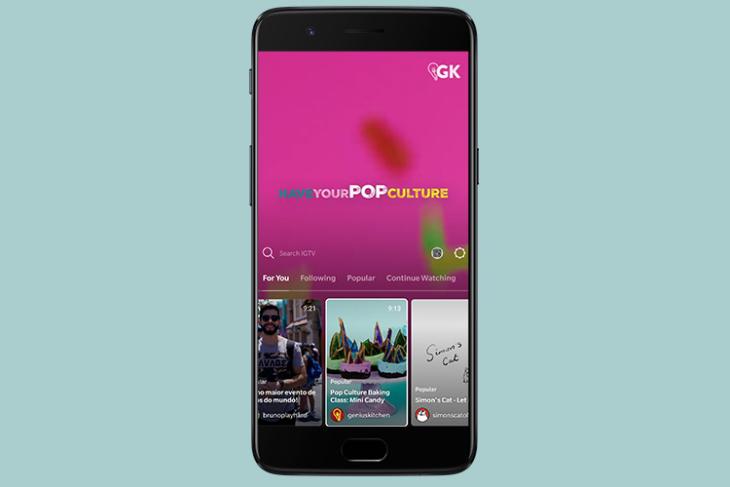 In an attempt to take on YouTube, Instagram launched a long-form video platform IGTV last month, but it hasn't managed to take off like the company may have imagined.
Creators are currently reusing content from YouTube as they try to figure out how their content can fit into IGTV's vertical videos. However, the biggest concern of all is the discovery of content on IGTV. This new video platform is currently hidden behind the new IGTV icon (also accessible via a separate app) that's added to the navigation bar at the top, next to the DM option.
As spotted by popular app researcher Jane Machun Wong, Instagram is now planning to improve the visibility of its long-form videos (up to 1 hours). It is currently said to be testing a feature where it shows off a carousel of IGTV videos at the top of your feed.
Instagram is testing to show IGTV right in news feed. pic.twitter.com/aRlt0G7IL7

— Jane Manchun Wong (@wongmjane) July 26, 2018
As you can see in the screenshot above, IGTV thumbnails will appear underneath your Stories in a manner similar to how Stories look on Facebook. You'll see large vertical thumbnails that push down images or videos in your feed, giving importance to IGTV videos at the top.
The company, in a statement to TechCrunch, has confirmed that it is 'testing new and different ways to surface interesting content for people on Instagram.' I believe this is obviously the path Instagram should have adopted from the very beginning to surface content to the users. This would surely improve the discovery of long-form videos from creators you follow, giving the platform a much-needed boost in views.
Instagram is always testing a bunch of new features to further give prominence to the Stories that have now become the center of attraction on the platform. The company's known to be testing a sticky Stories bar, rolling out Stories reactions, adding posts to a Story, along with other features that'll only further its adoption. So, will you want to see IGTV videos at the top of your feed? Let us know in the comments below.