The Material You wallpaper-based theming system is undeniably one of the best new Android 12 features. While the idea of picking accent colors from the wallpaper is fancy, it doesn't offer many color options to choose from. All you get is a total of four color palettes, along with a few basic colors. However, if you are someone who prefers using specific colors for the interface, here's how you can use custom accent colors for your Material You theme in Android 12.
Use Custom Material You Accent Colors in Android 12
This method uses the custom colors feature of a third-party live wallpaper called "LWP+ – customized Monet colors" (h/t: u/rhamej). Since it is a live wallpaper app, you also won't get the odd zoom effect on wallpapers. You can download LWP+ from the Google Play Store (Free) or APKMirror via the attached links.
Note: The Play Store listing wasn't updated to identify Android 12 as a supported version at the time of writing this article, at least on the Pixel 3 XL. I installed version 2.07 of the app from APKMirror, and it worked like a charm. The Play Store listing has now since been updated to mention that using "this live wallpaper app on Android 12, you can choose which color tell the OS to use for Monet feature."
With all of that out of the way, check out the steps to use a custom color for the Material You theme on your Android 12 device:
1. Open the LWP+ app and enable the "Set as current live wallpaper" toggle. You will now see a standard wallpaper picker interface, where you can set LWP+ as the default wallpaper.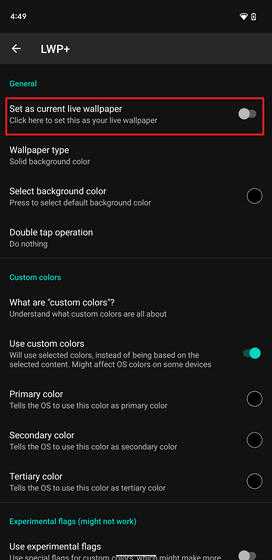 2. You should now pick your preferred wallpaper image. To do that, tap "Wallpaper type" and choose "Cropped image" as the wallpaper type. The app will now prompt you to pick the wallpaper.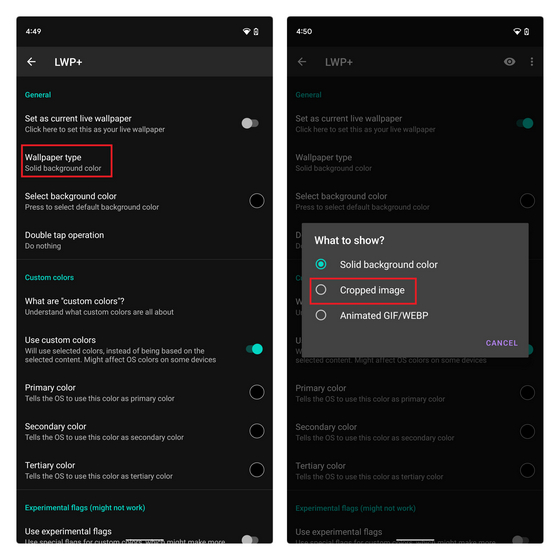 3. Once you have set a wallpaper of your choice, scroll down and enable the "Use custom colors" toggle under the "Custom colors" header. Now, tap "Primary color" and use the color picker to pick your preferred custom color or enter its HEX code for the Material You theme on your Android 12 device.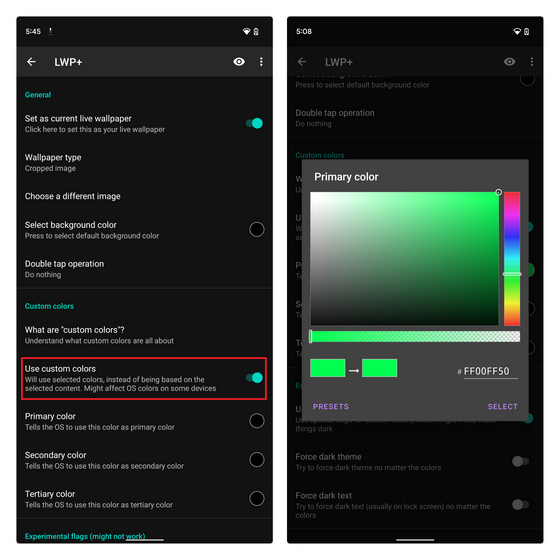 4. Once you have set the accent color, close the app and turn your screen on after turning it off. As you can see below, the chosen accent color has been applied to the OS, and by extension, Material You theme supported apps on the Android 12 smartphone.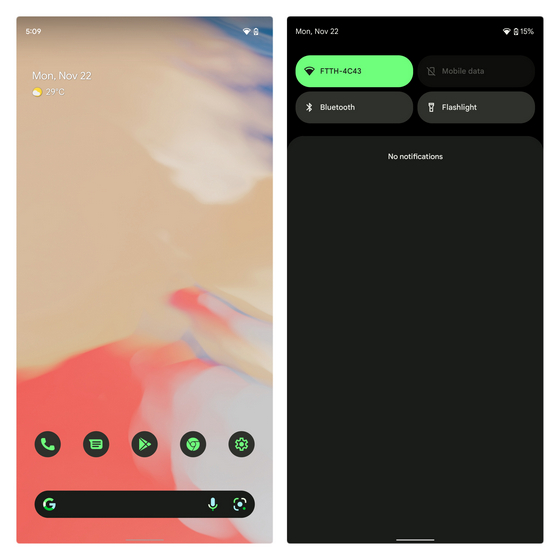 Note: As you can see in the screenshot above, you can also replace the annoying "Internet" quick settings toggle with separate Wi-Fi and mobile data toggle. Follow the linked guide to learn how to do that.
Use Custom Theme Colors on Android 12
The option to set custom colors for the Material You theme in Android 12 is something power users are likely to appreciate. If you were looking to set your own theme colors on Android 12, we hope this guide helped you. Although it's disappointing that Google didn't include this capability within the OS, this neat workaround will come in handy as long as you don't mind using this live wallpaper app. In case you run into issues while using this app, let us know in the comments, and we will try to help you out.