After Zoom took the lead in video conferencing solution for both masses and enterprises, Microsoft seems to have landed in a soup. The Redmond giant is in a hurry to implement many of the Zoom features into its Microsoft Teams app. After bringing a free tier to Teams, now the company has announced the background feature in Microsoft Teams, similar to virtual background in Zoom. We tested the feature and it worked sufficiently well. So in this article, we bring you a detailed guide on how to change your background in Microsoft Teams. Apart from that, we have also mentioned how to upload custom images as background in Microsoft Teams, even when the feature has not rolled out yet. So without losing any moment, let's go through the article.
Change Your Background in Microsoft Teams
Similar to Zoom, you can now change the background in Microsoft Teams. However, it only supports images and the feature is limited to just Windows and macOS as of now. Apart from mobile apps, the feature is also not available on the web version of Microsoft Teams so keep that in mind. Now without further ado, let's jump to the steps.
Note: Update the Microsoft Teams app to the latest version to get the background feature. You can download the latest build from here.
1. All you have to do is, just move to the "Calls" or "Chat" menu and select your contacts. After that, hit the "video call" button to place a call.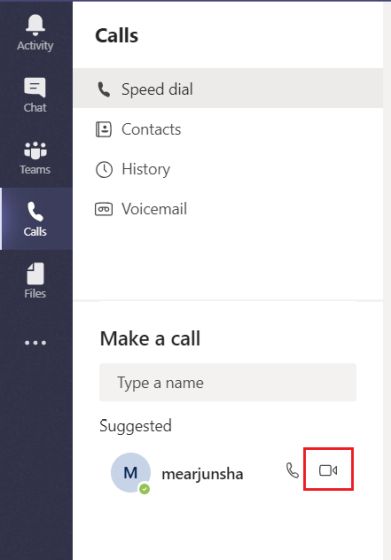 2. Once the call is established, tap on the three-dot menu and open "Show background effects".
3. Now, you will get a set of images selected by Microsoft on the right pane. Here, click on the image and then click on "Preview" twice (there are some bugs) to get a sneak peek of the new background. After that, click on "Apply and turn on video" to make the final changes. And that is how you can change your background in Microsoft Teams.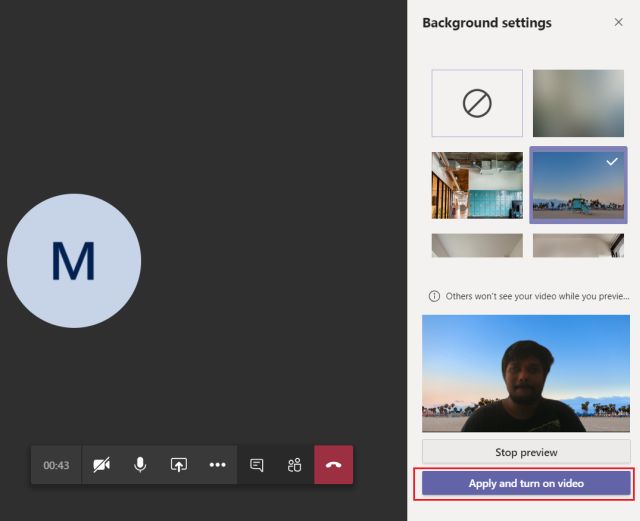 4. In case, you want to just blur out the background then simply tap on "Blur background" at the top and you are done.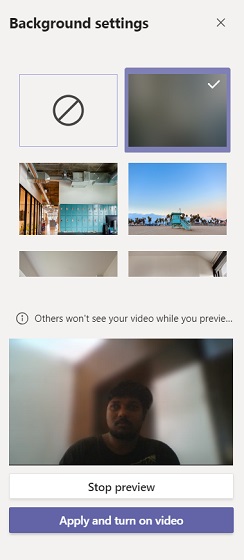 Upload Custom Backgrounds in Microsoft Teams
During the announcement of the background feature, Microsoft stated that currently, you can only change the background from the preloaded images on the Teams app. The ability to upload your own images will be coming in the future. But what if I tell you that you can access the feature right now? Well, there is always a way out. Follow along.
Note: As of now, this method only works on Windows computers having the Microsoft Teams desktop app.
1.  Open My Computer or any file explorer window and paste the below path in the address bar.
%APPDATA%\Microsoft\Teams\Backgrounds\Uploads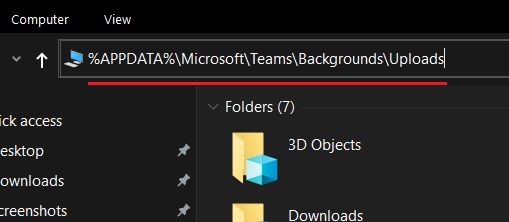 2. After that, hit enter and it will directly take you to Microsoft Teams' "Upload" directory. Now, move the images to the "Upload" folder that you want as Microsoft Teams background.
3. Finally, open the Microsoft Teams app and place a video call similar to the first section. Click on "Show background effects" and scroll to the bottom in the right pane. Here, you will find the image that you just moved into the Upload folder. Now, apply the image and voila, custom background in Microsoft Teams working as intended.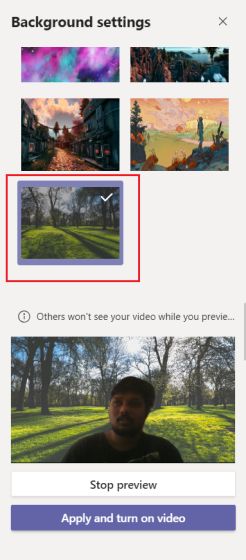 Add Your Own Images to Microsoft Teams Background and Have Fun
So that is how you can change the background in Microsoft Teams and also add your custom images through a simple hack. In my testing, the background feature in Microsoft Teams worked pretty well but it was surely not as smooth and distinguishable as Zoom. I suppose Microsoft will make significant improvements in the coming days and will also bring this neat feature to Android and iOS. Anyway, that is all from us. If you are having some trouble uploading background images to Microsoft Teams then drop a comment below. We will definitely help you out. And if you are looking for a free Zoom alternative that does not require sign-up or app downloads then check out Skype Meet Now.