When there is a constant threat to the security of sensitive information, additional safeguard against spammers and hackers should always be the way to go. In the backdrop of an ever-increasing demand for improved security and privacy, Google has taken several notable steps like introducing a private messaging feature inside Google Photos and allowing iOS users to enable automatic image blocking in Gmail on iPhone and iPad. It's worth noting upfront that image blocking feature has existed on Android and web versions of the Gmail app for quite some time, unlike the iOS counterpart. So, it's a rather belated launch on the iOS version of the app. Better late than never, let's head into the guide to see how it works!
How to Stop Gmail from Automatically Loading Attached Images on iPhone and iPad
Several email tracking clients track when an email has been opened and viewed using small and invisible images. They open the gate for invasive features like "read receipts" and location tracking. By default, the Gmail app automatically loads the attached images so that users can view them without any wait. From a convenience perspective, it's helpful. But from a security point of view, it's not. Thankfully, there is a way to completely stop Gmail from automatically loading external images.
1. Launch the Gmail app on your iPhone or iPad and then tap on the menu icon at the top left corner of the screen.
2. Now, scroll down and tap on Settings.
3. Next, tap on your Google account at the top.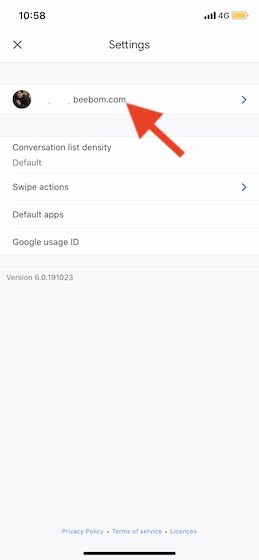 4. Next up, tap on the Images option.
5. Finally, choose the "Ask before displaying external images" option.
That's it! Now, exit the settings. Gmail will no longer display the attached images automatically.
If you ever happen to reverse it, all you need to do is go back to the same setting and choose Always display external images option in the end.
Note:
The process to turn on the image blocking feature in Gmail on Android devices is quite similar. Simply tap on the menu button at the top left of the screen > Settings > Your Account > Images. Finally, choose the Ask before displaying external images option in the popup. 
To set up image blocking in Gmail on web, click on the gear icon at the top right corner > Settings.
In the image section, make sure the "Ask before displaying external images" option is selected.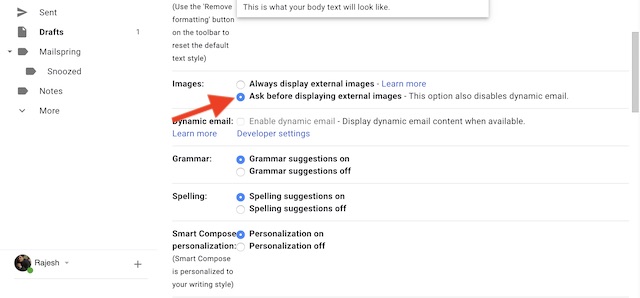 Turn on Automatic Image Blocking in Gmail Across Devices
So, that's the way to prevent Gmail app from automatically showing up the attached images. Considering how vital it's to enhance security and privacy in an age where hacking and cybercrime have become the order of the day, it's a well-thought-out implementation in the email app. What's your take on this much-needed feature? Let us know in the comments below.