Even though clearing cache is not something you often need on an iPhone, there are times when an app starts malfunctioning, or you notice a slow-down of your iPhone, and a cache clear can be very helpful in such cases. Moreover, it can also help you restore some iPhone storage without having to offload apps or deleting documents and data off your iPhone. So, here is how to clear cache on iPhone easily.
5 Ways to Clear Cache on iPhone and iPad (2022)
Even though iOS lacks a system-wide scanner to scan through the entire device and show the total amount of cache files, there are some effective workarounds that allow you to remove cache files from your iPhone. Moreover, if you don't mind spending a few bucks in favor of a powerful storage cleaner, you can track down all the junk files and wipe them out with just a click. With that in mind, let's get started!
1. Restart Your iPhone or iPad to Clear Minor Cache
Many of you would be surprised to know that a simple restart can also clear cache on iPhone. Though the restart trick can only clear some lightweight cache, it comes in super handy when faced with miscellaneous issues like app freezing and touch unresponsiveness. That's why it's better to reboot your device once in a while in order to get rid of minor cache and also free up the memory.
Restart iPhone and iPad without Home Button
Press and hold the side/top button at once. Then, drag the power off slider to shut down your device.
Now, wait for 30 seconds and then hold down the side/top button to turn on your device.
Restart iPhone or iPad with Home Button
Press and hold the side/top button and then drag the power off slider to turn off your iPhone.
After waiting for a few seconds, hold down the side/top button again to restart your iDevice.
2. Clear Safari Cache on iPhone and iPad
When you browse the web on Safari (or any other browser), the web pages you visit store certain data on your iPhone, including cookies and other cache files. Fortunately, clearing Safari history and cache is a simple process. Plus, if you want to, you can just clear the cookies on iPhone as well instead of deleting all website data. That said, here's how to clear Safari cache on iPhone.
1. Open the Settings app on your iPhone. Scroll down and select Safari.
2. Now, tap Clear History and Website Data. A popup menu will show up from the bottom saying something like, "Clearing will remove history, cookies, and other browsing data. History will also be cleared from devices signed in to your iCloud account. " Tap on 'Clear History and Website Data' to clear browser cache and remove all website data as well.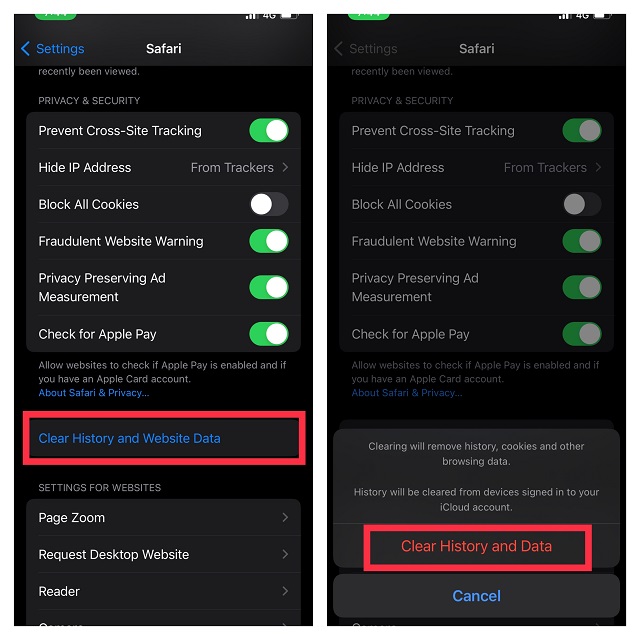 3. Clear Cache from App Settings on iPhone and iPad
Many apps like Chrome, Firefox, Spotify, Snapchat come with a setting to let you easily clear the related cache. Hence, many a time, you don't need to look anywhere else but an app's setting to remove the cache.
Clear Cache in Google Chrome
1. Head over to Chrome App -> More button at the bottom right corner of the screen.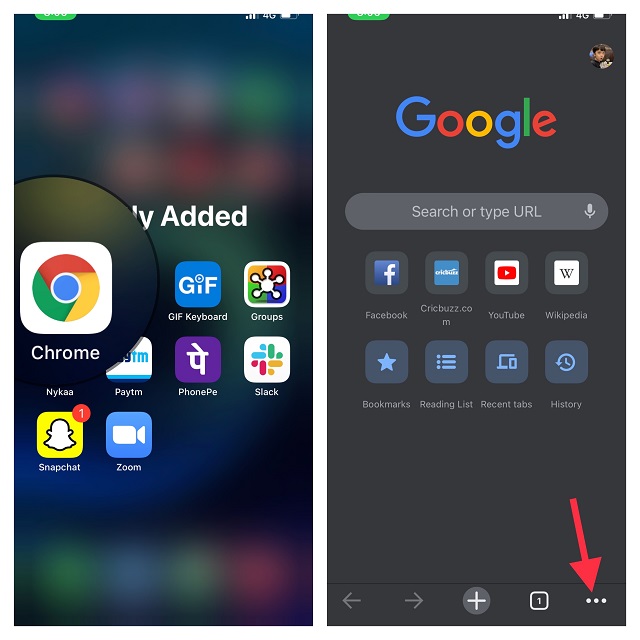 2. Now, tap History and choose "Clear Browsing Data".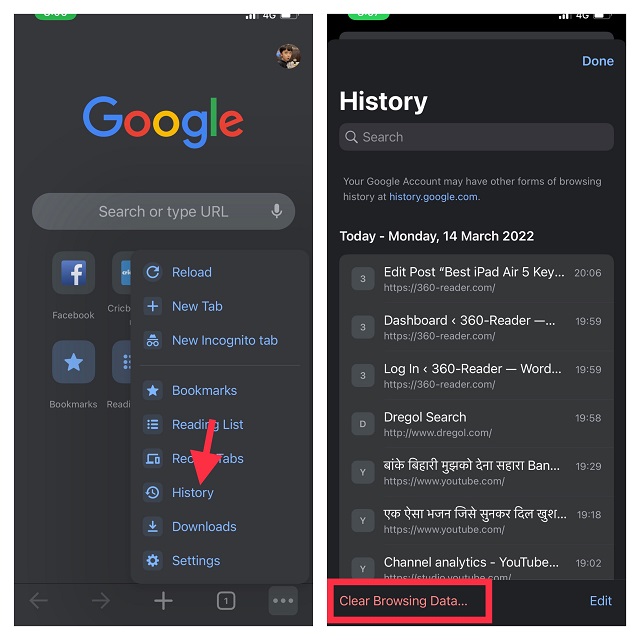 3. Next, make sure the Cookies, Site Data, and Cached Images and Files options are selected. Then, tap Clear Browsing Data and confirm.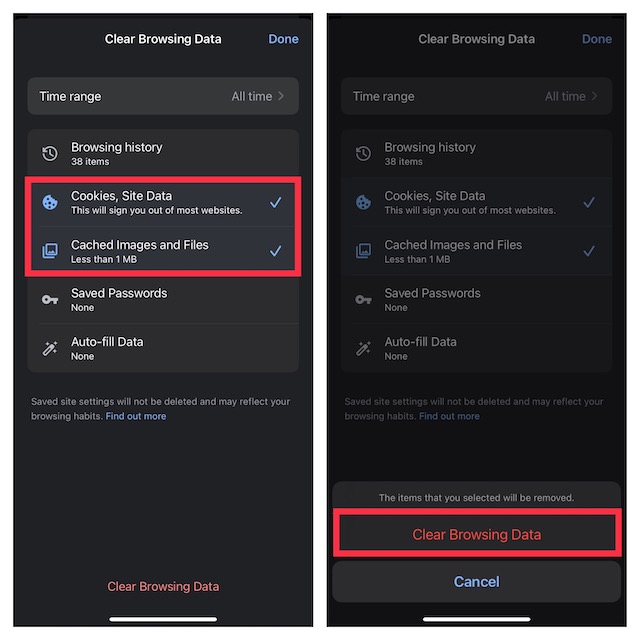 Delete Cache in Firefox
1. Navigate to Firefox app -> More button at the bottom right corner of the screen.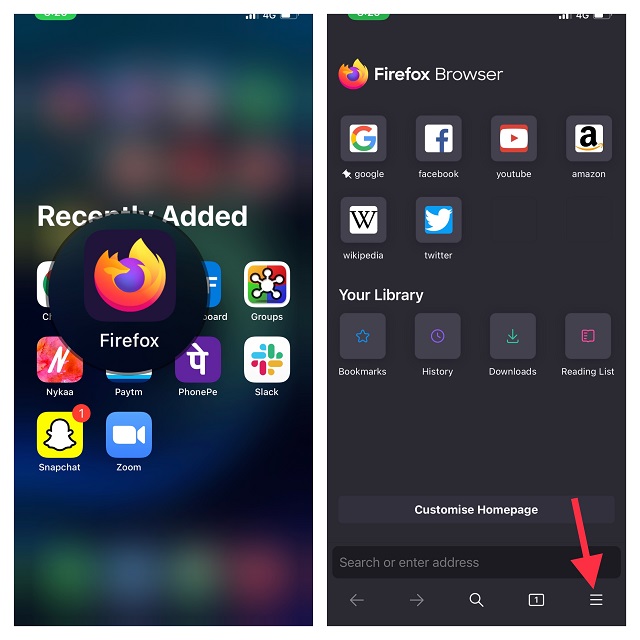 2. Now, select History. After that, tap Clear Recent History and then choose to clear the cache of the last hour, today, today, and yesterday, or everything depending on your needs.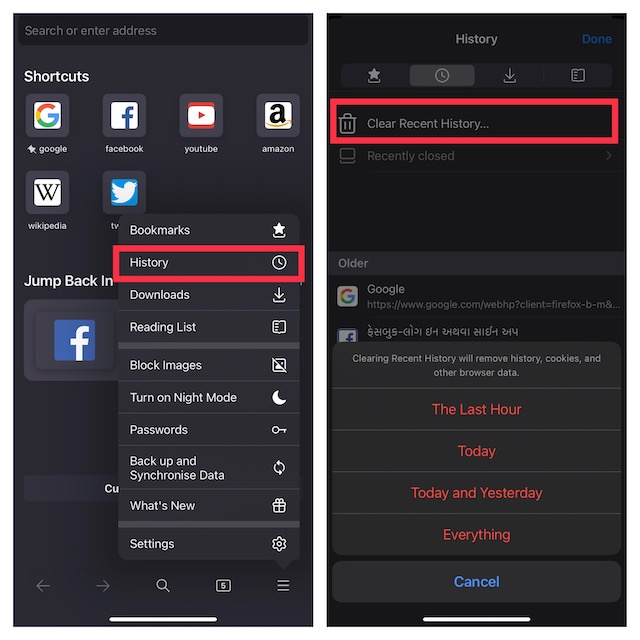 Clean Up Cache in Spotify
If you want to clear the app data for the Spotify iPhone app, you can do so easily without having to delete and reinstall the app.
1. Open Spotify app -> Settings icon at the upper right corner of the screen.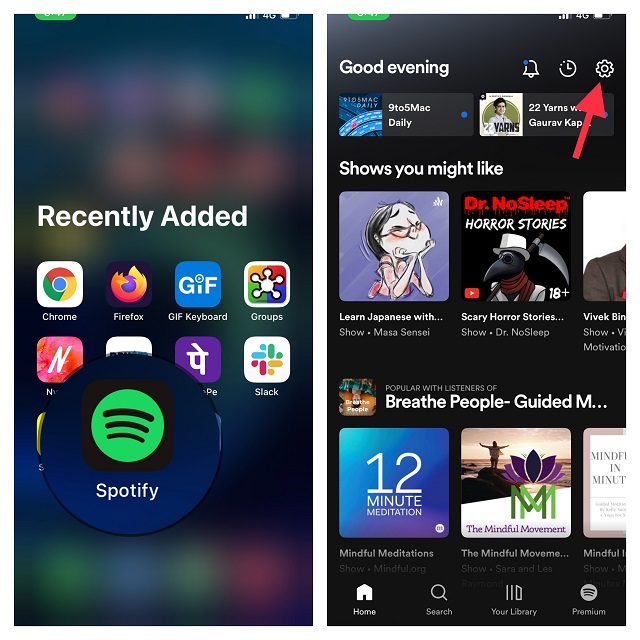 2. Now, tap Storage and hit Clear Cache.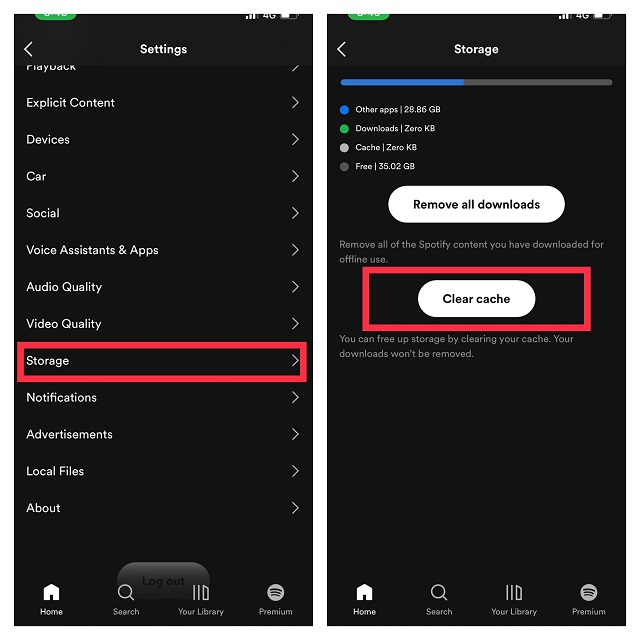 Delete Cache in Snapchat
1. Launch the Snapchat app on your device and tap on the profile icon at the top left corner of the screen.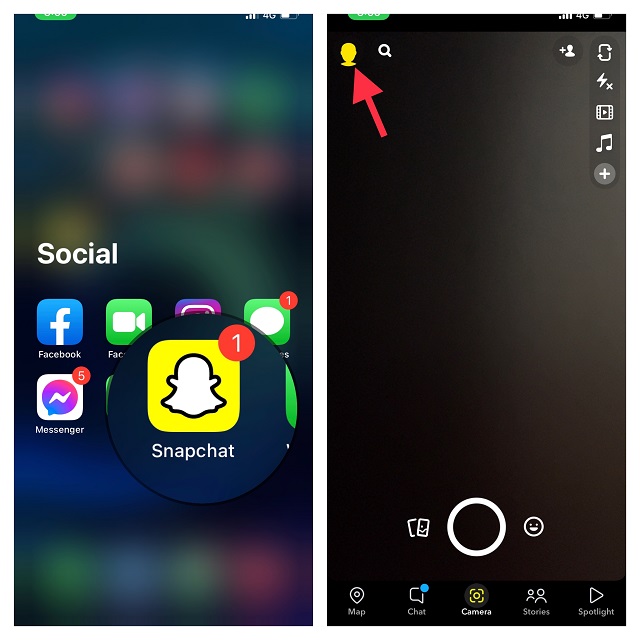 2. Now, tap the Settings icon at the top right corner of the screen and hit Clear Cache located under the Account Sections. Do not forget to tap Clear in the popup to confirm the cleanup.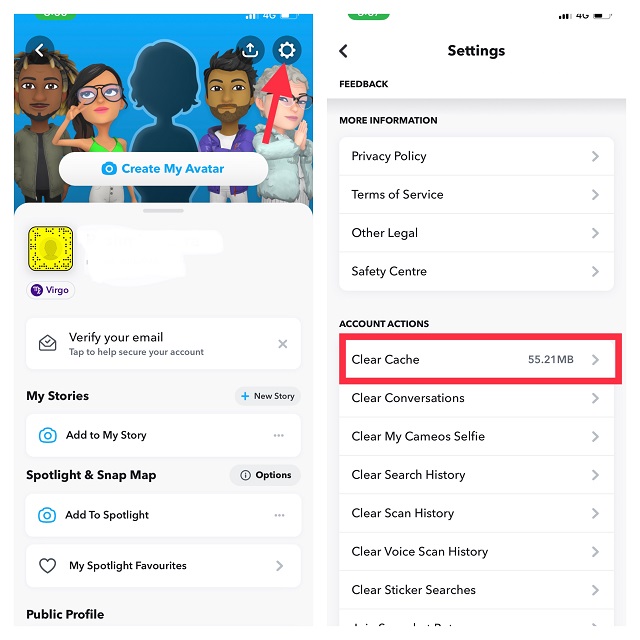 To remove the cache from other apps, dive into their respective settings -> look for the "Clear Cache" option and do the needful. However, the option isn't available in every app, so you may need to resort to using other methods to clear cache and free up storage.
4. Delete App Cache on iPhone and iPad
iOS provides a straightforward way to keep a track of storage usage. With a simple storage bar, you can find out which categories like apps, photos, Mail, System Data, etc have captured more space.
Moreover, you can also dive into the details and check the total amount of space hacked by specific apps. And if you come across apps that have eaten up more space than you can afford, you can delete them all along with their related cache to free up a lot of storage on your iPhone.
Unfortunately, there are quite a few apps like Instagram that don't let you clear cache. Therefore, you need to delete and reinstall them to get rid of the associated cache.
1. First off, launch the Settings app on your iPhone and choose General.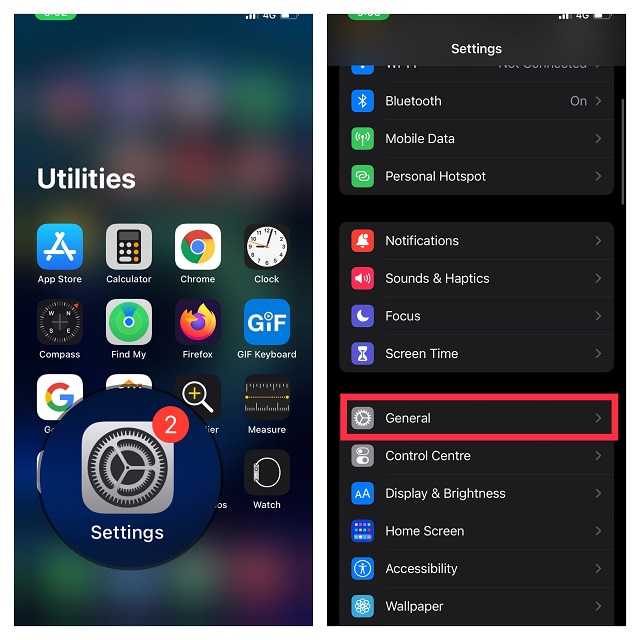 2. Now, tap iPhone/iPad Storage.
3. Next, a long list of apps will appear on your device along with the amount of storage each one has consumed. Select the app which cache you want to remove.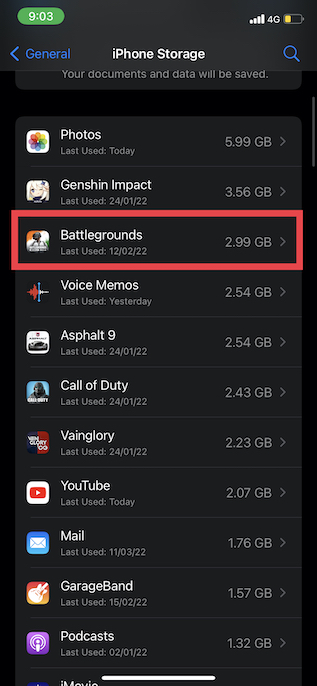 3. Next up, tap Delete App and confirm by hitting Delete App again in the popup.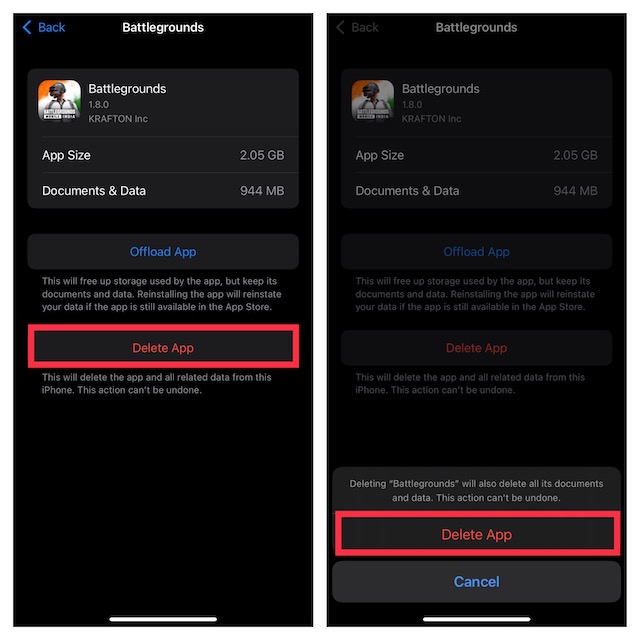 5. Use Third-Party Apps to Clear Cache on iPhone and iPad
If you are looking for a more efficient way to clear cache on your iOS/iPadOS device, third-party storage cleaners would be worth checking out. Thanks to a powerful scanner, they are able to quickly scan your device and show the items that need to be cleaned up. Besides, you can manually select the useless items and eliminate them all with just a click.
The tools that I have tried and found quite reliable are iMyFone Umate ($29.95/year) and PhoneClean ($19.99/year). They support both macOS and Windows and allow you to easily remove temporary and junk files from your iPhone. Though these tools are available for free, you will need to upgrade to the premium version to unlock the full potential.
Delete Cache on iPhone and iPad Using iMyFone Umate
1. Plug your iPhone into your computer (Mac or PC)
2. Now, open the iMyFone Umate app and hit Scan.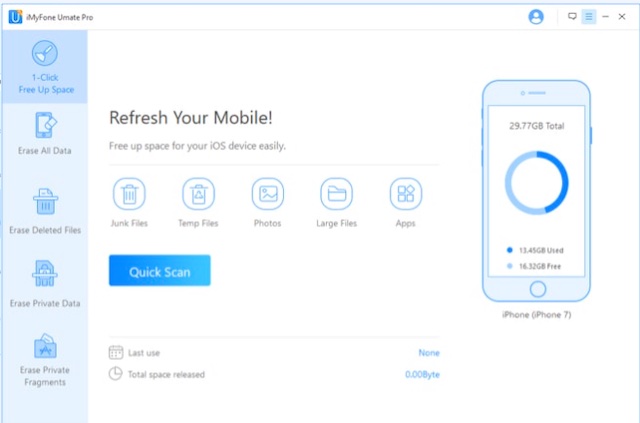 3. Once the tool has scanned your device, it will show you the number of items (along with their file size) that are useless. Finally, select the items you want to remove and click Clean.
Remove Cache from Your iPhone and iPad Using PhoneClean
1. To get going, connect your iPhone to your computer.
2. Now, launch the PhoneClean app and click Scan.
3. Next, wait for some time until the tool has scanned your device. After that, click Clean to wipe out the temporary files.
Delete Cache on iPhone and iPad with Ease
Well, that's how you can remove cache from your iOS device and recover plenty of precious storage. Apart from helping you keep the storage clean, the above-mentioned tips can also go a long way in preventing issues like overheating, unexpected battery drain, and sluggishness. So, have you cleared the cache on your iPhone recently? Do you want Apple to make cache clearing an easier process? Share your thoughts in the comments.