Thanks to Twitter's infamous token policy, one of the best third-party Twitter clients, Flamingo, has been removed from the Play Store. While existing users will still be able to use the app, it remains unavailable for others. Boasting of multiple themes, a pop-up preview mode and other features that are not included in the official Twitter app, Flamingo was undoubtedly one of the best alternative Twitter clients. Well, fret not, for if you're looking for an alternative for Flamingo, we've got your back. Read on, as we bring to you our list of the 7 best Flamingo alternatives for Twitter on Android that you can use:
1. Talon for Twitter
Quality doesn't come cheap, and Talon is the personification of that. Talon for Twitter is one of the best alternative Twitter clients, which also makes it a great Flamingo alternative. Boasting of a wide suite of features along with quality visuals and breathtaking performance, Talon offers a Twitter experience like none other.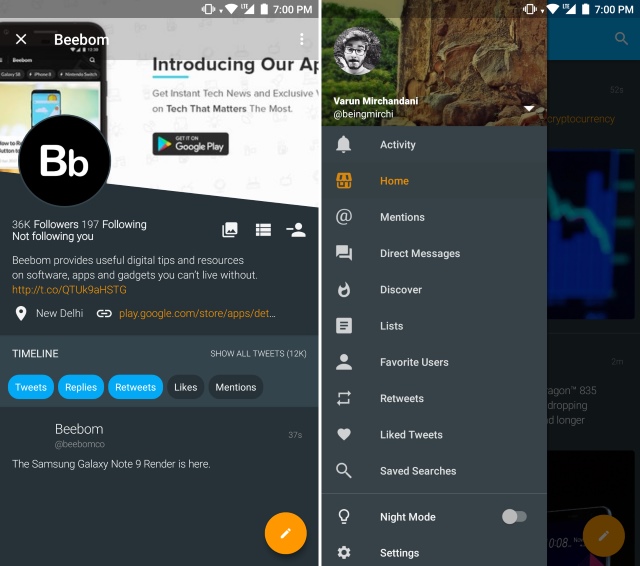 Similar to Flamingo, Talon is also based on the Material Design UI at its core, which provides a great overall user experience. Talon also removes all the ads from Twitter, which takes it a notch further than most of its competitor apps. The app also offers "Night Mode" and a "Do Not Disturb" mode. The sidebar is also completely customizable, giving the user options to add or remove features they like or dislike. Also, similar to Flamingo, you can use Talon to play Twitter videos and GIFs directly, without leaving your timeline. All in all, while Talon is certainly expensive, it offers features and an experience that is much greater than any other, making it one of the best Flamingo alternatives.
Download: ($2.99)
2. Fenix 2 for Twitter
Fenix was one of the standout Twitter alternative clients when it was introduced, and its recent update has raised the app's reputation even more. Offering a neat and clean interface with plenty of tools underneath, Fenix 2 is a great Twitter client and an excellent Flamingo alternative.
While Material UI might be the standard these days, Fenix 2 offers a rather refined and less troublesome variant of the UI, that surprisingly, is a pleasure to use. Similar to Flamingo, Fenix 2 also offers support for multiple user accounts, while making the process to switch between them almost seamless. You get a fully customizable main screen, where your lists and saved searches can be just a swipe away. Also, if you're someone who uses Twitter's DMs a lot, well, Fenix 2 offers a great conversations layout that is quite interactive. Additionally, you get the option of multiple light and dark themes, just like you get on Flamingo. While Fenix 2 is also a paid app, it certainly is a great Flamingo alternative.
Download: ($2.49)
3. TweetCaster for Twitter
TweetCaster is probably an app that has been around for as long as Twitter itself, and it still continues to grow. Offering a ton of features coupled with unmatchable performance, TweetCaster is a reliable and trustworthy Flamingo alternative.
I won't deny the fact that the user interface might not appeal to some. Heck, I did not like it at first. However, using the app for a while, you realize how practical and lightweight the TweetCaster app is. And despite all that, it still manages to incorporate all the major features you demand from your Twitter client. You get multiple accounts support and various themes like Flamingo, an option to save links and read them later, a scrollable and resizable widget, and much more. There's also a Search Party feature, which allows you to search just your own timeline, someone else's, or everyone's. Trust me, once you get used to the lightweight interface of TweetCaster, there is no going back.
Download: (Free, with in-app purchases)
4. Twidere for Twitter
While most Twitter third-party clients out there offer tons of features and a great support, what makes Twidere unique is the fact that the app is completely open-source and 100% free, and comes with features that allow it to compete with other paid options in the Play Store. Although the app can be used for Fanfou, Mastodon, and StatusNet as well, we will be focussing on the Twitter aspect of it.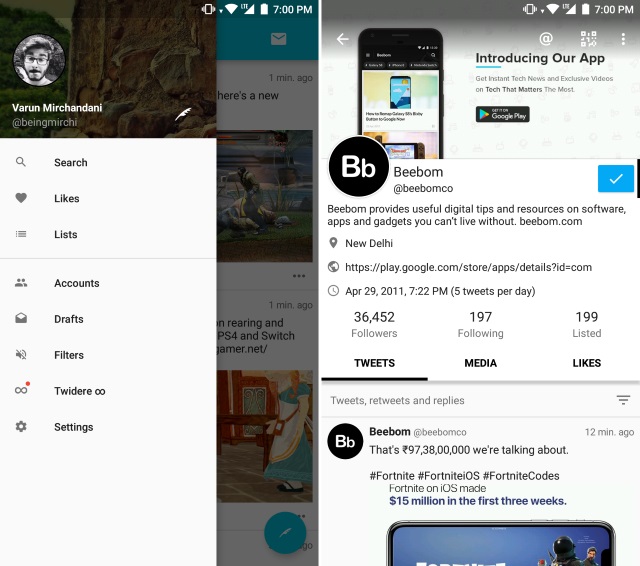 A fully featured Twitter client, Twidere offers a near-perfect material design UI, coupled alongside some really powerful features. The app comes with its own ad-blocker, similar to Flamingo, so you see a clean and unfiltered Twitter timeline. Also, just like Flamingo, you also get a night mode, for easy browsing at night. There's multiple account support, as well as the ability to schedule your tweets while you're offline. Twidere also incorporates Tabs in its UI, so you can assign a tab for your Home, specific hashtags or search results, and what not. All in all, Twidere is a very powerful Flamingo alternative and one that I'd easily recommend to anyone out there.
Download: (Free, with in-app purchases)
5. Finch for Twitter
Now, many of you relied on Flamingo primarily for its great user interface, which puts many apps, especially the official Twitter client to shame. As such, one of the most good-looking yet feature-rich apps, Finch, should prove to be a worthy Flamingo replacement.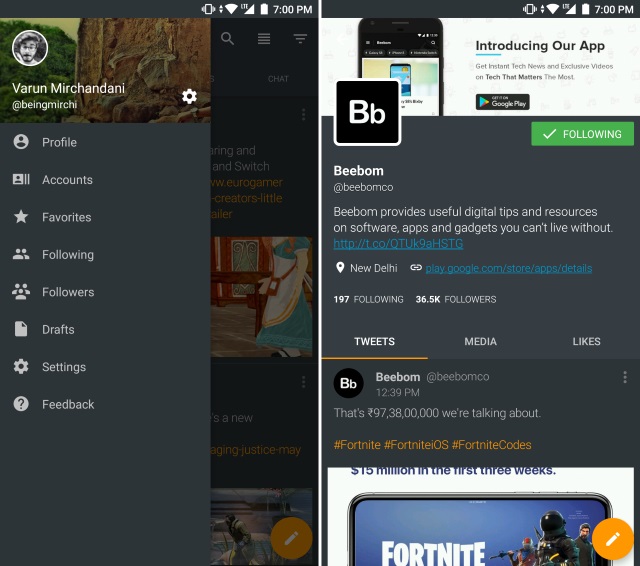 Finch for Twitter offers a clean and informative timeline presented in the cutting-edge material design, that is second to none. With features such as material account support, multiple themes, and a custom UI for tablets, Finch for Twitter is just at par at Flamingo. There's a powerful timeline filter as well, along with an option to view the various tweets on the timeline in a list or card format. Finch also offers a much cleaner interface for all your Twitter DMs, which makes the app an allrounder. If beauty with brains was a concept that existed amongst apps, Finch for Twitter would probably be the best example of it.
Download: (Free, with in-app purchases)
6. Plume for Twitter
Plume for Twitter is another app that offers a plethora of features, all hidden underneath a basic UI. If a great user interface is what you're looking for, Plume is probably not for you. However, if you loved Flamingo for its features as well, Plume is something that comes pretty close to being a great Flamingo alternative.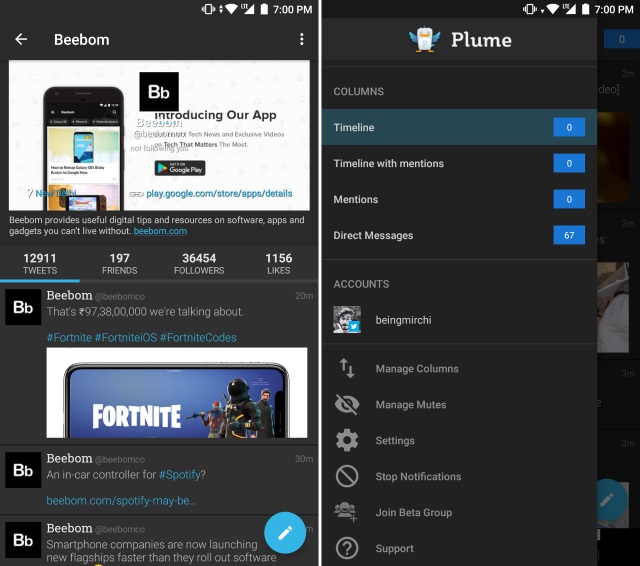 With support for multiple Twitter accounts, inline twitter conversations, a lockscreen widget, multiple themes, and the ability to directly share on Facebook as well, Plume has pretty much all the basic ingredients of a third-party client. However, similar to Flamingo, Plume comes with its internal browser, Bit.ly support for your URLs, ability to autocomplete twitter hashtags and username, and much more. You can even use the app for live streaming content directly. There's also the feature to share photos with Twitter, Twitpic, YFrog, Mobypicture, MyPict.me. While the user interface is still quite basic and does require you add multiple elements to the default column layout, Plume for Twitter is still a very capable, lightweight, and yet powerful Flamingo alternative.
Download: (Free, with in-app purchases)
Bonus: The Official Twitter Client
Now I know that there have been reasons for you to switch to a third party Twitter client, and to be honest, the list can be quite long. A third-party Twitter client offers you plenty of customizability options, a cleaner UI, zero ads, themes, better search features, and what not. However, the official Twitter client does have one advantage over all these apps, and that is, that the app is officially supported by Twitter itself.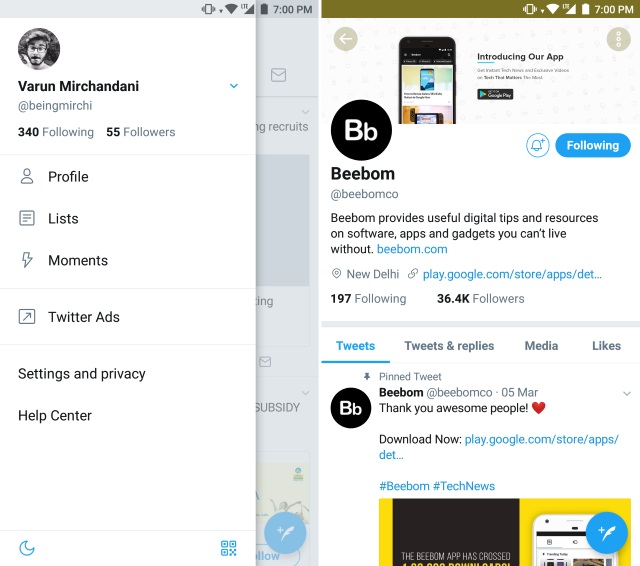 With the recent changes in Twitter's API, all third-party apps will eventually come to an end, much like Flamingo. As such, the switch to the official Twitter client does seem inevitable, so why not make the switch now only? You still get a decent night mode, ability to tweet 280 characters, live streaming facility, and much more. Also, if you're someone who prefers a lightweight version of Twitter, there's always Twitter Lite.
Download: (Free)
SEE ALSO: Top 5 Pixel Launcher Alternatives You Can Try
7 Best Flamingo Alternatives for Android
Well, that was our list of the best Flamingo alternatives out there for Android users. While my personal favorite picks are Talon and Finch, your choices may vary. However, it is worth pointing out that I do use the official Twitter app, and with the new API changes inbound, you too should. Nonetheless, till that happens, the above list of Flamingo alternatives should help you select a great third-party Twitter client that gives you the same user experience as that of Flamingo.
So, which one of the above apps do you prefer the most? Share with us your choices and experiences in the comments down below.