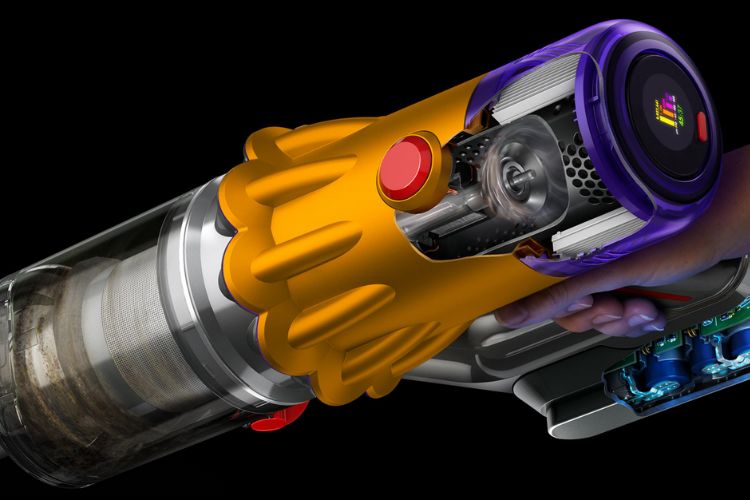 Globally renowned brand Dyson has launched its all-in-one wet-and-dry V12s cordless vacuum cleaner in India. The device exists to solve the problem of wet and dry waste. By combining the ability to clean wet as well as dry waste, Dyson is bringing a single device that can do both. Keep reading to know everything about the all-new Dyson vacuum cleaner.
Dyson V12s Detect Slim Submarine: Specs and Features
The V12s Detect Slim Submarine combines Dyson's signature dry vacuum technology with a new wet cleaning technology to achieve this feat. A new motor-driven microfiber wet roller head has been introduced that uses Dyson-engineered hydration, absorption, and extraction technology. When activated, the V12s eject a precise amount of water based on the type of dirt you want to clean like spillage, stains that are tough to remove, and even small dry debris. This prevents excess water usage.
When cleaning hard floors, an eight-point hydration system uses a pressurized chamber for optimal water distribution and maximum coverage. Eight water jets are evenly spaced along the roller to eject 18ml of water every minute to ensure the constant flow of clean water and constant cleaning of the roller mop. This prevents over-dampening of the floors. The V12s is equipped with two water tanks. One is a 300ml container that ensures 1200 square feet of floor coverage. The other one is a 360ml water tank that holds the residual dirty water and the solid and water-soluble debris.
The all-in-ane wet-and-dry cordless vacuum cleaner uses a Hyperdymium motor to deliver 150 AW suction power at 1,25,00 RPM. This motor system ensures that the dirty debris and water do not contaminate the clean water and reach the motor. Dyson claims that the V12s' Filtration System can capture 99.99% of particles up to 0.3 microns in size. There is an LCD display at the top of the V12s that projects key information about the device like the battery percentage, size and number of particles counted using a piezo sensor, and much more.,
The V12s brings with it Dyson's popular invisible dust illuminating technology that will help you get the deepest level of possible cleaning. The green illuminating light is positioned at the endcap of the cleaner head to project a consistent wide coverage beam of light that reveals microscopic dust particles on the floor.
Additionally, there is a new Hair Screw Tool presented with the V12s Detect Slim Submarine along with the Dyson Combi tool and Crevice tool. This new tool will allow you to pick up long hair as well as pet fur easily. However, the picked hair will not get tangled with the cleaning brush if that's what you are worried about. Dyson's signature Combi tool ensures the safe migration of hair to the disposal bin. The Crevice tool allows you to perform cleaning where it is usually deemed difficult like sofa surface and carpet surface.
Price and Availability
The Dyson V12s Detect Slim Submarine has been launched in India for Rs 62,900. You can purchase this all-in-one vacuum cleaner from the official Dyson India website and offline Dyson Demo stores across India.
---