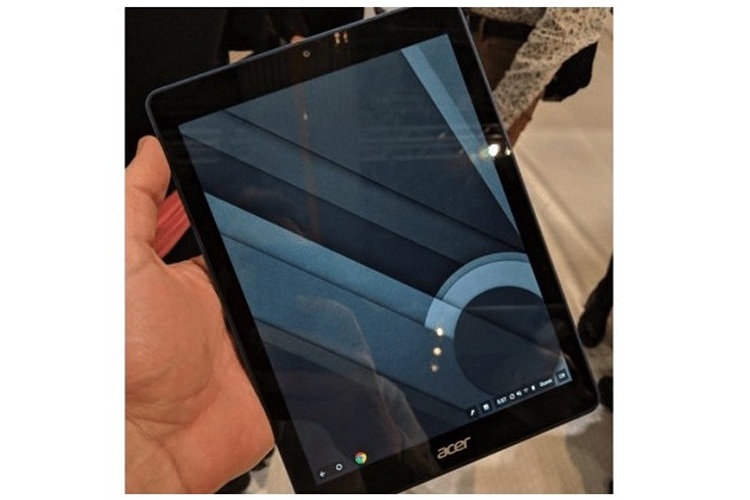 Google has been trying to get Chrome OS on a multitude of devices including tablets, but we are yet to see anything concrete come up. However, if a recent tweet by noted EdTech specialist and Information Systems researcher Alister Payne (@Alister_Payne) from the annual BETT show in London is anything to go by, that day might not be far away when tablets running Chrome OS may actually be available for purchase. While the tweet has since been deleted, Chrome Unboxed managed to preserve it before it was taken down.
While we cannot independently verify the authenticity of the tweet, the fact that it was taken down so soon after being posted is reason enough to believe that there may be some truth to it, especially, given all the rumors of Chrome-powered tablets over the past year. Although Payne said nothing specific about what to expect from the device either in terms of its hardware components or software features, the image below suggests that it will be an Acer product that could have a ~10-inch display.
Reports also seem to suggest that the device will have a stylus from Staedtler, although, as with any other story about the device, it's all in the realms of speculation right now. Meanwhile, as can be seen from the tweet, the tablet will apparently be aimed at the education sector, with kids in primary school likely to be the first ones to get their hands on it.
One thing to note here is that this is not the first time that we're hearing about a tablet powered by Chrome OS. Earlier reports had suggested that Samsung may also be working on a detachable Chrome OS tablet nicknamed 'Nautilus'. Acer itself is said to be working on a Chrome OS tablet called 'Scarlet', but it's not immediately clear if this is the one we've been hearing about all this time.
Either way, it will be interesting to see what comes of this apparent leak, but don't be surprised if Google does make its first-ever Chrome-powered tablet official at the upcoming Google I/O in May. Don't hold your breath for it, though.
---