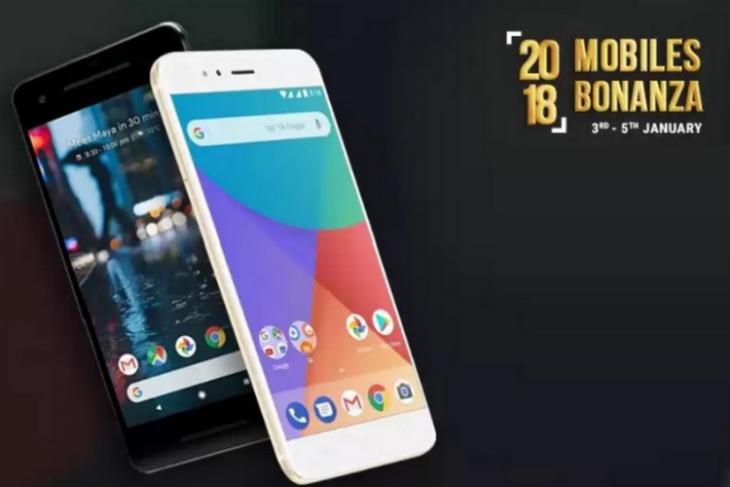 Flipkart's Mobiles Bonanza Sale sale is now live, and true to its promise, the e-commerce giant has slashed the prices of smartphones by a handsome margin (the Moto G5 Plus, for example) and is offering them at highly lucrative price points.
Let's guide you through the best deals you can score during Flipkart's ongoing smartphone sales fest that will conclude on January 5, 2018.
Google Pixel 2 and Pixel 2 XL

There is no denying the fact that Google's Pixel smartphones offer the absolute best Android experience, and if you seek to invest in one of Google's latest offerings, Flipkart's ongoing sale is your best option. As part of Flipkart's smartphone sales fest, the Pixel 2 is available at a net effective price of just ₹39,999, while the Pixel 2 XL can be purchased at an effective cost of ₹52,999.
Buy the Pixel 2 (₹39,999)
Buy the Pixel 2 XL (₹52,999)
Xiaomi Mi MIX 2
Xiaomi's smartphones are loved by the masses for the exceptional value they offer at a highly affordable price point, but at an even lower price point in Flipkart's ongoing sale, they have become an irresistible deal.The beautiful looking, bezel-less MIX 2 is on sale for an amazing ₹5,000 discount for just ₹32,999.
Buy the Mi MIX 2 (₹32,999)
Redmi Note 4
Also, Xiaomi's top-selling smartphone, the Redmi Note 4 (4GB RAM, 64GB storage), is now available at just ₹9,999 which equates to a hefty discount of Rs. 2,000 on its MRP.
Buy the Redmi Note 4 (₹9,999)
Xiaomi Mi A1
If you want a pure Android experience on a Xiaomi phone, your only option is the Mi A1. The phone received a great review from us, and at its price of ₹12,999, is definitely a good choice.
Buy the Xiaomi Mi A1 (₹12,999)
iPhone SE
Apple's old, but hugely popular smartphone, the iPhone SE is also available at a great price on Flipkart right now. In fact, with a ₹8,001 discount, the iPhone SE is a great deal if you don't mind the small screen. We even did a video to help you guys decide between the iPhone SE and the Mi A1.
Buy the iPhone SE (₹17,999)
Honor 8 Pro
The Honor 8 Pro is another great smartphone that is hugely discounted on Flipkart. If you don't waste any time and get it right now, you can get the Honor 8 Pro for just ₹25,999. That's a discount of ₹4,000 on its usual selling price of ₹29,999.
Buy the Honor 8 Pro (₹25,999)
Samsung Galaxy S7
Samsung certainly knows how to make beastly smartphones that are also an eye candy, and a perfect example of the company's expertise is the Galaxy S7. Despite being over a year old, the yesteryear flagship is still a fantastic device, and at its current price of just ₹26,990 (Gold Platinum, 32GB storage), the smartphone is a steal deal.
Buy the Samsung Galaxy S7 (₹26,990)
The Flipkart Mobile Bonanza Sale ends today, so if you're planning on buying any of these smartphones, hurry up and grab the deal before it ends or before they run out of stock.