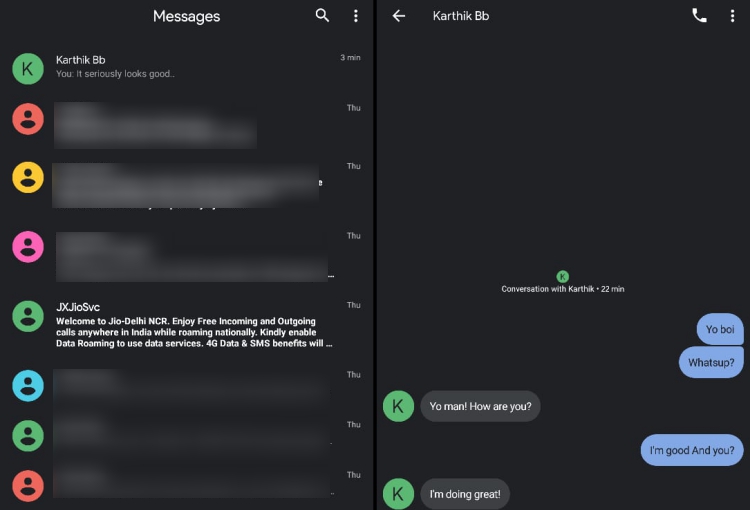 Many of Google's apps are in line to get a Material Theme makeover and the latest one to get this treatment is Android Messages. The app has just received an update (v3.5) and it has received a refresh with Google's Product Sans font, an all-white aesthetic, and the much-requested dark mode.
Note: As Android Police had pointed out, the new UI doesn't instantly appear after you update the app and that's true. You may need to "Force Stop" the app to check out the material makeover. We had to do the same.
A Lot of White!
Right off the bat, the first thing you will notice is that Android Messages no longer has a blue action bar but instead has an all-white background. Yes, there's too much white in the updated app. The 'Messages' title in the top bar has also been moved to the center, making it in line with other Material Theme apps such as Google News.
Next, the floating action button on the bottom right no longer has the '+' symbol, but a simple 'Start chat' text label – Google has been moving towards straightforward text labels instead of icons. The action button disappears once you start scrolling. Tapping it opens a familiar contacts selection screen, with minor tweaks here and there.
The conversation windows are fully white, with a pastel contact icon colour, sent messages in a blue bubble and received messages in a grey bubble. If you are sick of all that white, you have a way out!
Savior: Dark Mode
With the dark mode available on Messages for Web from the start, we had been expecting it to make an appearance on Android and it looks amazing.
Google has added the option to enable 'dark mode' right in the overflow menu on the top right. The look of the app changes instantly, and the font colors are reversed for better legibility.
I'm the biggest fan of dark theme in apps and now to see Android Messages in a dark setting – not pure black but a tinted black – feels good. The new UI is currently rolling out to all users, so the update may arrive for your phone in the days to come.
---