Aviation apps can be very helpful, both for pilots (commercial, or private), and learners. They can help you check detailed weather reports, flight statuses, and a lot more, right from your iPhone, iPad, or Android device's display. There are also a lot of apps that can actually prove to be quite useful in-flight. So, if you're looking for some aviation apps that will make your flying experience a lot better, here are the 10 best aviation apps for your iPhone, iPad, or Android device:
1. MyRadar Weather Radar
As the name suggests, "MyRadar Weather Radar" is an app that shows animated weather around your location. This will allow you to quickly check what kind of weather is coming your way. The app uses raw NOAA weather data, from the NWS. The radar in the app is quite high definition, and you can zoom in as much as you want, and you'll still be able to clearly see the kind of weather coming in.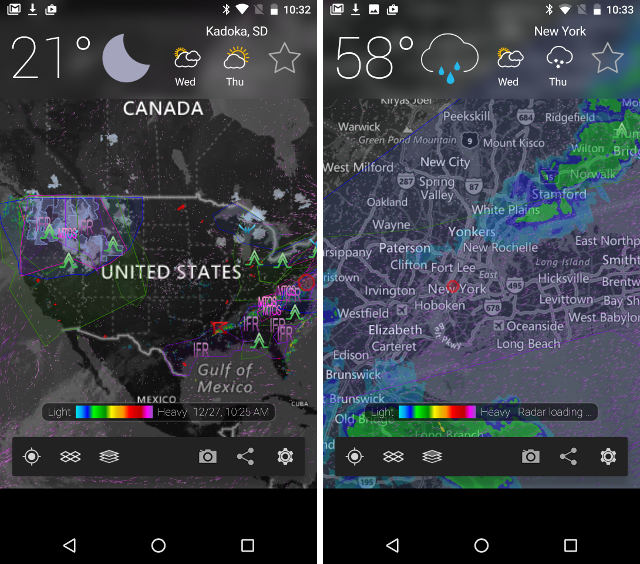 The app also comes with a number of layers that you can overlay on the map, to get additional information. There are a number of layers, including the "aviation layer", which displays SIGMETS and AIRMETS on the map, so you can be aware before, or during your flight. It also displays TFRs on the map. Another layer that may be useful is the "Clouds" layer, which overlays the position of clouds on the map.
The app is free, and you can remove ads with an in-app purchase. It also supports the Apple Watch, so you can get the most important information directly from your wrist.
Download MyRadar for Android, and iOS (Free, with in-app purchases)
2. FltPlan Go
FltPlan Go is actually a companion app for the Fltplan website, and brings the most important, and useful tools of the website to your iPad, or Android tablet, for inflight use. The app comes with powerful route, and mapping features that you can use inflight, and even while offline. The app brings a plethora of useful features, such as information about Airports, and FBOs. For private fliers, the app can also display fuel prices along the route, so you can make stop-overs in places that suit you best. The moving maps (that come with sectionals), charts, navlogs, and in-flight weather, will definitely prove useful during flights. If you use the Fltplan website, as well, you'll find it extremely handy, that the app automatically syncs with the website, so all your data will always remain up to date, and synced.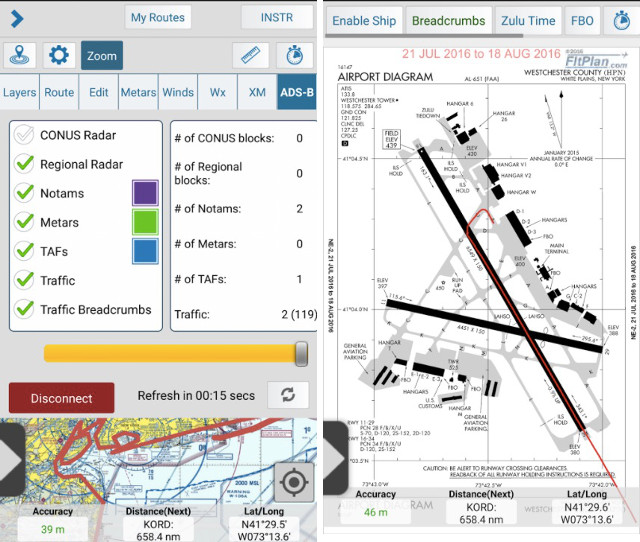 The app also comes with connectivity support for Dynon, and Avidyne Avionics, along with Pathfinder, Dual XGPS-170 & XGPS-190, and much more. It also has two simulators built-in: X-Plane Simulator, and FSX & Prepar3D GPS, which you'll definitely find great.
Download FltPlan Go on Android, and iOS (Free)
3. Garmin Pilot
Another app that you must have on your in-flight iPad, or Android tablet, is Garmin Pilot. Garmin Pilot is one of the most comprehensive tools built for pilots, both private, and commercial. So, if you're looking for a tool that can serve as your all in one tool for flying, Garmin Pilot will probably fit the bill. The app breaks down the entire process of flying an aircraft into four categories – Plan, File, Fly, and Log – and offers features for each and every one of those categories, which is why it claims to be the one of the most comprehensive tools for flying.
For the planning stage, the app offer pilots the ability to get comprehensive aviation weather results, so that they can make better informed in-flight decisions. Pilots can also check NEXRAD radar, visible and infrared cloud imagery, AIRMETs, SIGMETs, TFRs, and a lot more detail that will be potentially useful to them while flying.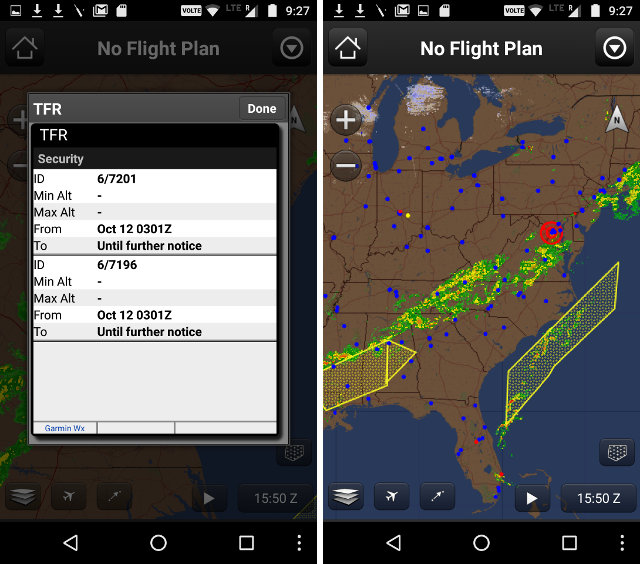 In the File, and Fly stages, the app offers Pilots the ability to create flight plans in the app, and directly edit them on the interactive map that is available in the app. Pre-loaded forms in the app make it incredibly easy to fill out entire flight plans easily. During the flight, as well, the Pilot can easily view live weather details for the US, and the app provides in-flight navigation. The app also comes with an electronic log that automatically gets filled with the GPS data from the flight.
The app comes with a 30 day free trial, after which you will have to purchase a subscription, using the in-app purchases that the app offers. The app is available on both iOS, and Android platforms, and while it is designed to work with iPhones, iPods, as well, the fact remains that the app works, and looks the best on an iPad.
Download Garmin Pilot on Android, and iOS (30 days free trial, subscriptions start from $9.99)
4. FlightAware Flight Tracker
FlightAware Flight Tracker is an app that will let you track the real time flight status, and live track any commercial flight in the world. However, it can show private, and charter flights only in the US, and in Canada. There are a plethora of ways that you can track flights using the app, such as, using the flight number, tail number of the flight, the source, and destination airports for the flight, and more.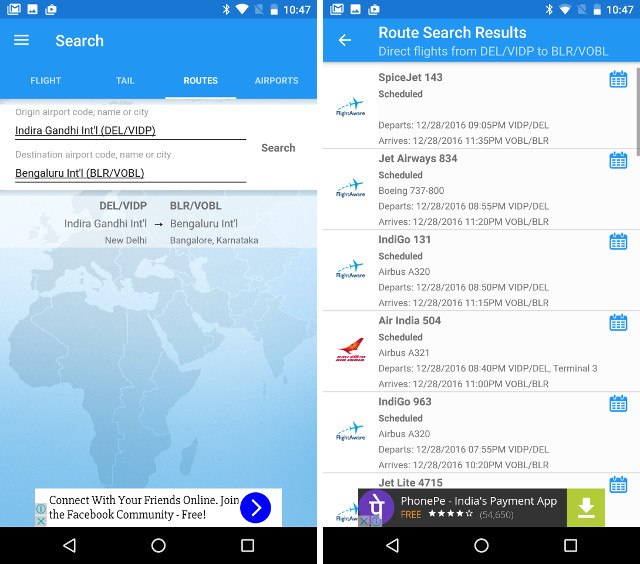 The app does only one thing, and does it well. You can easily locate, and track any flight in the world using FlightAware. The app is available for both iOS, and Android devices, for free.
Download FlightAware for Android, and iOS (Free, with in-app purchases)
5. Avare
Avare is a very well known Android app, which is basically aimed only at pilots that are flying in the USA, and in some parts of Canada. However, the app does provide data such as TPC charts for most of the world, along with ONC charts for Canada, South Asia, and some other countries.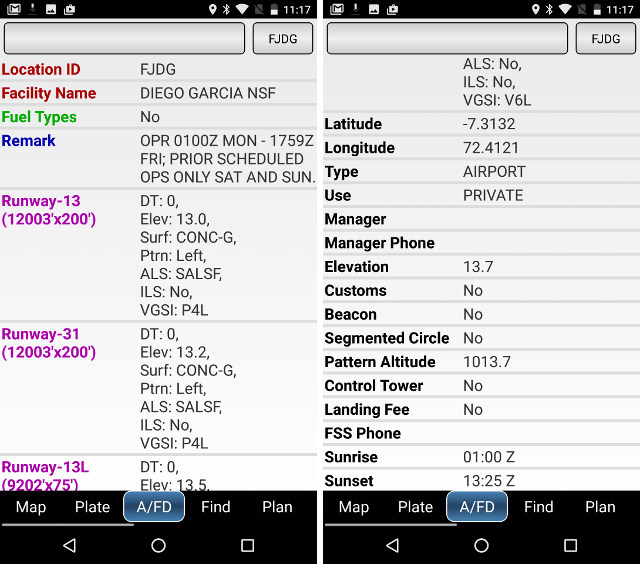 The app provides offline maps on all FAA charts, along with airport diagrams, and terminal procedures. The app also includes features such as GPS status, terrain and elevation maps, obstacles, and much more. When connected to the internet, the app can also fetch METAR & TAF data, TFRs, and a lot more information that you may find useful.
Download Avare for Android (Free)
6. Naviator
Naviator is an Android only app, which is basically a fully featured, moving GPS map, focussed on pilots. The GPS map in the app displays information such as airports, TFRs, and other details that may be useful to the pilot. Perhaps the best feature of the app, is that it downloads all of the navigational data to your Android device, so you don't need to have a data connection in order to get accurate GPS data. The app also comes with features such as a vertical navigation calculator, and with NMEA output, Naviator can drive your aircraft's autopilot.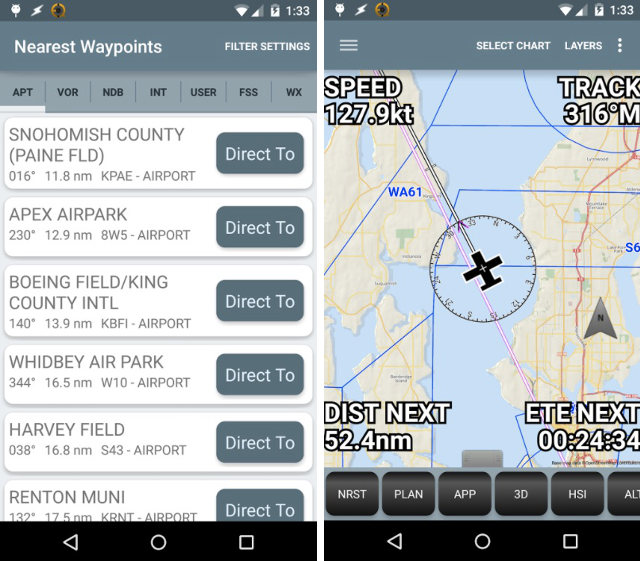 The app comes for a free 30 day trial period, after which, you'll have to subscribe to the service.
Download Naviator for Android (Free 30 day trial, subscription starts at $4.99)
7. ForeFlight
ForeFlight is an iOS only app, that offers a lot of great features, such as touch planning, interactive route editing, SID/STAR previews, along with a lot more. With ForeFlight Graphical Briefing, you will get up to date weather information before your flight, so you can be prepared. You can also use the app to file, edit, or cancel visual flight rules (VFRs), directly from your mobile device. Like almost all of the other apps, ForeFlight will also let you view SIGMETs, AIRMETs, and TFRs on your iPhone, or iPad. And, with the Apple Watch support that the app comes with, you can get all this information with a glance towards your wrist.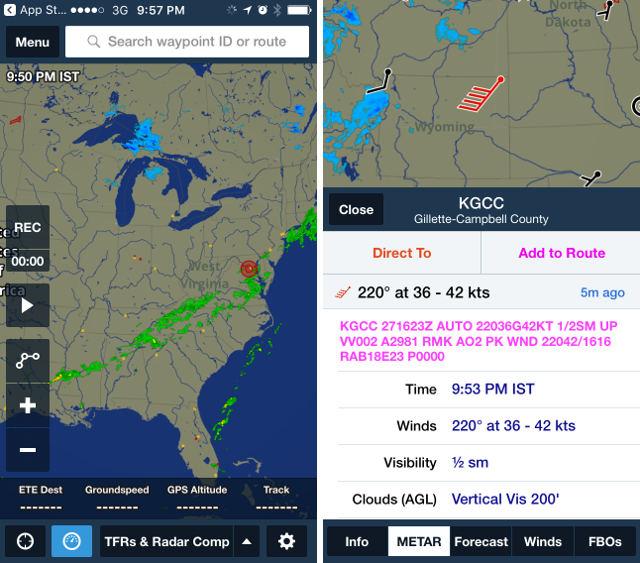 ForeFlight also comes with a plethora of other features such as hazard advisors, synthetic vision, taxi charts, and a lot more that you will definitely find useful while flying.
Download ForeFlight for iOS (Free, with in-app purchases)
8. FlightRadar
FlightRadar is an app that will let you turn your iOS, or Android device into a flight tracker. The app can display every commercial flight in the world, in real time, and you can easily track any flight that you're interested in. You can even simply point your device at a plane in the sky to get the app to identify it. With FlightRadar, you can search for flights, see images of aircrafts, and get the callsign info for any flight that you want.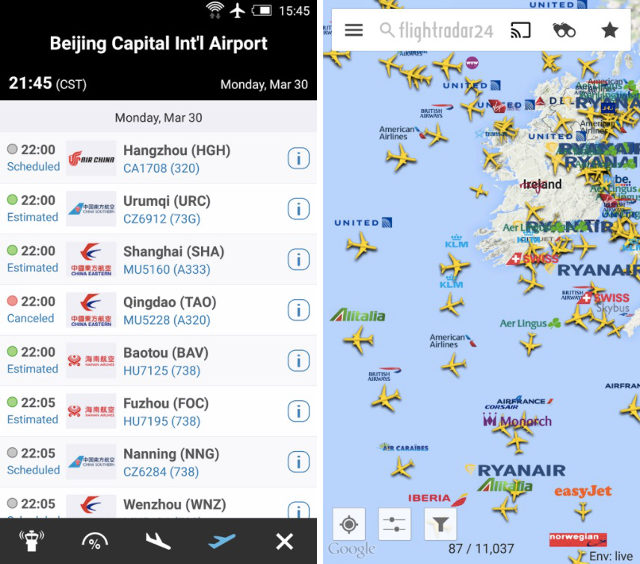 If you want, you can also use the app to experience what a pilot is seeing, in real time, and in 3D. You can get comprehensive flight information by simply tapping on a plane, which definitely makes it easier to get the time of arrival of a flight, along with a lot of other information. However, these features are only available in the paid version of the aviation app, that you can get on your iPad for $3.99.
Download FlightRadar on Android, and iOS (Free and Paid apps, both available)
9. CloudAhoy
CloudAhoy is an aviation app for iPhone, and iPad, that is meant as a post-flight debriefing app for pilots. The app continuously logs in data during the flight, and once the flight ends, it displays data such as the flight path (in both 2D and 3D), VFR and IFR, wind, instrument approaches, and a lot more. All this data can prove extremely valuable, especially for students.
The app also comes with various other features, such as the "cockpit view", which will allow you to review your flight, from your perspective, using 3D animation. For accurate GPS tracking, you can even use the app with external GPS receivers, but the app works just fine with the iPhone, or iPad's GPS, as well.
Download CloudAhoy for iOS (Free, with in-app purchases)
10. Takeoff
Takeoff is another iOS only app, which aims at ensuring that pilots get access to the latest in aviation technologies, and practices. The app delivers fresh content to users' iPhones, and iPads everyday. Users can even customize the app to get content that they're most interested in. The app has a plethora of features, such as, engaging video tips, educational articles, podcasts, aviation news, and a lot more.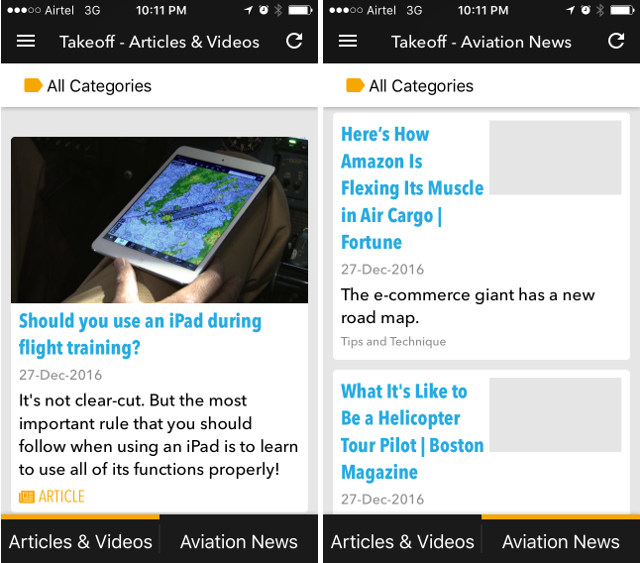 The app offers a curated selection of the best aviation videos, pictures, and articles, in one place. It is definitely a must have, for pilots of all skill levels, as it offers content that is customizable to the level of the pilot.
Download Takeoff for iOS (Free, with in-app purchases)
SEE ALSO: 10 Best Weather Apps for iPhone You Should Try
Use these Aviation Apps for iOS and Android
These were the best aviation apps for iOS, and Android devices, that you should definitely install on your devices. You can use these apps to get alerted about weather conditions, TFRs, and more, along with planning out your flight with accurate details about everything you might encounter on your way. So, what apps do you use to stay updated, and ready, before piloting a plane? If you know of any other app that you think deserves to be on this list, do let us know in the comment section below.
---
Load More