Android 10, which is the official name for Android Q, is now live and has started rolling out to Google's own smartphones. Yes, there's no dessert name going forward, but you're free to call it Android 10 Queen Cake. This major update brings a number of new features in tow, giving your device a revamp with a new dark mode and better privacy features.
The Android 10 update is already rolling out to all the Pixel devices, including the original Pixel/ Pixel XL, Pixel 2/ Pixel 2 XL, Pixel 3/ Pixel 3 XL, and even the more affordable Pixel 3a/ Pixel 3a XL. Essential Phone again received the Android 10 update on Day 1, which is great news. But, the most important question on your mind now would be – When will my smartphone get the Android 10 update?
Well, that's exactly what we are here to tell you. You can find below the complete list of smartphone that will or are expected to receive the Android 10 update:
When Will Your Phone Get Android 10 Update?
1. OnePlus
The latest flagships from OnePlus, the OnePlus 7/7 Pro, both received the first Android 10-based Oxygen OS open beta build mere minutes after the update started rolling out to Google Pixel phones. The company has also prepped the OnePlus 6 and OnePlus 6T for the upcoming update, so an Open Beta build with Android 10 should be coming soon.
Also, since the company expanded support for the OnePlus 3/3T last year with Android 9 Pie, we expect them to be generous enough and bring Android 10 to OnePlus 5/5T later next year. So, here are the OnePlus phones that will get the Android 10 update:
OnePlus 7
OnePlus 7 Pro
OnePlus 6/6T
OnePlus 5/5T
2. Nokia
Though Nokia has the biggest portfolio of Android One phones in the market, the phone maker has already revealed when most of its smartphones (17, to be exact) will receive the Android 10 update. Here's a list of Nokia phones eligible for update and when they'll receive it: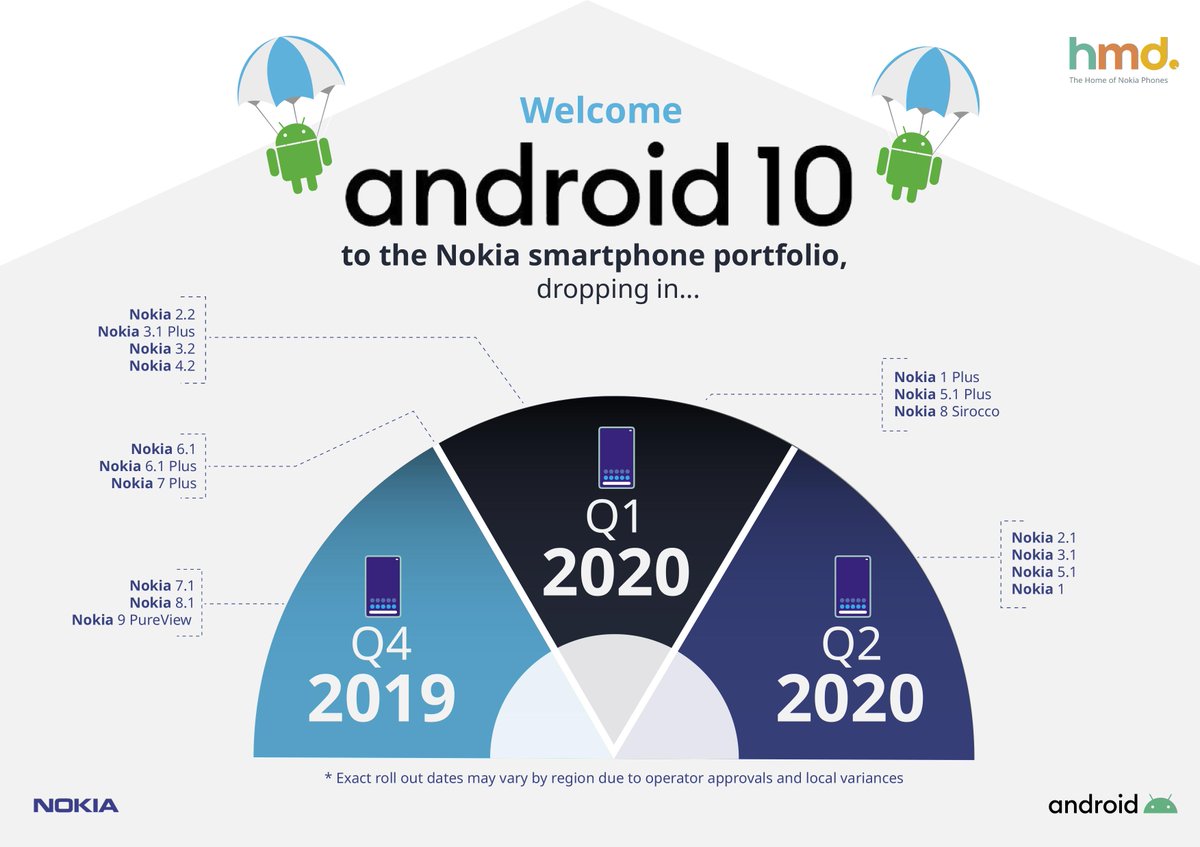 As you can see in the infographic above, HMD Global plans to roll out Android 10 in five phases starting off with the five-camera flagship Nokia 9.1 Pureview, Nokia 8.1, and the Nokia 7.2 sometime in Q4 2019. Most of the smartphones in the company's portfolio will run Android 10 sooner than other brands, which falls in line with a recent Android update rollout report.
3. Redmi
Xiaomi has steadily been improving its update rollout cycle and well, the company has surprised everyone by rolling out the Android 10-based MIUI update to its first flagship smartphone, the Redmi K20 Pro in China and India. Users have started receiving the stable beta builds for Android 10. Check out the details on how to get this update on your device right here.
Apart from the Redmi K20 Pro, we anticipate the Android update to roll out to the Mi 9, Snapdragon 730-backed Redmi K20, Redmi Note 7 Pro by the end of 2019 or Q1 2020. Xiaomi's latest Android One smartphone, the Mi A3, could also bag Android 10 updates within the next quarter.
4. Realme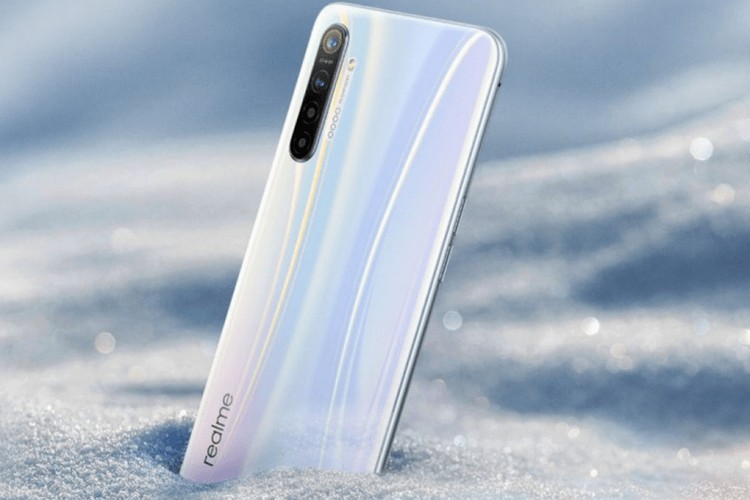 Realme has grown rapidly in the mere one and a half years of its existence, grabbing an impressive 9% market share in the budget smartphone segment of India. The company, however, doesn't exactly have an impressive history when it comes to Android updates. Android 9 Pie reached all older-gen Realme phones earlier in July this year, starting with Realme 2 Pro in May 2019.
With Realme rumored to be developing its own Realme OS to replace its parent Oppo's bloated ColorOS 6 Android skin, we expect the Android 10 rollout to be slightly delayed. We're expecting a rollout schedule similar to last year, but beta testing could kick-off in Q4-2019 or Q1-2020. Here are the Realme devices we expect to receive the Android 10 update:
Realme XT
Realme X
Realme 5/ 5 Pro
Realme 3/ 3 Pro (Realme 3 Pro was part of the Android 10 beta program, but we still expect Android 10 to roll out with the new Realme OS skin)
Realme 2/ 2 Pro
Realme 3i
Realme C2
5. Samsung
Samsung has released no word on when we can expect to receive the Android 10 update on the plethora of Galaxy smartphones in its portfolio. But, if we go by the company's oh-so-lackluster track record with updates in the past, the Galaxy S10 and Note 10 flagship lineups will be the first to be updated to Android 10 – but by the end of this year.
Android 10-based OneUI 2.0 has already surfaced on the Internet and T-Mobile has now started testing the update on Galaxy S10 and Galaxy Note 10. Still, I'm not pinning my hopes on it. Samsung's Galaxy A series (including the Galaxy A50, A8 0, A90, and other newer Galaxy As variants) would be the next in line to receive the Android 10 update in phases, starting next year.
6. Asus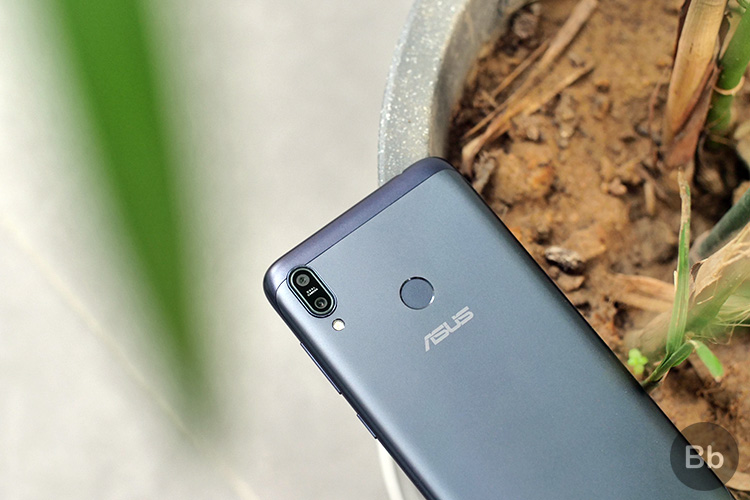 Asus increased focus on its smartphone business last year and the Android 9 Pie update started rolling out towards the end of 2018. Well, Asus also hasn't released a statement about when it plans to kick-off its Android 10 update rollout. But, we expect them to be sooner than last year as ZenUI 6 is now closer to stock Android and shouldn't require a whole lot of effort. Here's a list of Asus phones that should get the Android 10 update:
ZenFone 6
ZenFone 5Z
ZenFone Max Pro M2
ZenFone Max Pro M1
ZenFone Max M1
ZenFone Max M2
7. Huawei/Honor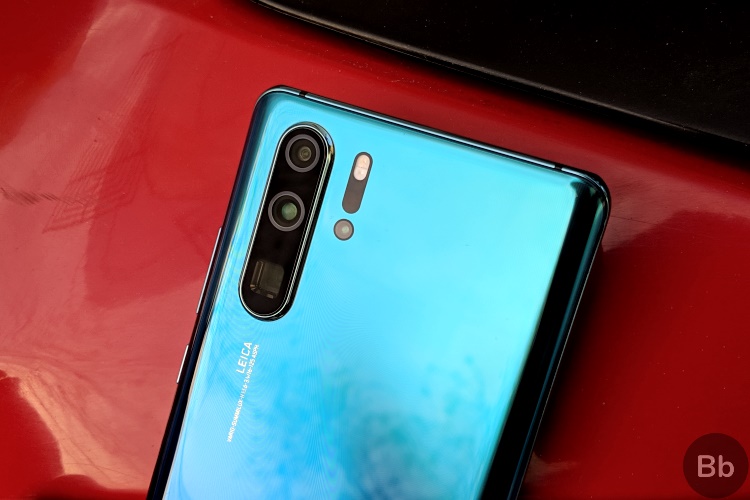 Huawei has been pretty prompt with updates in the past, but the ongoing US-China trade war could take a toll on the Android 10-based EMUI 10 rollout. The company has already revealed a list of devices that should be among the first ones in their portfolio to grab the Android 10 update. You can check it out right here:
Huawei P30 Pro
Huawei P30 Lite
Huawei Mate 20
Huawei Mate 20 Pro
Huawei Mate 20X
Huawei Mate 20RS
Honor 20
Honor 20 Pro
Honor View 20
Honor Magic 2
Huawei has officially unveiled EMUI 10 based on Android 10 earlier last month, but it will be interesting to see how the company pits its software update at the upcoming Mate 30 series launch – especially after Google won't allow it to pre-load its apps and services.
8. Motorola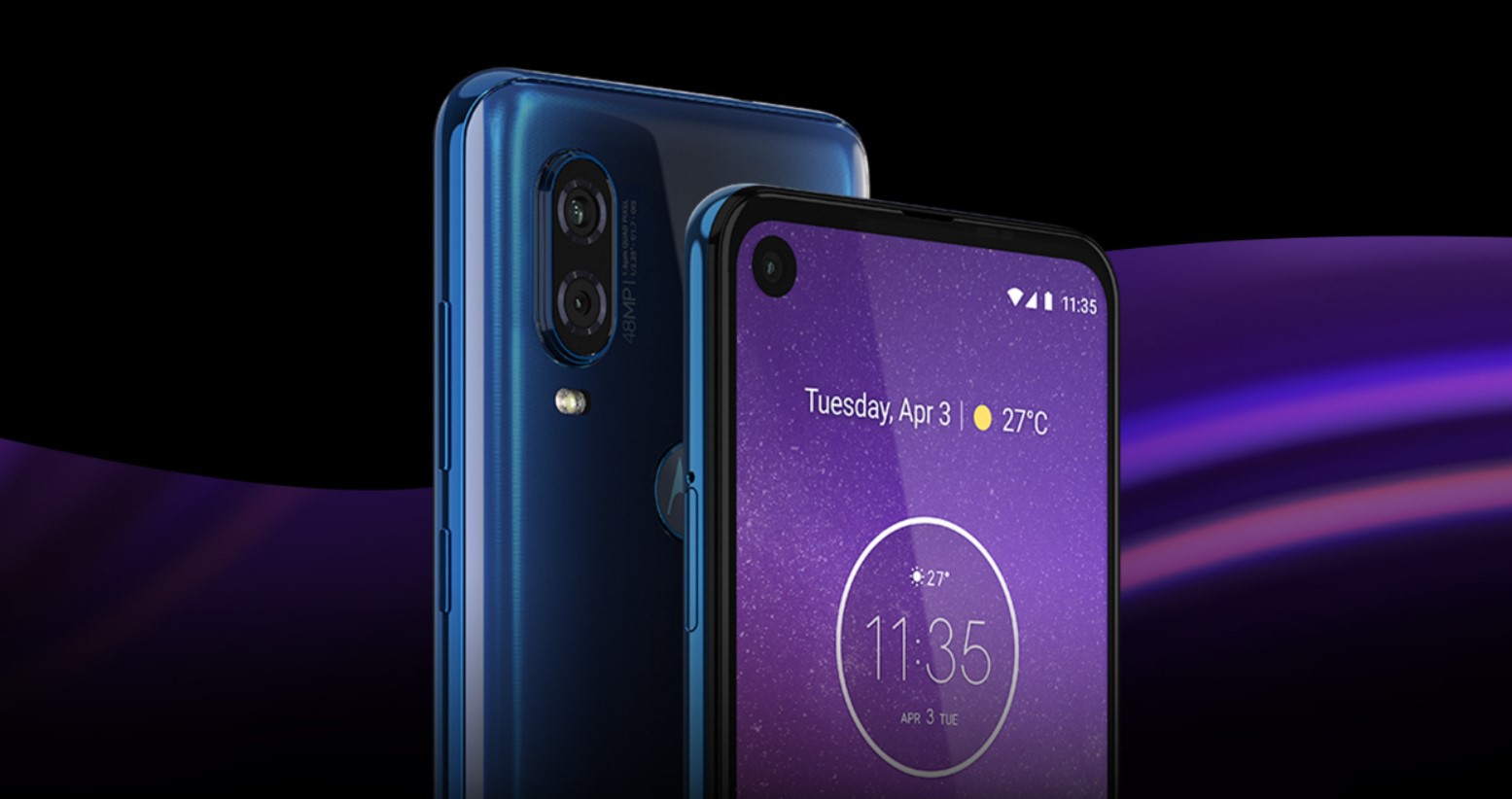 With the Moto G7 and Moto Z4 not getting the love that the Lenovo-owned phone maker might have expected, the two frontrunners in Moto's lineup won't be the first ones to get Android 10. Instead, the company is shifting attention towards its Android One lineup, so the Moto One Power, Moto One Vision, and Moto One Action would be among the first to taste (Is it okay to say taste now that Android doesn't have dessert names?) the newest flavor of Android.
9. Poco F1
No, we're not forgetting everyone's favorite smartphone maker Pocophone and its first device, the Poco F1, which offers flagship-like features at almost half the price as your next-favorite flagship killer. Poco F1 was quick in receiving the Android 9 Pie update in 2018, with the open public beta kicking-off in December.
We can expect a similar update timeline this year as well, but I'm a bit skeptical of it as well. Poco's product head Jai Mani previously confirmed that Poco F1 will at least get the Android Q update, but with Mani out of the picture, and no word of what's happening at Poco HQ, we are torn whether the update is coming or not.
We'll do at least P and Q

— Jai Mani (@jaimani) October 28, 2018
We believe the Android 10 update for Poco F1 will be released, thanks to its tremendous popularity, but no sooner than Q1 2020. fingers crossed though!
10. Oppo/Vivo/Sony & Others
Finally, let's talk about some other popular phone makers such as Oppo, Vivo, Sony, LG and more who have a patchy track record in pushing out the latest updates. Oppo/ Vivo won't be rolling out Android 10 to all of its smartphones, but its flagship and well-known mid-rangers will bag the update sooner or later (expected Q2 2020).
LG aimed to improve update rollouts with the Software Upgrade Center, but nothing has changed even after its boisterous efforts. And Sony, well, the company's phone business has been a sinking ship with water now reaching the upper decks. So, it's better we don't comment on their Android 10 update rollout schedule.
SEE ALSO: How to Access Android 10's Easter Egg Puzzle
Android 10 Update: How Excited Are You?
Android 10 is an important update since it's the first iteration to drop the whole dessert nomenclature. It also adds much-requested features like the dark mode, more granular location and privacy settings, fullscreen gestures, and a lot more. If you want a brief of these new features, you can check out our first impressions video right here:
So, will your smartphone be receiving the Android 10 update? Soon or delayed? Did we miss out on any important phones that will certainly get this update? Let us know in the comments down below.