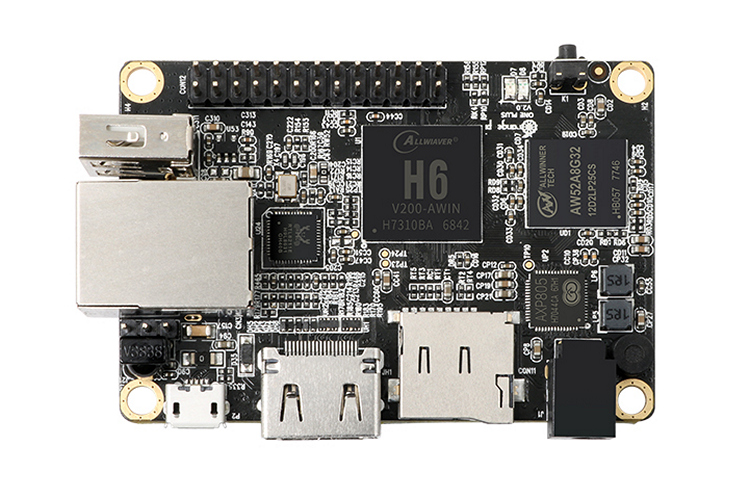 Orange Pi is one of the first names that comes to mind when thinking of Raspberry Pi alternatives, and the latest device in the lineup – the Orange Pi One Plus – was quietly launched last week by Shenzhen Xunlong. It is currently listed on AliExpress at a super-affordable price of $19.99 excluding shipping and handling.
The device is powered by the brand new Allwinner H6 V200 SoC that comes with an embedded quad-core Cortex-A53 CPU and ARM Mali-T720MP2 GPU. It supports Gigabit Ethernet, plays 4K videos and runs Android 7.0 Nougat. Here are the key tech specs of the Orange Pi One Plus:
SoC: Allwinner H6 V200 (Quad-core Cortex-A53 CPU, ARM Mali-T720MP2 GPU)
RAM: 1GB LPDDR3 (Allwinner AW52A8G32)
Storage: microSD Card (Up to 32GB)
PMU: AXP805 (Power Supply via 5V/2A via power barrel jack or micro USB port)
LAN: Gigabit Ethernet RJ45 (Realtek RTL8211 transceiver)
Video Output: HDMI 2.0a TX with HDCP 2.2 Output at up to 4K @ 60 Hz
Audio Output: HDMI 2.0a
USB: 1x USB 2.0 host port, 1x micro USB OTG port
Expansion: 26-pin header
Debugging: 3-pin serial console header
Indicators etc.: Power & status LEDs, power button, IR receiver
Dimensions: 68 mm x 48 mm
Weight: 50 grams
Supported OS: Android 7.0 Nougat (Ubuntu and Debian under testing)
In case you're not part of the DIY scene, Orange Pi, much like its more illustrious counterpart, Raspberry Pi, is an open-source single-board computer that can run a wide variety of Linux kernel-based operating systems including, Android, Ubuntu, Debian, Fedora, Raspbian, ArchLinux, openSUSE, OpenWrt, etc. You can use it to create a wide variety of gadgets, including, but not limited to, computers, web servers, CCTV cameras, weather radars, media players, etc.
However, there are a few things you need to keep in mind. This being the first Allwinner H6-based Linux development board, it's very likely that there might be some growth pangs even when developers are able to successfully port Linux distros on it. That's due to inadequate drivers support in the past. Hopefully, though, better support will come from the endlessly-enterprising linux-sunxi (u-boot/kernel) and Armbian (integration with Ubuntu/Debian) communities, who are most likely to start tinkering with this board.
---