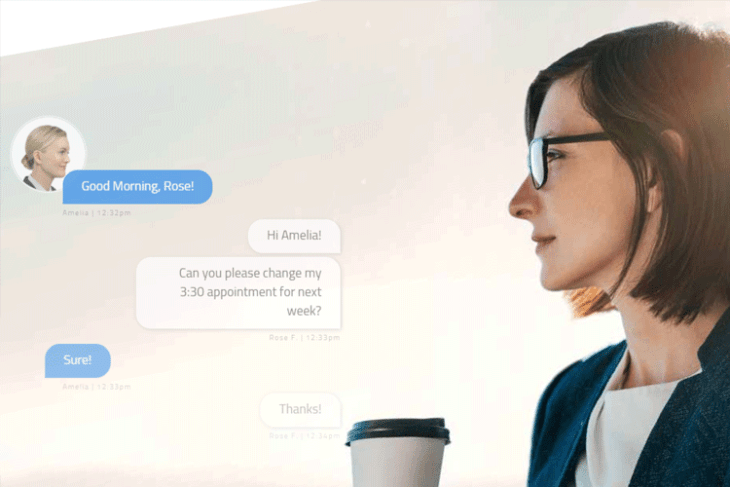 Touted as the world's "most human" Artificial Intelligence (AI) assistant that can "read between the lines" and "understand emotional expressions", Amelia has the potential to turn India's healthcare sector into an inclusive one, believes her creator Chetan Dube, CEO of New York-headquartered AI company IPsoft.
Amelia got her name from Amelia Earhart, one of the pioneering women in American history who became the first female aviator to fly solo across the Atlantic Ocean in 1932.
Machine Learning for Healthcare
The tech Amelia combines automation, cognitive and emotional intelligence with Machine Learning (ML) capabilities to perform as a digital colleague.
When Amelia was first created, her conversational abilities sent shockwaves in the AI community, raising fears of job losses, especially in countries like India where a large number of people are employed in the business process outsourcing (BPO) industry.
But Dube, who left a teaching job at New York University's Courant Institute of Mathematical Sciences 20 years ago to pursue a career in business, is unperturbed by the talk of job losses as he believes that AI would not displace as many jobs as it would help create.
Amelia: Conversational AI
"We are now at the third version of Amelia, a development process that has been going on for the last 15 years, and she is the industry's most advanced, conversational AI," Dube told IANS in an email interview.
"Not only does she communicate in over a 100 languages, she also has the ability to learn and improve over time which makes her the market's only AI that can fully adapt to new business requirements. She can automate any process in a business," he added.
Amelia can be pre-trained to handle requests and questions related to HR, finance, IT and procurement. In fact, according to Dube, Amelia can be trained to handle almost any knowledge-based task.
"She helps customers open new bank accounts, process insurance claims and register patients for hospital entry. As a whisper agent, Amelia provides her human colleagues with a personalized conversational user interface (UI)," said Dube, who thinks Amelia can do wonders in transforming India's healthcare sector.
Digital Colleague
"Amelia allows patients to self-manage in scheduling doctors' appointments, tests and medicines. She can also offer condition-specific advice and well-curated health management tips. A robust digital colleague like Amelia can free caregivers from high-volume patient needs to provide specialized care for unique or pressing concerns, while subsequently providing patients with enhanced 24/7 access to medical services," Dube explained.
"AI and Amelia are vital for an inclusive and democratic healthcare sector and could have an enormous impact," he added.
Amelia can be pre-trained to handle requests and questions related to HR, finance, IT and procurement. In fact, according to Dube, Amelia can be trained to handle almost any knowledge-based task.
According to him, common AI assistants like Alexa, Cortana and Siri cannot read between the lines. They cannot understand underlying meanings or emotional expressions. Even when it comes to more advanced AI, the majority of these virtual assistants lack capabilities of contextualizing information as people do, he said.
"When customers or employees interact with Amelia, they don't feel they are interacting with something artificial due to her advanced empathetic abilities, capacity to switch context and channels, and intelligent responses. Amelia is the only AI on the market that offers all of these features with expert-level accuracy and emotional intelligence," Dube noted.
IPsoft, Dube said, is now exploring opportunities with a number of agencies in digital health programs, to accelerate technology adoption which will take pressure off of the human workforce while maintaining and improving services.
AI Marketplace for Digital Labor
The company, which has 16 offices in 13 countries, including one in Bengaluru, helps with the digitization process required in an organisation to deploy Amelia and make her work.
"It is a crucial part of our work to make sure our clients have the right prerequisites to implement Amelia. In fact, we have developed Amelia 'Marketplace', the first off-the-shelf AI-Marketplace for digital labor and conversational AI. The Amelia Solutions Marketplace offers complete out-of-the-box functional roles and associated skills for Amelia across verticals such as banking, insurance and healthcare," he said.
In order to train Amelia, IPsoft and its partners teach her the essential knowledge she will need to understand how a business runs. "Partners provide IPsoft with industry-specific terminology, as well as any required logic frameworks that Amelia needs to learn to develop her decision-making skills," Dube explained.
India, according to Dube, is on a "straight path" of becoming a technological force to be reckoned with in the coming years. "An important part of this advancement is, of course, to invest in the right innovation and technologies that strengthen the country's already strong industries," he said.