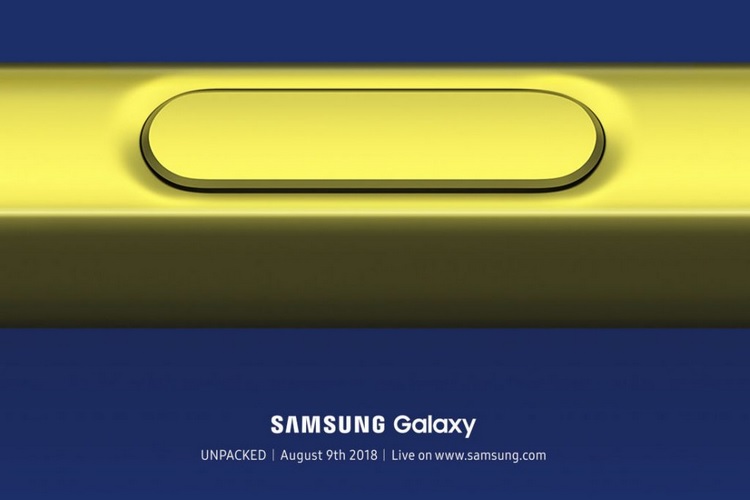 Samsung has sent out press invites for a Galaxy Unpacked event on August 9, 2018 where the company is expected to announce the Galaxy Note 9. The event is scheduled to take place in New York and will kick off at 11 AM ET (8:30 PM IST).
The Galaxy Note 9's August 9 unveiling date falls in line with previous reports, but there are also reports about the Gear S4 smartwatch coming at the same time, but there's no indication about the wearable in the invitation.
https://www.youtube.com/watch?v=5jKijq5US1E&feature=youtu.be
The press invite shows the close-up shot of the button on the new S Pen, suggesting that the Note series' signature stylus will get some major upgrades. Reports have suggested that the S Pen will be one of the key features of the Note series and Samsung's invitation clears any doubts.
The focus on the button is interesting as it could indicate that Samsung is adding more functionality to this key. Or it could also be a fingerprint sensor embedded in the S Pen.
A few weeks ago, alleged CAD-based renders of the Galaxy Note 9 surfaced, which suggested it will pack dual rear cameras and will have a similar design to its predecessor, with a 6.3-inch display.
As far as specs go, rumors suggest that the Note 9 will be powered by an Exynos 9810 or Snapdragon 845 SoC, paired with 6 gigs of RAM and up to 256GB storage, and a 3,850mAh battery to keep the lights on.
Samsung has already confirmed that the next version of its AI-powered voice assistant, Bixby 2.0, will be unveiled alongside the Galaxy Note 9 at the event. The Korean company is also expected to unveil the Gear S4 smartwatch and a new tablet in the Galaxy Tab S series at the event. The Galaxy Unpacked event kicks off at 11:00 am E.T. (8:30 pm IST) and will be live-streamed here.
---