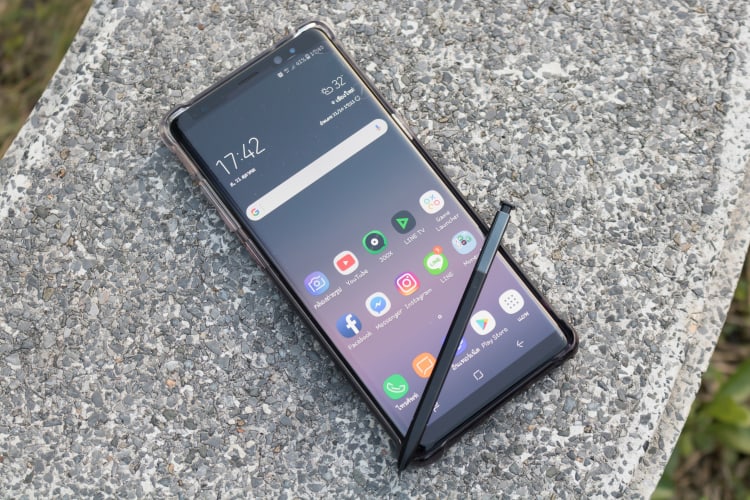 South Korean publication, The Bell, has revealed that Samsung's Galaxy Note 9 will ship with a slightly larger 6.38-inch display crammed into a body that will, apparently, be no larger than that of last year's Galaxy Note 8 that features a 6.3-inch panel. However, what's really interesting is the claim the launch of the phone could be delayed because of a last-minute change ordered by the company's vice chairman, Lee Jae-yong.
According to the report, Lee wanted Samsung engineers to make the upcoming device thinner after being impressed by the thinner in-hand feel of smartphones from leading Chinese vendors, Oppo and Vivo. The Note 9 team is now said to be devoting a lot of their time to try and reduce the display thickness by 0.5mm.
While half a millimeter may not sound much at first, it's actually a fairly substantial amount for modern-day smartphones, because these devices, in any case, measure barely a few millimeters in thickness. The report states that to reduce the thickness, engineers are looking at reducing the footprint of the glass designed to protect the OLED panel. It will be interesting to see how this might affect the durability of the device.
The Bell says that because of the sudden change in plans, the release of Samsung's next-gen flagship phablet may be delayed by up to two weeks because of all the testing involved. The company was earlier reported to have been eyeing an early release for the device after the relatively lukewarm response to the Galaxy S9 and S9 Plus.
While Samsung has continued to remain tight-lipped about the upcoming phone, multiple leaks over the past few weeks have claimed that the device will ship with some truly impressive features, including, an under-display fingerprint scanner, like the recently-launched Vivo X21 UD. Subsequent reports, however, have negated those earlier rumors, saying that Samsung will reserve that for the Galaxy S10 and S10+ next year.
---